Menu Plan Monday: Week of July 14, 2014
July 14, 2014
How is it already mid-July?! I don't know about you, but I always feel like the summer goes by so fast. It feels like summer just started, yet when I tried to get a new bathing suit today, it was slim pickings and a complete mish-mosh in the store. Guess I'll have to get my act together earlier next year! While my bathing suit shopping has absolutely nothing to do with Nutritioulicious, those of you who are working hard to lose or maintain weight this summer and live in the Westchester, NY area may be interested in an event I will be at this Thursday night:
An Evening of Health & Wellness 
@ Fenom Fitness in Harrison, NY
Fellow Westchester-based registered dietitians, Elizabeth DeRobertis and Daria Ventura, will be talking about how to lose weight with Take Shape for Life; I will be doing a live cooking demo featuring super friendly foods for kids; and the folks from Fenom will take you through their signature workout. Come check it out – I'd love to see you!
Onto this week's Nutritioulicious menu plan: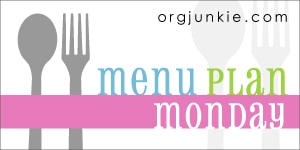 Week of July 14, 2014
Monday: Rosemary-Roasted Tomato Pesto Pizza and Salad
Tuesday: Maple-Glazed Grilled Salmon with Chickpea, Quinoa, and Celery Salad

Wednesday: Leftovers
Thursday: Out for Fenom Fitness Event (see above)!

Friday: Dinner guests coming: Gazpacho, Soy Marinated Flank Steak, Coconut Lime Chicken, Shorty's Quinoa, and Grilled Corn, Basil, and Tomato Salad
What are you eating this week?
Tweet me @JLevinsonRD with #DinnerTonight
Linking up at Org Junkie's Menu Plan Monday.