Menu Plan Monday: Week of July 1, 2013
July 1, 2013
It's almost July 4th weekend and that means barbecue season is in full swing! Check out some of my tips to Skinny Up Your BBQ over at WeeWestchester. And be on the lookout tomorrow for some of my favorite summer recipes perfect for the holiday weekend.
I'm super excited that summer produce is here! There's a bowl of sweet nectarines on my countertop and my fridge is filled with berries, watermelon, corn, fresh lettuces and herbs. This week's menu definitely highlights some of my summer faves.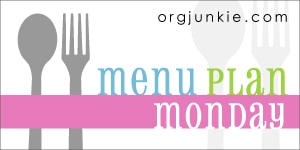 Menu Week of July 1, 2013
Monday: Grilled Chicken with Marinated Zucchini with Mint and Farro Pilaf with Balsamic Cherries
Tuesday: Corn & Basil Cakes with Lemon Yogurt Sauce and Grilled Nectarine and Mozzarella Caprese
Wednesday: Tomato Cucumber Gazpacho and Flourish Vegetable Pot Pie
Thursday: July 4th!
Friday: Up in the air
Saturday: Cooking with friends
Sunday: Leftovers
What's on your menu for July 4th?
Linking up at Org Junkie's Menu Plan Monday.