Menu Plan Monday: Week of January 19, 2015
January 19, 2015
Check in on your New Year's Resolutions and get a nutritious and delicious menu plan for the week.
Happy Monday to all! Before we get to this week's menu, just a quick update on where I stand with my health and wellness improvement for the year. While I only made it to yoga once last week, I did get there on time, which really impacted my focus in the class. How are you doing with your improvements?
A few people shared their goals with me, including reduced snacking at home after work and including more veggies at every meal. If you haven't shared your hopes and wishes for the new year it's not too late – head on over to the original post and leave me a note with what you hope to achieve. I'll be sure to check in with you to keep you focused if you'd like!
If you missed Nutritioulicious guest contributor Tiana's post about the health benefits of tea, be sure to check it out. There are still two weeks left to celebrate Hot Tea Month and a whole lot more cold weather for most of us, which a cup of tea will help us get through.
Hope you have a great week ahead! Be sure to check back throughout the week for new posts, including this month's Recipe ReDux!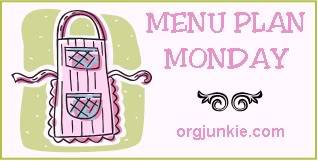 Week of January 19, 2015
Monday: Sushi dinner w kids
Tuesday: Thai Peanut Chicken Skewers with Daikon Salad
Wednesday: Roasted Butternut Squash & Brussels Sprout Pasta with Lemon-Sage Ricotta
Thursday: Off Duty
Friday: Hearty Beef and Vegetable Stew
What's on your menu this week?
Tweet me @JLevinsonRD with #DinnerTonight
Linking up at Org Junkie's Menu Plan Monday.