Menu Plan Monday: Week of February 16, 2015
February 16, 2015
Last week in review and this week's Menu Plan Monday
Last week was a looong one thanks to more snow with school closed Monday and a three year old testing my limits as she adjusts to the freedom of a toddler bed. On the bright side, I had a great time as a guest at a sponsored dinner in NYC learning about a new product, AlgaVia, for which my colleague Keri Gans is a spokesperson – look out for an upcoming post to learn more about it. Plus the Nutritioulicious kitchen was buzzing with recipe testing, including this month's Recipe ReDux, which will be posted this coming Saturday February 22nd. Be sure to come back for a decadent treat you won't want to miss! Now onto this week's menu!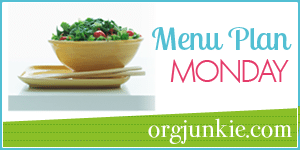 Week of February 16, 2015
Monday: Mexican Night Out with the Kids
Tuesday: Sriracha Black Bean Burgers with Blood Orange and Fennel Salad
Wednesday: Raspberry Miso Glazed Salmon with Cabbage Slaw and Asparagus Mint Salad
Thursday: Off Duty
Friday: Herbed Chicken and Squash with Cauliflower Burnt Rice
What's on your menu this week?
Tweet me @JLevinsonRD with #DinnerTonight
Linking up at Org Junkie's Menu Plan Monday