Menu Plan Monday: Week of December 16, 2013
December 16, 2013
It's the final countdown: 10 days until Christmas and 17 days until the start of 2014! Wow, this year flew by. Are you surviving the holiday parties and all the treats that abound this time of year? To help you get through it all in a nutritious and delicious way, check out my Holiday Party Dos and Dont's and 5 Tips for Hosting a Cocktail Party Responsibly. Doing some last minute shopping? Don't forget about some of these Healthy Holiday Gifts.
For more inspiration, take a look at this 12 Days 'Til Christmas Calorie Count Guide, with some bonus tips from yours truly!
What are you doing to get ready for the holidays in a healthy way?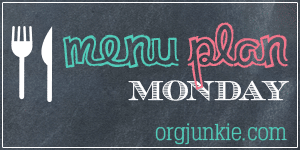 Week of December 16, 2013 
Monday: Happy Birthday to Me! (aka off-duty night)
Tuesday: Birthday dinner with my parents
Wednesday: Veggie-Filled Chicken Udon Soup
Thursday: Tomato, Greens, and Chickpea Skillet with Poached Eggs

Friday: Hosting Shabbat dinner: Brisket with Carrots and Parsnips, Roasted Chicken with Artichokes, Peppers, and Sun-Dried Tomatoes, Noodle Kugel, Roasted Cauliflower with Raisins and Rosemary
What are you eating this week?
Linking up at Org Junkie's Menu Plan Monday.