Menu Plan Monday: Week of August 5, 2013
August 5, 2013
Last week was a family trip to Nantucket, which meant little to no cooking for me (other than breakfast, salads, fruit, and snacks). Was a nice reprieve, and now I'm back to my kitchen ready to get cooking again. Here is this week's menu!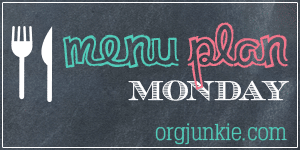 Menu Week of August 5, 2013
Monday: Grilled Fish Tacos with Watermelon Salsa and Grilled Mexican Corn
Tuesday: Kale Pesto Pizza with Tomatoes and Mozzarella and Side Salad
Wednesday: Flourish Bakery Veggie Roast Pot Pie and Beet Soup
Thursday: Mommy's Night Out!
Friday: Jamaican Jerk Chicken with Grilled Sweet Potatoes Planks (from Michelle Dudash's Clean Eating Cookbook) and Green Beans
What's on your menu this week?
Linking up at Org Junkie's Menu Plan Monday.