Menu Plan Monday: Week of April 29, 2013
April 29, 2013
Spring is finally here! Tulips are blooming in our backyard, the weather is warming up, and spring produce is making its way to local supermarkets. Not sure what's in season? Check out my latest article on Wee Westchester, Look What's Springing Into the Produce Aisle. I'm excited to start using some of the fresh, bright spring vegetables in this week's menu, including fava beans and asparagus.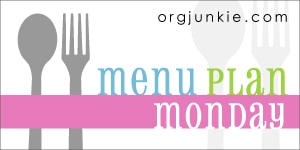 Monday: Leftover Coconut-Lime Chicken with Thai Vermicelli Salad
Tuesday: Fusilli with Fava Beans, Roasted Asparagus, Ricotta, and Mint

Wednesday: Dinner for my grandparent's 63rd anniversary!
Thursday: Shakshuka
Friday: Spring Beef Stew
Saturday: Dinner out with friends
Sunday: Cinco de Mayo!
What are your favorite spring vegetables?
Linking up at Org Junkie's Menu Plan Monday.