Menu Plan Monday: Week of April 28, 2014
April 28, 2014
Hope everyone had a great weekend! Anyone read last week's Tara Parker Pope's NY Times Well Column, The Lure of Forbidden Food? In a nutshell, some new research shows that when food is off limits to children, they want it more. Nothing so new to me here – I believe this is true for everyone, adults and children alike. Which is why I recommend eating everything in moderation.
How do you respond to forbidden foods?
Here's what's on our menu this week – nothing forbidden!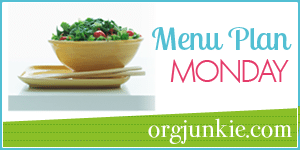 Week of April 28, 2014
Monday: Fish Tacos with Mango Salsa and Spinach Salad with Jicama, Black Beans, and Lime Vinaigrette 

Tuesday: Herbed Chicken with Roasted Sweet Potatoes and Broccoli

Wednesday: Off Duty

Thursday: Lightened Up Macaroni and Cheese with Spring Salad
Friday: Brisket from the freezer with carrots and parsnips
What are you having for dinner this week?
Tweet me @JLevinsonRD with #DinnerTonight
Linking up at Org Junkie's Menu Plan Monday.