Menu Plan Monday: Week of April 27, 2015
April 27, 2015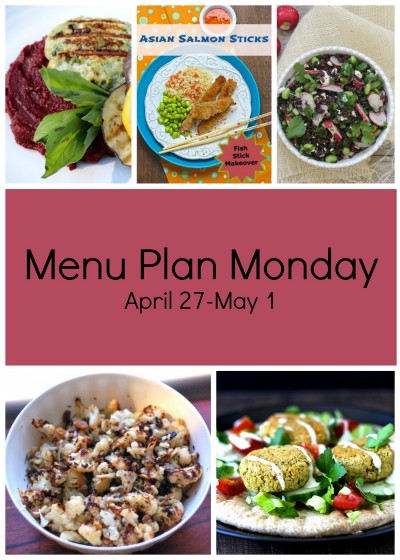 Link love and this week's Menu Plan Monday including baked falafel, rosemary-roasted cauliflower, chicken burgers, and salmon sticks!
Happy Monday everyone! Hope you had a fabulous weekend! We spent ours visiting friends in Baltimore, which was tons of fun for the kids. We visited the national aquarium, saw a wedding in the inner harbor, and the girls had their first sleepover with friends!
In case you missed it, last week was the April Recipe ReDux reveal, which was all about spring cleaning our pantries. I shared my recipe for Peanut Soba Noodles, which is by far one of my family's favorite recipes and appeared to be a fan fave as well!
Don't forget to check out the other ReDux recipes, as well as some I share below in my Link Love for the week. I even have some of them in this week's menu plan!
Link Love
15 Ways to Reduce Food Waste @ Your Choice Nutrition by Dietitian Brittany – in honor of Earth Day
Eating Healthy While Traveling (and Still Enjoy It!) @ Chocolate Slopes – get ready for summer travel season
Breastfeeding Tips for Working Moms @ Enjoy Every Bite – great tips for all moms, working or not
5 Reasons to Shop with a Grocery List @ Mom to Mom Nutrition – So true! Do you shop with a list?
There were so many amazing recipes posted this week, these are just a few I absolutely loved:
Farro and Beet Salad with Blood Orange Vinaigrette @ Nourish RDs
Creamy Carrot Mac and Cheese @ Mom's Kitchen Handbook
Healthy Quinoa Muffins: 3 Ways @ Simply Quinoa – the Blueberry Lemon ones are calling my name!
One Pot Chicken with Olives and Mushrooms @ Teaspoon of Spice
Formula Meals: Quinoa Salad @ Food Confidence
Spicy Asian Salmon Meatballs @ MJ and Hungryman

Week of April 27, 2015
Monday: Baked Falafel served over salad with pita and yogurt dressing
Tuesday: Asian Salmon Sticks with Soy Ginger Dipping Sauce and Rice, Radish, Feta Salad
Wednesday: Artichoke Chicken Burgers with Fennel Beet Parsnip Puree (burgers made with shredded zucchini instead of spinach) and Rosemary-Roasted Cauliflower with Raisins
Thursday: Leftovers
Friday: Dinner at the kids' nursery school
What's on your menu plan this week?
Tweet me @JLevinsonRD with #DinnerTonight
Linking up at Org Junkie's Menu Plan Monday