Menu Plan Monday: Week of April 13, 2015
April 13, 2015
A good start to the week, link love from last week, and this week's Menu Plan Monday!
It's a happy start to the week in my house! Passover ended Saturday night and we celebrated with a delicious pasta-filled Italian dinner with friends. Yesterday was the first really nice spring day and we spent it outside with the kids walking along wooded trails in a conservancy along the Long Island Sound in Rye and playing with friends at the playground. Last night Sabrina finally stayed in her bed the whole night for the first time in about three weeks, which meant mommy got a good night's sleep! And last but not least, the kids are back at school and to their regular routine! Hooray!
I hope you're week is off to a good start as well. If you have some time, check out some of these fabulous posts and recipes I came across last week. Then get some dinner inspiration with my weekly menu plan below!
Link Love
All Things Food:
Spring Produce Guide @ The Grateful Grazer
15 Scrumptious Salmon Recipes @ Chocolate Slopes
Lemony Lentil and Chickpea Salad with Radish and Herbs @ Cookie and Kate
Spring Quinoa Risotto @ Dietitian Debbie
Honey Stewed Strawberry Rhubarb Compote @ Mom's Kitchen Handbook
32 Dietitian-Approved Desserts @ Holley Grainger
Health & Wellness:
10 Things You Must Do Every Day @ Strength and Sunshine
Do You Make These 5 Diet Mistakes? @ The Nutty Nutritionist
Simple Tweaks for a Healthier Life @ fANNEtastic Food
Mindless Eating: Willpower vs Environment – Interview with Brian Wansink @ Sound Bites RD
Children's Health/Parenting:
How to Talk to Your Kids About Weight @ Paige Smathers RD
Even Dietitians Have Trouble Feeding Their Kids @ Just the Right Byte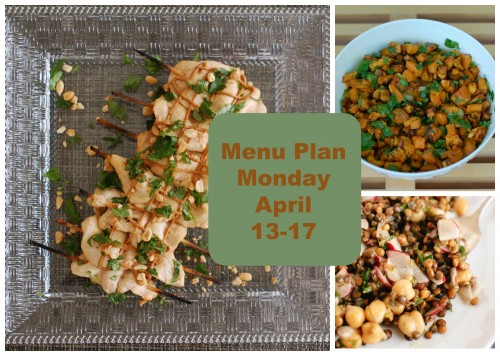 Week of April 13, 2015
Monday: Peanut Soba Noodles with Snap Peas, Daikon, Red Peppers, and Tofu
Tuesday: Thai Peanut Chicken Satay with Roasted Broccoli and Daikon Salad
Wednesday: Leftovers
Thursday: Citrus Roasted Salmon with Lemony Lentil and Chickpea Salad with Radish and Herbs
Friday: Cilantro Lime Steak with Roasted Asparagus and Sweet Potato Salad
What links did you love last week?
What's on your menu this week?
Tweet me @JLevinsonRD with #DinnerTonight
Linking up at Org Junkie's Menu Plan Monday