Menu Plan Monday: September 19, 2016
September 19, 2016
The latest happenings at Small Bites by Jessica, plus this week's Link Love and Menu Plan Monday with lunch and dinner!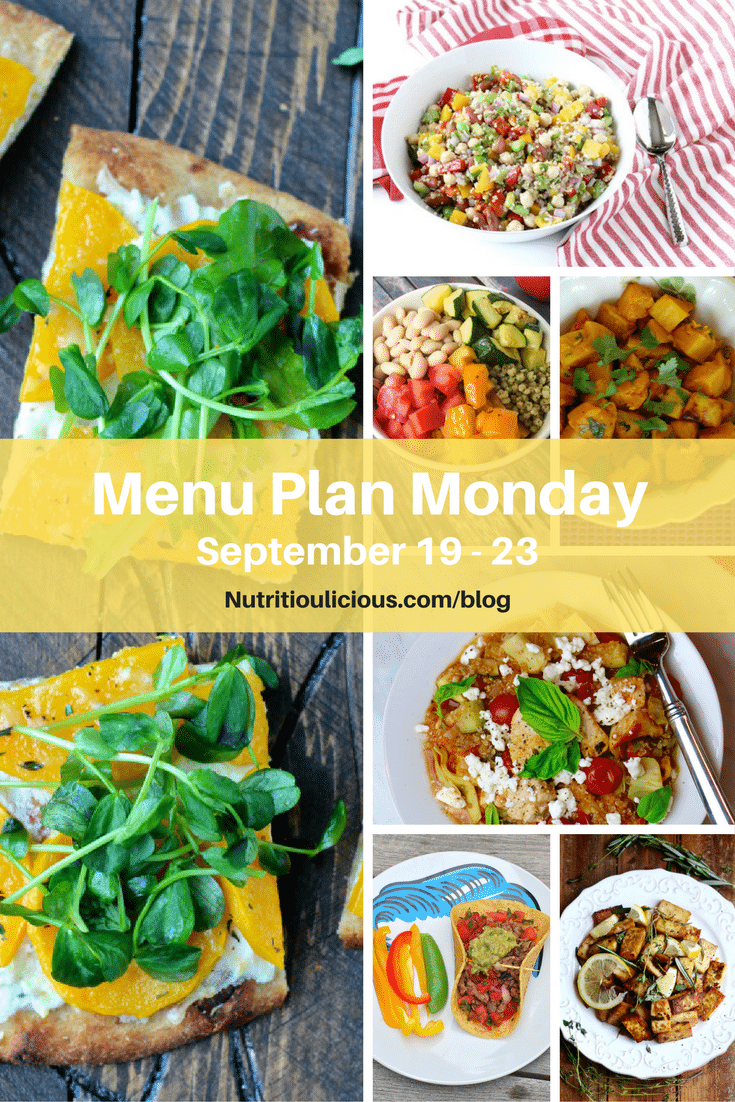 Hope you all had a great weekend! I don't know where ours went, but here we are at the start of another week. In case you haven't been over to the blog since last Monday's menu plan post, be sure to check out my recent posts about Chicken Myths & Truths (plus over 35 healthy chicken recipes to keep it interesting) and my Late Summer Vegetable Soup.
Yesterday I had some fun in the kitchen with the girls while we made a batch of my Veggie & Bean Quinoa Bites. They're perfect for the lunchbox, especially if you need to send your kids nut-free, vegetarian meals like I do. You can see a bit of the girls in action over at Instagram – they had a ball helping me make them and it got them so excited to pack their lunch for today.
Make sure you check below to see what else is on the lunch menu for the week. And just a head's up that Menu Plan Monday will resume in two weeks as I will be away speaking at a conference next week. Check out the MPM archives or my Meal Planning Pinterest board to help you plan while I'm away. Enjoy all the great articles below and have a wonderful week!
Articles:
12 Tips to Conquer Your Food Cravings and Gain Control of Your Eating @ Alissa Rumsey Nutrition & Wellness
⇒ I certainly get cravings, and I'm sure you do too. Alissa provides great tips to help you get through them without giving in.
10 Store-Bought Foods for Quick Healthy Meals @ Food, Pleasure & Health
⇒ While I love cooking from scratch, time is limited these days, which is why I like having some staples on hand like Dixya.
How To Actually Enjoy Cooking @ Living Well Kitchen
⇒ I absolutely love cooking, but I know not everyone does. If you fall into that latter camp, you have to check out Meme's post and her new course of the same title!
What To Do with a Bag of Onions @ Teaspoon of Spice
⇒ Great Facebook Live video from my friend Deanna about making sweet and delicious caramelized onions and what you can do with them once you have 'em!
Recipes:
Creamy Herb Pumpkin Lasagna Rolls @ Zen & Spice
⇒ I'm not quite ready for pumpkin season yet, but when I am I will definitely be making these!
15-Minute Honey Garlic Chicken @ Family Food On the Table
⇒ 5 ingredients (two of which are honey and garlic) and 15 minutes – what could possibly be bad about this recipe? (Hint: Nothing!) Let's add it to the 35+ Healthy Chicken Recipes I shared last week!
Sorghum Pesto Bowl with Heirloom Tomatoes @ Alissa Rumsey Nutrition & Wellness
⇒ This bowl is a perfect example of a balanced meal all in one. It's already on this week's menu plan for dinner and lunch leftovers for the girls!
Creamy Polenta with Tomato Ragout @ SalubriousRD
⇒ This reminds me of shakshuka, one of my fave egg dishes. So easy and delicious!
Flourless Greek Yogurt Pumpkin Muffin Bites @ Krolls Korner
⇒ Another sign I need to get into fall gear over here! These mini muffins look like a fun addition to the lunchbox and mommy's happy that they're filled with yogurt!
Frozen Raspberry Rose @ Queen of My Kitchen
⇒ This looks delicious and such a great way to keep the summer feeling going all year long!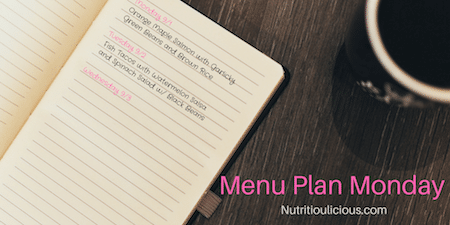 Menu Plan Monday for Week of September 19, 2016
Monday: 
Lunch: Veggie & Bean Quinoa Bites, Salad, and Peaches
Dinner: Butternut Squash Flatbreads with Greens and 3 Bean Salad (serving over arugula instead of mixed with quinoa)
Tuesday: 
Lunch: Leftover 3 Bean Salad, tomato mozzarella skewers, fruit
Dinner: Chipotle Beef Tacos with Salsa (using store-bought salsa I have in the fridge) and Chili-Lime Roasted Butternut Squash
Wednesday:
Lunch: Tuna edamame salad, veggies with hummus, and fruit
Dinner: Lemon Herb Baked Tofu with Sorghum Pesto Bowl with Heirloom Tomatoes
Thursday: 
Lunch: Lemon Herb Baked Tofu & Sorghum Pesto Bowl leftovers
Dinner: Eggs/Takeout
Friday: One-Pot Mediterranean Quinoa Chicken (no lunch at school on Fridays)
What have you been sending to school for lunch for the kids?
What's on your menu this week?
Tweet me @JLevinsonRD with #DinnerTonight