Menu Plan Monday: October 31, 2016
October 31, 2016
How we celebrate Halloween, this week's Link Love, and Menu Plan Monday!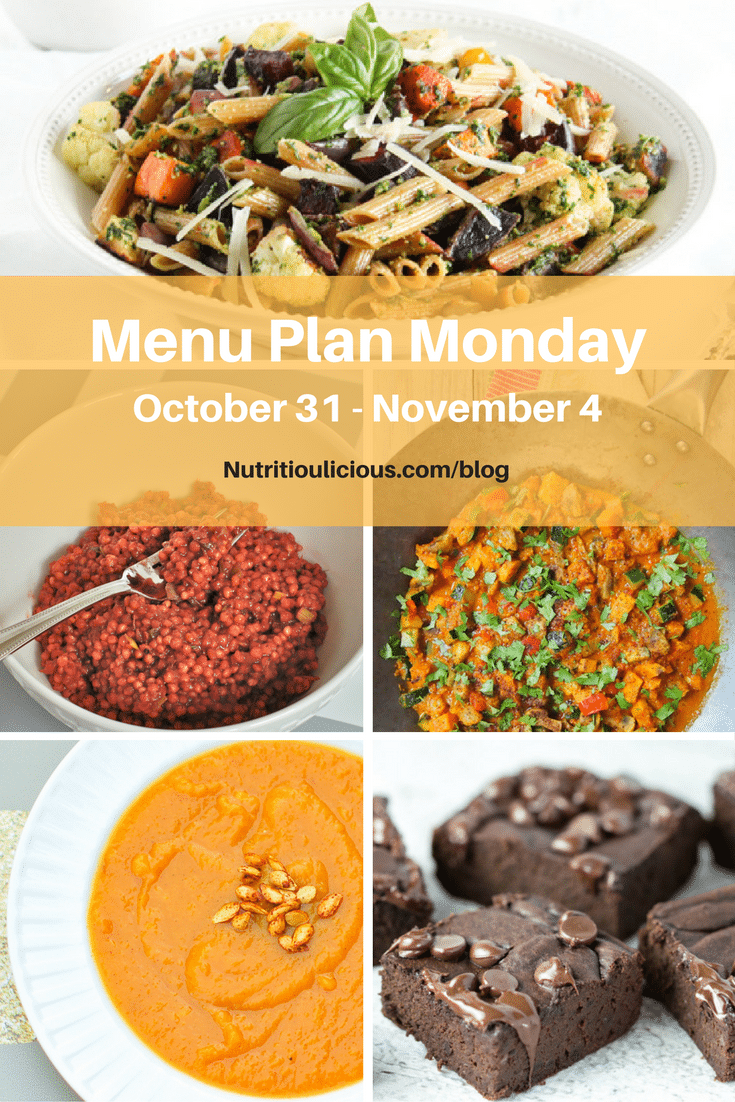 Latest Happenings:
Happy Halloween everyone! Hope you're having a fun, albeit somewhat healthy day! What can I say – I'm a dietitian so I've gotta get the healthy in there! My girls are super excited for Halloween today. Now at almost 5 years old they really get what it's all about. Charlotte is most excited about dressing up and Sabrina is most excited for the treats. They're going as Skye and Everest from Paw Patrol – they're obsessed!
I went over some ground rules of trick or treating with the girls this morning, so we'll see how they do. On the list:
Listen to mommy and don't run too far ahead!
Take one piece of candy at each stop and remember your pleases and thank yous. I offered to go up with them so they know what goodies to collect from each stop – this way they don't end up with hard candies (choking hazards) and super chewy stuff (dentist's worst nightmare)!
No eating along the way. Every year I see lots of kids shoveling treats in their mouths or running from house to house with lollipops in their mouths. I don't approve for two reasons. The first: eating along the way isn't satisfying and doesn't register, which means the kids (and us adults too) want more when we finally get back home. The second: it's dangerous! It's dark and it's a mob scene (at least where we go trick-or-treating) and if someone gets bumped into or falls down with a lollipop in his or her mouth that's a disaster waiting to happen.
When we get back to the house, we go through everything and make piles. First I go through everything to make sure it's safe for them to eat. No jaw breakers or home-baked goodies allowed. Then the kids can make a pile of the treats they are most excited about – those they keep. And another pile for the stuff they aren't interested in (if that exists, lol!). Those will be given to charity – something they are learning about in school. They'll get to enjoy some treats tonight and others will be saved for other days.
We'll see how well they follow the rules and how it goes. Cross your fingers for me!! How do you handle Halloween with the kids? My friend Sally talks about the Switch Witch strategy here and here's a great article about what you can do about the obsession with candy on Halloween.
However you choose to enjoy the day, I hope you have a fun and safe Halloween! Now for this week's Link Love and Menu Plan Monday!
Articles:
A Buyer's Guide to Better Milk @ Mom's Kitchen Handbook
⇒ With all the milk options available these days, it can be confusing to know what to purchase. Thanks to Katie for putting together this resource.
Fun and Healthy Halloween Recipes @ Kiss in the Kitchen
⇒ Halloween may be today, but it's not too late to get some of these fun and spooky snacks together for the kids! Bonus: they're healthy! (I even included one of her ideas in today's lunchbox!)
Weekly Menu: Plan vs. Reality @ The Domestic Dietitian
⇒ I love that Brynn is keeping it real in this post. There have definitely been times that an item on my Menu Plan Monday doesn't actually get made. It's just the way life goes sometimes!
Recipes:
5 Sheet Pan Miracle Meals @ The Kitchn
⇒ I roast all my veggies on sheet pans but rarely make a whole meal on them. Boy does that need to change! I'll be making some of these soon – look out for them on the menu plan!
Butternut Squash "Caulfredo" Sauce @ Byte Sized Nutrition
⇒ I've added butternut squash to my lightened up mac and cheese, but haven't done the cauliflower addition. This recipe has 'em both! Plus some fun foodie humor in Kara's post – had to lol at some of them!
Sweet Potato Sorghum Salad @ Street Smart Nutrition
⇒ This grain salad is so pretty and full of fall flavors. Plus I'm excited for another way to make sorghum (my fave is in this week's meal plan below – check out Friday's dinner!)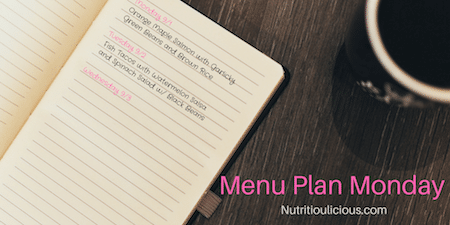 Menu Plan Monday: Week of October 31, 2016
Monday: 
Lunch: Veggie & Bean Quinoa Bites; Spinach salad with beets, mozzarella, and avocado; pumpkin face clementine; carrot olive eyeballs (you can check out the box on Instagram)
Dinner: Pre-trick-or-treat dinner at a friend's house 
Tuesday: 
Lunch: Tuna edamame salad, sliced peppers and tomatoes, grapes, and whole grain crackers. Maybe a piece of Halloween candy too!
Dinner: Vegan Red Curry with Freezer Tomato Coconut Sauce – making with baked tofu and serving over quinoa (Have some of the tomato sauce in the freezer from the last time I made this)
Wednesday: 
Lunch: Leftover curry with quinoa and fruit
Dinner: Fall Roasted Root Vegegetable Pasta with Kale Pesto and Citrus Fennel Salad
Thursday: 
Lunch: Tomato, cucumber, & mozzarella skewers, whole grain crackers, and fruit
Dinner: Leftover root vegetable pasta
Friday: Hosting company for dinner: Roasted Butternut Squash and Sweet Potato Soup, Roasted Chicken, Roasted Brussels Sprouts and Sweet Potatoes with Pomegranate Glaze, Cranberry Ginger Sorghum, and Black Bean Avocado Brownies
How did you celebrate Halloween?
What's on your menu this week?
Please share with me below or on social media !
Tweet me or tag me on Instagram @JLevinsonRD with #DinnerTonight