Menu Plan Monday: October 3, 2016
October 3, 2016
The latest happenings at Small Bites by Jessica, plus this week's Link Love and Menu Plan Monday!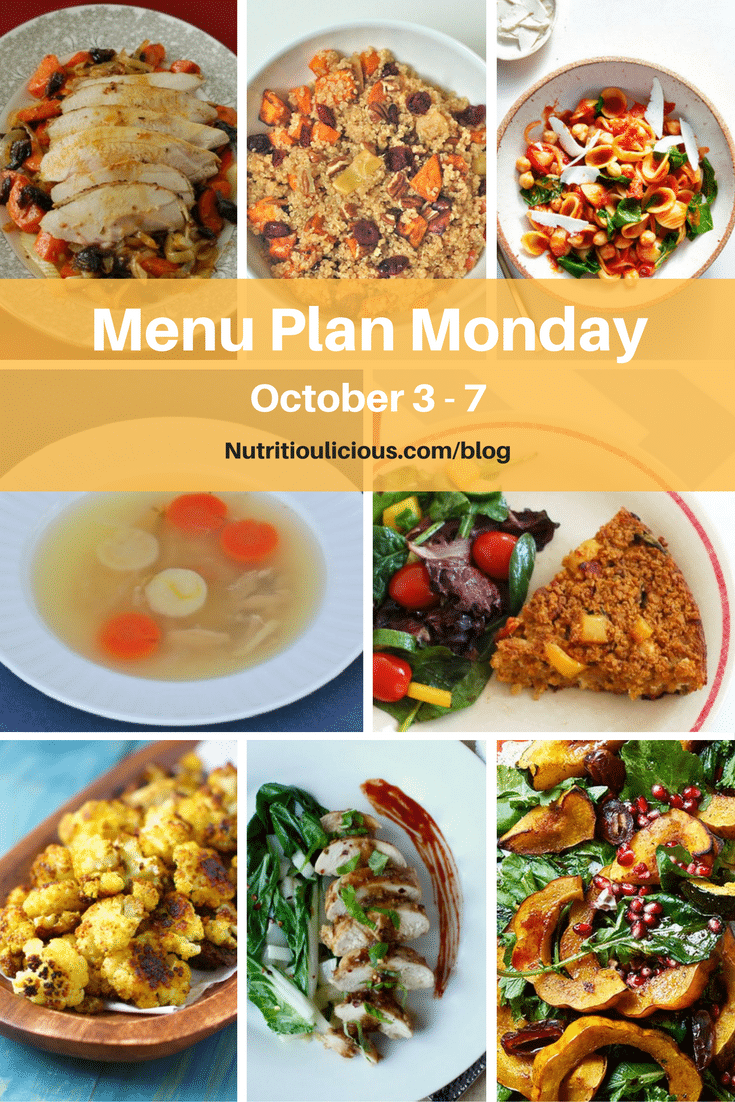 Happy Monday and October everyone! And to all who celebrate Rosh Hashana, the Jewish New Year, Shana Tova u'Metukah – a good and sweet year!
In case you missed me last week, I was out west in Aspen as a guest and paid speaker for the National Cattleman's Beef Association's sponsored Live Well Conference where I joined my RDN colleagues and fellow healthy food bloggers to learn the latest research on beef nutrition, cuts of beef and the science of flavor as it pertains to beef. I also presented to the group on – what else – menu planning and meal planning! I loved sharing my top tips, including how to build beef into your family's meals. Stay tuned for some of that info coming soon to the blog and hopefully some Facebook Live videos too!
It's been pretty hectic since I returned home as I have been cooking up a storm of our Rosh Hashana celebration. If you've visited me on Facebook and Instagram you've probably seen some of what I've been cooking! And since I made so much for the dinner I hosted last night, we're having leftovers tonight (just check out the menu below) and maybe even for lunch Tuesday! This week's menu doesn't include the girls' lunch for Monday and Tuesday since they are off from school, but we resume packing on Wednesday.
Before we get to some Link Love from the past two weeks and this week's Menu Plan Monday, I also wanted to mention that if you haven't signed up yet for my newsletter, don't forget to do so here. In last week's newsletter I shared some of my favorite recipes using all our fresh-picked apples from last weekend's apple picking adventures.
Articles:
Simplify Family Meals with Daily Themes @ Real Living Nutrition
⇒ Theme nights are such a fun way to change things up at dinner time and a great way to stay on track with menu planning!
25 Fast & Healthy Family Dinners for Back to School @ Meal Makeover Moms
⇒ I mean who doesn't need this?! I sure do! So appreciate Liz & Janice including my Orange Maple Salmon! And don't forget about my school lunch ideas – between the two posts you'll be covered for feeding the kids during the busy weeks ahead!
Autumn Produce Challenge @ Blondes Have More Run
⇒ I'm so excited for this series Kayla is starting with some other healthy living bloggers. Great way to encourage people to eat more fruits & veggies!
Recipes:
Toasted Goat Cheese & Pecan Sweet Potato Bites @ The Fit Foodie Mama
⇒ I love small bites like these. Perfect for football tailgate parties or your more formal cocktail party!
Fall Quinoa Breakfast Bowl @ Real Food Real Deals
⇒ Love that Annemarie cooked the quinoa in apple cider! Reminds me a bit of my Spiced Quinoa side dish, but in a breakfast version. Such a delicious fall recipe!
Flourless Peanut Butter Cookies @ Joy.Food.Sunshine
⇒ I love all things peanut butter (DYK I have a Peanut Butter Lovers Pinterest board?!), so of course these are calling my name!
Sauteed Chicken and Apples with Rosemary @ Family Food On the Table
⇒ I love adding apples to savory dishes (like I do in the Spiced Quinoa mentioned above and on this week's menu). This is a great weeknight meal!
Autumn Produce Guide: Best Healthy Seasonal Fall Recipes @ The Grateful Grazer
⇒ I love Stephanie's seasonal produce and recipe guides. In addition to providing you with recipes to make with the seasonal fruits and vegetables, Steph also includes flavor pairings and cooking techniques for each ingredient.
Edamame Falafel Sandwiches @ The Foodie Physician
⇒ These look delicious and given how much my family loves Sonali's Baked Falafel recipe (which I wrote about here), I know they will be a hit!
Pear Pecan Cardamom Muffins @ Lively Table
⇒ Apples really get all the glory in the fall, but pears are so delicious and deserve some praise, which they get in this recipe post from Kaleigh. Can't wait to make a batch of these muffins!
Vegan Healthy Pumpkin Pie Pinwheel Bites @ Food, Faith, Fitness
⇒ These look so decadent, but they're filled with healthy ingredients – and only 6 of them! Added bonus: super easy to roll together!
Black Bean Avocado Brownies @ Kroll's Korner
⇒ As soon as I saw this recipe I knew I was making it. And I did. And it was delicious. My husband didn't even believe me when I told him what was in it! For awhile I had been wanting to make black bean brownies and bake with avocado, and this recipe killed two birds with one stone and with 100% success!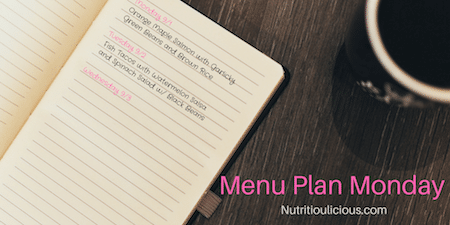 Week of October 3, 2016
Monday: Rosh Hashana dinner leftovers: Classic Chicken Soup, Roasted Chicken with Fennel and Dried Plums, Balsamic Herb Steak with Fig Chutney, Spiced Quinoa with Roasted Apples & Root Vegetables, Sweet Potato and Carrot Casserole, and Roasted Brussels Sprouts with Pomegranate Glaze
Tuesday: Sun-Dried Tomato, Spinach, and Goat Cheese Baked Oatmeal Frittata with Citrus Fennel Salad
Wednesday:
Lunch: Tuna salad with sliced cucumbers on whole wheat bread, tomatoes and pepper slices, and fruit of choice
Dinner: Leftovers or easy eggs
Thursday: 
Lunch: Tomato mozzarella kebabs with smoked salmon roll-ups and fruit
Dinner: One-Pot Pasta with Spinach and Tomatoes + side salad
Friday: Miso Chicken with Indian-Spiced Delicata and Butternut Squash (variation from October Better Homes & Gardens Magazine) and Roasted Garlic Curried Cauliflower
What's on your menu this week? Please share with me below!
Tweet me @JLevinsonRD with #DinnerTonight