Menu Plan Monday: October 24, 2016
October 24, 2016
The latest happenings at Small Bites by Jessica, tips and tricks for a healthy Halloween, plus this week's Link Love and Menu Plan Monday!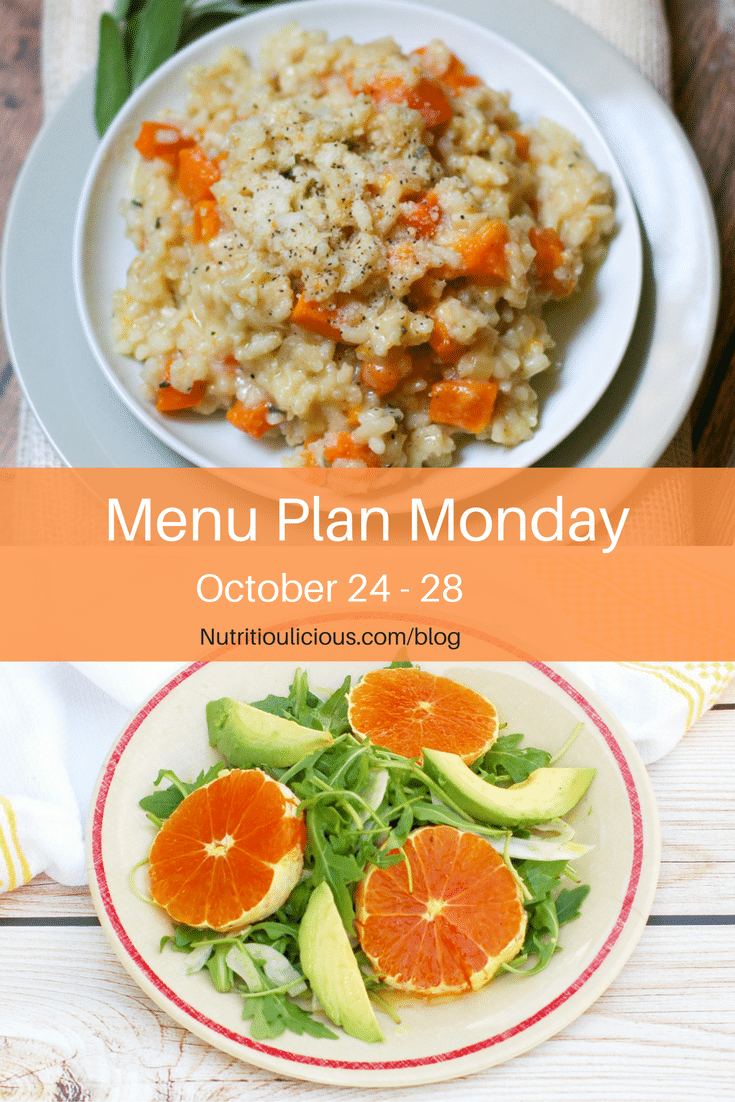 Latest Happenings:
Happy Monday everyone! Hope you had a great weekend! Fall has finally kicked in here in NY and I'm so ready for it and all the warming foods that come along with it (some of my faves: Roasted Butternut Squash and Sweet Potato Soup, Three Bean Vegetarian Chili, and my Spiced Quinoa with Roasted Apples and Root Vegetables).
I spent a large part of the day yesterday in the kitchen with my girls doing some meal prep for the week and making a fun dinner for us to enjoy together (my husband's away for work, so we had a girls' night!). You may have caught my Instastory with our pizza party in the making and we also whipped up this delicious Pumpkin Chocolate Chip Skillet Cookie from Annemarie at Real Food, Real Deals.
This week's menu is a little light on the cooking because tonight we're celebrating another Jewish holiday with dinner at our synagogue, Thursday night hubby and I are out with my parents, sister, and grandparents to celebrate my grandfather's 95th birthday (!), and Friday we're heading out of town with a few other families for a glamping trip. What we do have on our menu is definitely going to be delicious though and I hope to share with you soon some of the new recipes I'm making.
By the way, if you're looking for a meatless Monday option tonight, be sure to check out my recently posted Veggie Cauliflower Fried Rice with Crispy Tofu – it's the perfect choice!
One last note before we get to this week's Link Love and menu. Since Halloween is next Monday and many of you may have celebrations over the course of this week and next weekend, I wanted to remind you of some resources here to help you get through it more healthfully!
Articles:
10 Healthy Halloween Snacks for Kids @ Real Mom Nutrition
⇒ Here's another healthy Halloween post to add to the list above. These ideas are so cute, your kids won't miss the junk. And while you're on the Real Mom Nutrition site, check out Sally's new Snacktivist's Handbook!
4 Food Trends Driven More By Consumers' Fear Than Science @ Keri Gans, RD for US News
⇒ If you think you need to spend your money on organic, non-GMO ingredients, this great article from my colleague Keri is worth reading. It's very much in line with what I wrote about why it's okay to eat non-organic strawberries and my Chicken Myths & Truths post.
The 5 Lunch-Packing Hacks Registered Dietitians Swear By @ SELF Magazine
⇒ If you're a lunch box packer like I am, you'll appreciate having more tips to make your life easier. Be sure to check out my hack (hint, it's #4 on the list!)
Recipes:
Lighter Artichoke Cauliflower Dip @ Mom's Kitchen Handbook
⇒ Most artichoke dips are full of saturated fat and high in calories. Not Katie's! Love her addition of cauliflower too. Perfect game-day nosh!
Easy Pumpkin Falafel Buddha Bowl @ Diary of an Ex-Sloth
⇒ This whole bowl of food looks delicious, but the highlight for me is the falafel. Pumpkin falafel to be exact. Can you say "yum"?!
Honey Balsamic Brussels Sprouts @ Nourished
⇒ You may not realize this since I barely have any Brussels sprouts recipes on the blog, but I do in fact LOVE this vegetable, preferably in roasted form. So of course this recipe looks amazing to me and I highly recommend if you haven't given Brussels a chance since you were forced to eat them as a child, go make some!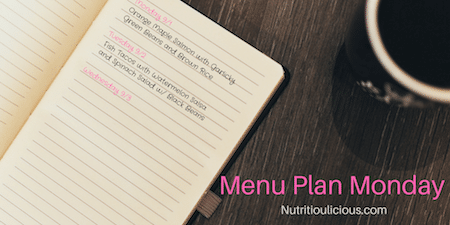 Menu Plan Monday: Week of October 24, 2016
Monday: Dinner at our synagogue
Tuesday: Tilapia with Roasted Fennel and Dried Plums + Maple-Roasted Delicata Squash Quinoa Salad
Wednesday: 
Lunch: Leftover delicata squash quinoa salad with goat cheese on top, hard-boiled egg, and fruit
Dinner: Sage and Butternut Squash Risotto with Citrus Fennel Salad
Thursday: 
Lunch: Leftover risotto, veggies and fruit
Dinner: Dinner out for my grandfather's 95th birthday! Kids will have eggs.
Friday: Away for the weekend
What are your tips and tricks for a healthy Halloween?
What's on your menu this week?
Please share with me below or on social media !
Tweet me or tag me on Instagram @JLevinsonRD with #DinnerTonight