Menu Plan Monday – October 22
October 22, 2012
Last week's menu was a success! Planning what we would eat  and buying the groceries for the week led me to be able to carry out the plan with few disruptions. Let's see if this week goes as well! I won't be doing as much cooking since it's a bit of a busy week, but here's what we'll be having: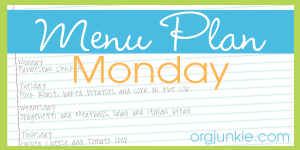 Monday: Leftover Brisket and Roasted Chicken from the weekend and Roasted Broccoli
Tuesday: Fish for one (hubby is out): Baked Fish with Cherry Tomatoes and Mustard Sauce and Roasted Sweet Potatoes
Wednesday: Girl's night out!
Thursday: Spinach, Onion, Pepper Mozzarella Frittata and Salad
Friday: Thai Peanut Chicken and vegetables
Saturday: Date Night!
Sunday: Birthday Party
What will you be enjoying this week?
Linking up at Org Junkie's Menu Plan Monday.