Menu Plan Monday: October 10, 2016
October 10, 2016
The latest happenings at Small Bites by Jessica, plus this week's Link Love and Menu Plan Monday!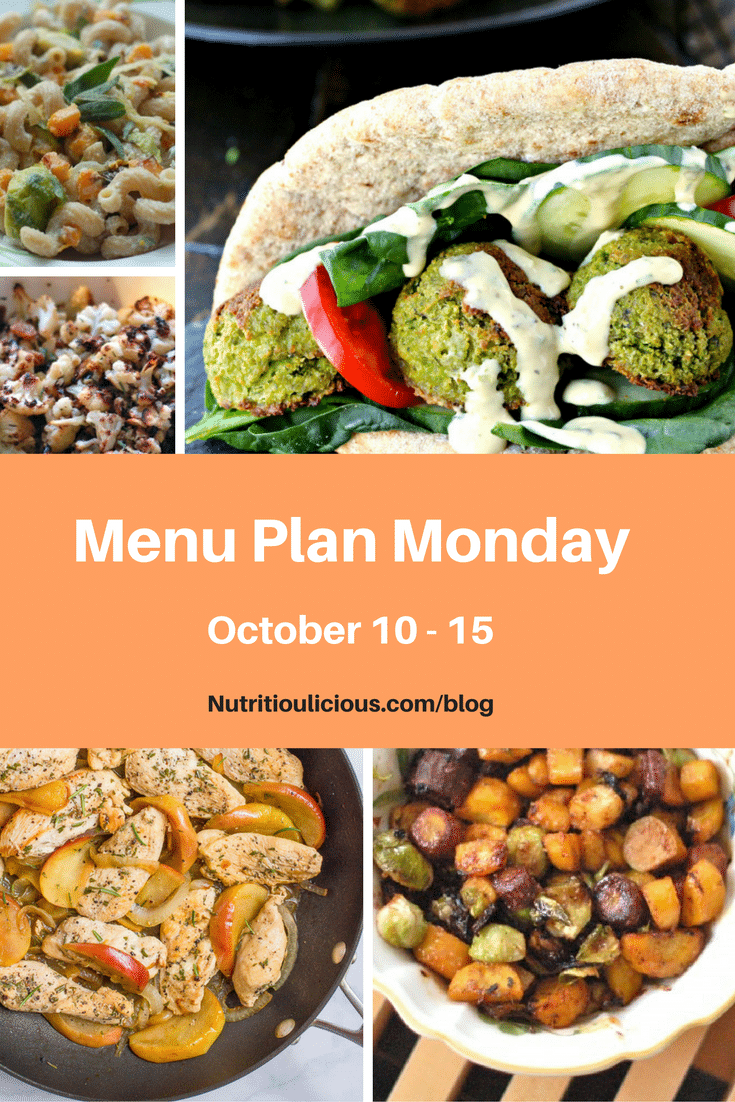 Hope everyone had a great weekend! We finally got around to making my Healthier Pumpkin Pancakes on Saturday – the girls helped me out in the kitchen (maybe you caught my Instastory?) and they declared that the pancakes were the best ever because they helped make them! Just goes to show that when kids help in the kitchen they're more excited to eat what they make! If you're looking for more fall recipes, check out my updated roundup of 45+ Nutritioulicious Fall Recipes to Feast On!
In case you're not up on all the daily, weekly, and monthly food holidays, I wanted to share that this week is National School Lunch Week! My girls are only bringing lunch to school this Thursday since they're off Monday through Wednesday (thanks Columbus Day and Yom Kippur for coming out all on the same week!), but if you're packing up for your kids don't forget about my Quick, Easy, & Healthy School Lunch Ideas and Recipes.
Speaking of Yom Kippur, if you're celebrating, which includes a 25 hour fast, be sure to check out my Healthy Break Fast Guide from 2010. I'll also mention – don't overdo it with your pre-fast meal the night before. You can see what we'll be eating pre-fast in the menu plan below. Scroll on down to check that out and see what articles and recipes I enjoyed around the web last week! Have a wonderful week!
Articles:
Healthy and Tasty Lunch Box Options @ Nutri Savvy Health
⇒ More great ideas for building a Nutritioulicious lunchbox – perfect for National School Lunch Week!
Build a Better Taco + 25 Taco Recipes @ RDelicious Kitchen
⇒ Get ready for Taco Tuesday with Julie's tips for putting together a healthier taco. She also compiled taco recipes so you don't have to go looking for some yourself!
17 Healthy Snacks You Can D.I.Y. Instead of Buy @ Eat This, Not That
⇒ I don't know about you, but come 3 or 4 pm I need a snack to get me through the afternoon. So I was happy to contribute to this article to help save you money by making snacks at home.
Recipes:
Grilled Portobello Mushroom and Arugula Sandwich @ C It Nutritionally
⇒ This looks like the perfect vegetarian sandwich for lunch! Love grilled portobellos!
Egg in the Hole Sunrise Sammie @ Street Smart Nutrition
⇒ I love egg-in-a-hole for weekend breakfasts, but Cara's version using puff pastry and adding caramelized onions, peppers, and mushrooms takes this easy breakfast to a whole new level!
44 Must-Try Vegetarian and Vegan Recipes @ Alissa Rumsey Nutrition
⇒ Celebrate Vegtoberfest with these nutritious and delicious vegetarian and vegan recipes, including some of my own!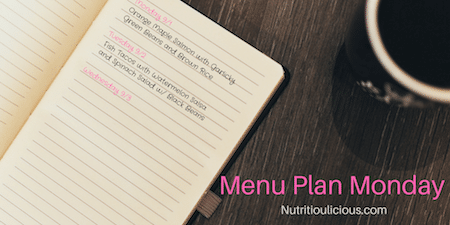 Week of October 10, 2016
Monday: Edamame Falafel Sandwiches with Miso-Roasted Root Veggies
Tuesday: Pre-fast meal: Chicken Soup, Sauteed Chicken and Apples with Rosemary, Rosemary-Roasted Cauliflower with Raisins, and Bubby's Tzimmis
Wednesday: Break Fast – bagels, lox, etc
Thursday: 
Lunch: Smoked salmon & cream cheese tortilla roll ups with fruit and veggie of choice
Dinner: Roasted Butternut Squash & Brussels Sprout Pasta with Lemon-Sage Ricotta and Citrus Fennel Salad
Friday: Mommy away for Food and Nutrition Conference – leaving food for the kids and hubby!
What's on your menu this week? Please share with me below!
Tweet me @JLevinsonRD with #DinnerTonight