Menu Plan Monday: November 7, 2016
November 7, 2016
What to celebrate this November, this week's Link Love, and Menu Plan Monday!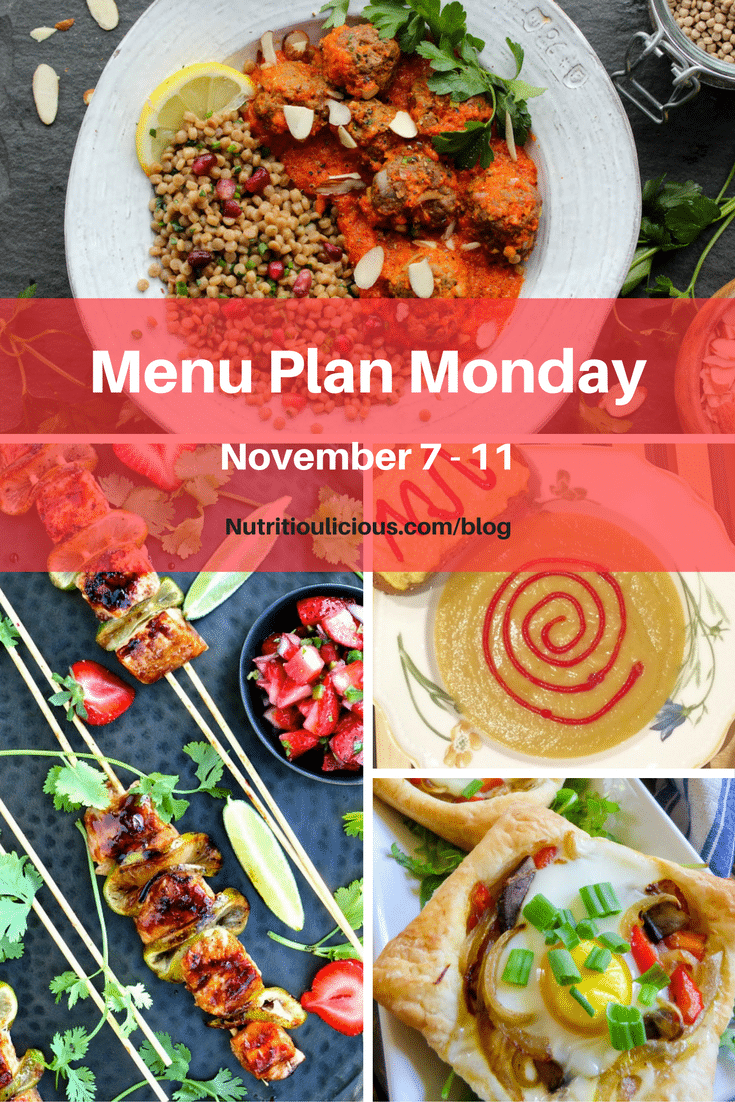 Latest Happenings:
Happy Monday everyone! Hope you all had a fantastic weekend and enjoyed your extra hour of sleep Sunday morning! I'm so happy that it's finally light at 6:30 am again, although I am dreading how quickly it gets dark at night now that Daylight Savings Time has ended. I'm definitely someone who's affected by the change in seasons, and it's especially killer for taking pictures of our dinners – anyone else with me?!
For any dietitians who are reading this, don't forget about the NY Beef Association sponsored Bold Taste of Nutrition recipe contest I'm hosting this week! It's open to all dietitians and dietetic interns and students in the northeast, so even if you're not eligible I'd love for you to spread the word to friends and colleagues who are. I can't wait to see all the nutritious and delicious beef recipes that will be entered!
In other news, there's a lot to celebrate this November – even beyond the upcoming Thanksgiving holiday. DYK? November is National Pomegranate Month, Sweet Potato Awareness Month, and National Peanut Butter Lover's Month. So many Nutritioulicious foods to celebrate! To help you get in the spirit, here are some of my previous posts to check out:
Now scroll on down to this week's Link Love for some good reads and delicious eats, followed by this week's menu plan. Have a great week everyone!
Articles:
9 Easy to Make Better Than Store-Bought Foods @ Better Is the New Perfect
⇒ I love this article! So much fun to see what dietitians prefer to make at home and what they prefer to buy. Go read the article to see my choices!
Coconut oil may taste good, but it's no cure-all @ The Columbian, by RD Ellie Krieger
⇒ Coconut oil definitely has a health halo around it these days, but it doesn't deserve as much praise as it gets. Ellie Krieger digs into the science.
Fertility Foods Coming Summer 2017 @ Sara Hass (and Liz Shaw)
⇒ I'm so proud of my colleagues and friends Sara and Liz who are coming out with the Fertility Foods cookbook next summer! They are a dynamite duo and I know this book will be a great resource for so many couples struggling with infertility.
Meal Planning Success @ Kansas Living by RD Cara Harbstreet of Street Smart Nutrition
⇒ Obviously I love all things related to meal planning and Cara's article is a really detailed guide to getting on board with this important tool for healthy living.
Recipes:
Roasted Sweet Potato Quinoa Salad with Zesty Lime Dressing @ Nourished
⇒ By now you know my love of roasted veggies and quinoa. So of course this salad is totally calling my name!
Roasted Cranberry, Wild Rice, and Kale Salad @ Delish Knowledge
⇒ It seems like Alex is just as excited for cranberry season as I am (have you seen my Instagram posts here and here?!). This salad is so pretty, and that dressing! You just have to check it out!
Mushroom and Quinoa Stuffed Acorn Squash @ Dishing Out Health
⇒ How incredible does this look? The quinoa mushroom mixture reminds me of mushroom risotto, which I love, and those pomegranate seeds on top are just gorgeous!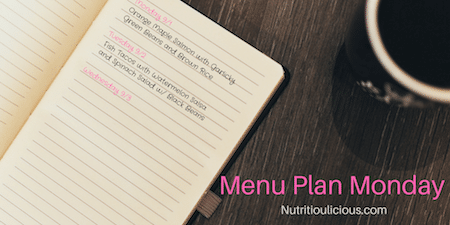 Menu Plan Monday: Week of November 7, 2016
Monday: 
Lunch: Smoked Salmon Cucumber Wraps, veggies and hummus, clementine (you can see a similar lunchbox from a few weeks ago here)
Dinner: Asian Style Farro Buddha Bowl with Crispy Baked Tofu
Tuesday: 
Lunch: Leftovers of Farro Buddha Bowl and fruit
Dinner: Strawberry Teriyaki Salmon, Roasted Cauliflower, and Roasted Butternut Squash and Cranberry Quinoa Salad with Cider Dijon Vinaigrette
Wednesday: 
Lunch: Veggie Egg Muffins, veggies and mozzarella, and fruit
Dinner: Leftover salmon dinner from Tuesday night
Thursday: 
Lunch: Sunbutter Apple Sandwich with Veggies
Dinner: Egg-in-the-Hole Sunrise Sammie and Greek Salad
Friday: Creamy Parsnip Pear Soup and Moroccan Meatballs with Roasted Red Pepper Sauce and Herbed Couscous and a side of roasted asparagus
How do you handle the change in seasons?
Are you celebrating pomegranates, sweet potatoes, and peanut butter this month?
What's on your menu this week?
Please share with me below or on social media!