Menu Plan Monday: November 6, 2017
November 6, 2017
The latest happenings, Link Love, and this week's menu plan!
Latest Happenings:
In last week's Small Bites by Jessica newsletter, I shared a few of my favorite things, including the inclusion of my Apple Cinnamon Cake in Women's Running Magazine and the release of the Fertility Foods Cookbook, the passion project of two of my colleagues and friends, Liz and Sara. See what else I am loving lately and share your recent food finds and recipes that you love!
Also, in case you missed it, I shared a photo of what I made during meal prep Saturday this week. There was more I could have done, but I didn't have enough time, so this will at least get us through breakfast for the week, some school lunches, and dinner tonight (see what's on the menu below). Did you get any meal prep done this weekend? Share with me in the comments below or on my FB and IG posts!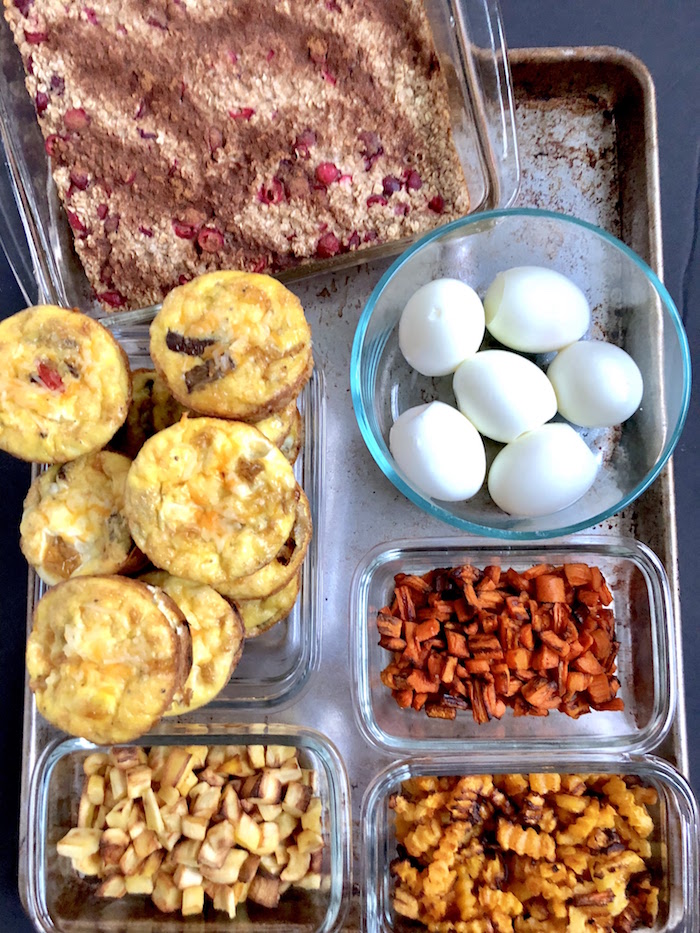 Link Love Articles:
Spice Up Your Child's Diet @ Mom's Kitchen Handbook
⇒ I am a huge proponent of adding spices to your children's food starting from the beginning. Katie has some great tips to help you get started doing so.
Resistant Starch: What Is It and Why Is It Good For You? @ Food Confidence
⇒ You most likely have heard about prebiotics and probiotics, but are you familiar with resistant starch? Danielle explains what it is and why it's important.
The 5 Main Reasons You Can't Lose Weight @ Craving Something Healthy
⇒ If you are over 30 and struggle with losing weight, Anne shares some of the common reasons.
Link Love Recipes:
Paleo Thai Chicken Meatballs @ Tasting Page
⇒ These look so full of flavor! They'd go perfectly with some cauliflower fried rice!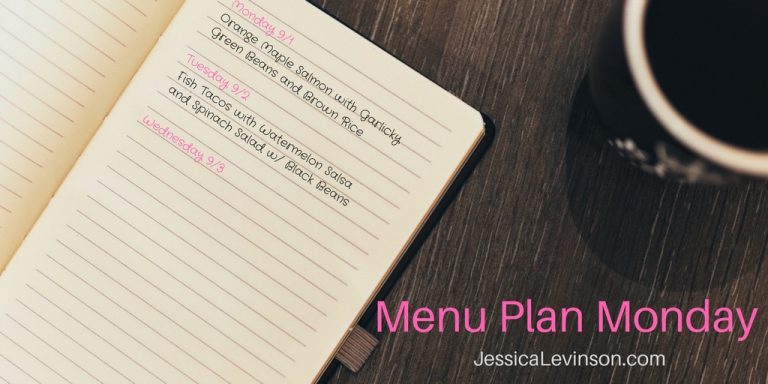 Menu Plan Monday: Week of November 6, 2017
Monday: 
Snack: Hummus, popcorn cakes, and peppers
Lunch: Easy Veggie Egg Muffins, beets/tomatoes, olives, and Asian pear
Dinner: Asian-Style Farro Buddha Bowl with Crispy Baked Tofu (made with sorghum and veggies included roasted Brussels sprouts, carrots, parsnips, and butternut squash zig zags)
Tuesday: 
Snack: String cheese and clementine
Lunch: Lentil Vegetable Salad with Feta, hard boiled egg, olives, and grapes
Dinner: Lemon herb salmon, Roasted broccoli, and Roasted Butternut Squash and Cranberry Quinoa Salad with Cider Dijon Vinaigrette
Wednesday: 
Snack: Roasted edamame and apple
Lunch: Leftover salmon, quinoa, broccoli, and orange smiles
Dinner: Baked Panko Crusted Chicken with Honey Mustard Sauce and roasted butternut squash zig zags and cauliflower
Thursday: 
Snack: Mini pumpkin chocolate chip muffins and clementine
Lunch: Hummus cucumber wrap, sliced vegetables, and pomegranate arils
Dinner: Leftover chicken and veggies
Friday: 
Snack: Yogurt pouch and pepitas
Lunch: Veggie & Bean Quinoa Bites, sliced veggies, olives, and orange smiles
Dinner: Apricot chicken, Maple-Roasted Delicata Squash Quinoa Salad, and roasted broccoli or green beans
What's on your menu plan this week?
Please share with me below or on social media!
Disclosure: This page contains affiliate links. If you purchase products through these link, your cost will be the same but I will receive a small commission to help with operating costs of this blog. As always, all thoughts and opinions are my own and I only recommend products I truly believe in. Thanks for your support!