Menu Plan Monday: November 28, 2016
November 28, 2016
Latest happenings at Small Bites by Jessica, this week's Link Love, and Menu Plan Monday!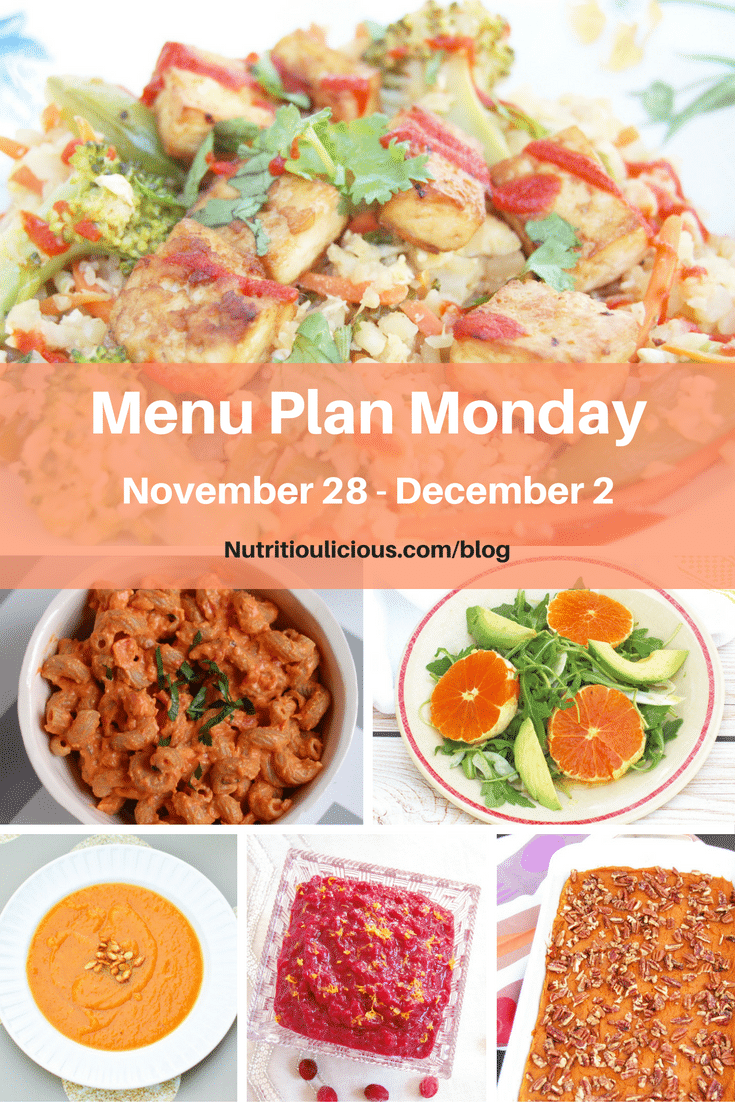 Latest Happenings:
Did everyone have a wonderful Thanksgiving? I sure hope so! This year we were away for the holiday, which I was sad about, but we still enjoyed time with some of our family and we were actually on the Disney cruise, so we were certainly in a magical place!
Personally I am very happy to be home and am ready for a week of healthy eating. The cruise was a lot of fun for the kids and I have to say that the staff works really hard to make sure there's something for everyone – including at meal times. That said, I'm not one for buffets and I sure did miss my home cooking. We're keeping it light and veggie-filled this week! Of course since we missed having our own Thanksgiving feast, I will be making a mini version this coming Friday. You'll see what I'm serving in the menu below.
Anyone else feeling the need to get back on track this week? Find out some foods you can enjoy to do just that in this article I was quoted in at Prevention Magazine. It's not specific to post-Thanksgiving, but still applies. I'd love to know what you're eating this week to get back to routine.
Now for some Link Love and this week's Menu Plan Monday!
Articles:
Why You Should Eat Your Vitamins @ Euphoria Nutrition
⇒ I've always been a believer in getting nutrients from the food you eat, not supplements. Do you agree?
Mighty Goal Monday: Enjoy the Holidays @ Nutrition In Chaos
⇒ Great tips for enjoying the holiday season while sticking to your healthy habits you've been working on so hard all year.
Recipes:
Miso Garlic Cauliflower Gratin @ Dishing Out Health
⇒ Garlic cauliflower is delicious. Anything with miso is fantastic. So there is no doubt this dish, which pairs the two, is amazing!
Wild Rice and Acorn Squash Wedge Salad @ C It Nutritionally
⇒ Now this is a wedge salad I want to dive into! Perfect vegetarian dish for the holiday season or any Meatless Monday!
Shiitake Thyme Crostini with Apricot Goat Cheese @ Zestful Kitchen
⇒ I love crostini combinations! Saving this one for our annual New Year's Eve party. Think I'm going to make a crostini bar!!
Roasted Brussels Sprout Neopolitan Pizza @ A Whisk and Two Wands
⇒ I love roasted Brussels sprouts and have had them on pizza at restaurants but never at home. Time to make that change!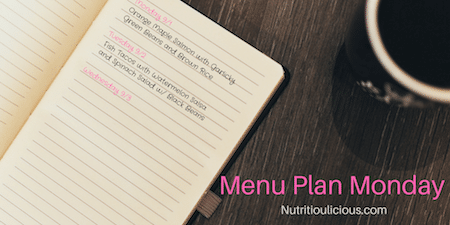 Menu Plan Monday: Week of November 28, 2016
Monday: 
Lunch: Veggie & Bean Quinoa Bites, sliced veggies, orange smiles
Dinner: Veggie Cauliflower Fried Rice with Crispy Tofu
Tuesday: 
Lunch: Tuna edamame salad with crackers, sliced veggies, and clementines
Dinner: Leftover cauliflower fried rice or eggs (mom and dad out at a parent meeting)
Wednesday: 
Lunch: Smoked salmon cucumber wrap, beets and tomatoes, and grapes
Dinner: Quick and Easy Creamy Red Pepper & Tomato Pasta with Citrus Fennel Salad
Thursday: 
Lunch: Veggie mozzarella skewers, roasted chickpeas, and apple slices
Dinner: Leftover pasta
Friday: Roasted Butternut Squash and Sweet Potato Soup, Roasted Turkey, Lightened-Up Sweet Potato Carrot Casserole with Maple Pecans, Pomegranate-Glazed Brussels Sprouts, and Orange-Ginger Cranberry Sauce
Are you ready to get back on track with healthy eating this week?
What's on your menu?
Please share with me below or on social media!
Tweet me or tag me on Instagram with #DinnerTonight