Menu Plan Monday (November 26-December 2)
November 26, 2012
Hope you had a great Thanksgiving weekend! My Turkey Day meal went great  – a couple of minor glitches, but that's par for the course for my first time cooking a big holiday meal. I can't believe it's over and the holiday season is here. Soon my twin girls will be a year old – now I need to start planning for that! In the meantime, I had lots of leftovers from Thanksgiving dinner – enough for meals Sunday night and tonight, and I still have more in the fridge. I had already planned my menu for the week to start cooking fresh tomorrow, but we may go back for more leftovers by mid-week. I hate wasting food – especially nutritious and delicious food. Lesson learned for next year (assuming I host again!) – I don't need 5 pounds of parsnips, carrots, and brussels sprouts!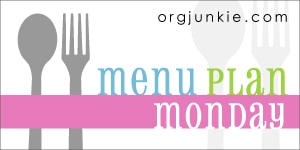 Monday: Thanksgiving leftovers
Tuesday:  Tilapia en papillote with tomatoes and olives, Wheat Berries with Dried Fruit and Nuts
Wednesday: Thanksgiving leftovers, again
Thursday:  Baked Falafel with Cucumber Yogurt Sauce and Greek Salad
Friday: Moroccan Lamb Burgers with Spiced Ketchup, Glazed Carrots with Thyme, Roasted Cauliflower with Sage
Saturday: Date Night
Sunday: Leftovers
What are you cooking this week?
Linking up at Org Junkie's Menu Plan Monday.