Menu Plan Monday: November 2, 2015
November 2, 2015
Recap of Halloween in the Nutritioulicious household, plus this week's Link Love and Menu Plan Monday.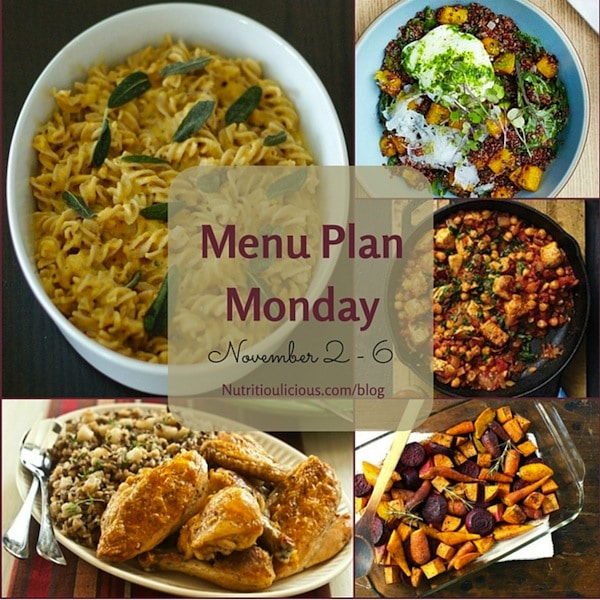 Happy November! Hope you all had a fabulous Halloween and are back to your normal routine after the candy-filled weekend. There's so much hype leading up to Halloween – and posts with tricks and treats for a healthy Halloween – that I think it's important to share how it actually played out.
I'm happy to say things went relatively smoothly for us this year. It was definitely the first year the girls (who are almost 4) really understood that this holiday was all about candy, and we definitely didn't eat as healthfully as normal. But just as I suggested in my Guide to a Sweet and Healthy Halloween, I discussed the plan with them ahead of time and they did a pretty good job of following through.
They each picked one piece of candy at each stop (except when the house owner (to my chagrin) said they could take two or three). Along the way they didn't have any candy until close to the end when they asked (on their own accord) for a lollipop. Once we felt they had collected enough we went back to our friends' house and dumped everything out. I threw out the homemade cookies that someone handed out (I'm surprised people still do that), put aside the small sucking candies that are chocking hazards, and let each of the girls indulge in whatever they wanted.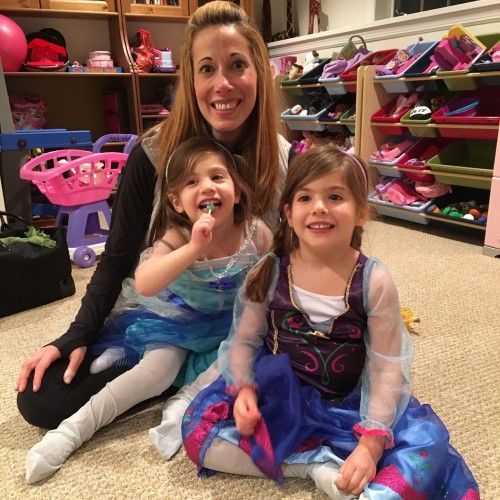 After they each had a few pieces, I reminded them that whatever they didn't eat that night they could save to have on other days. They each took one or two more pieces of candy and let me put the rest back in their bags. I was really proud of them and let them know it! They did of course ask when it is Halloween again, but they didn't even ask for candy first thing this morning, which was also a feat in my mind!
Since last week was all about Halloween here at Nutritioulicious, you may have missed my recipe for Ravioli with Pumpkin Spice Yogurt Sauce. Make sure you check it out – it's a quick and easy recipe to enjoy all fall and winter long. You can also change it up by making the sauce the ravioli filling and topping it with a butter sage sauce. Yum!
Now scroll on down for some of my fave links from last week and this week's Nutritioulicious menu!
Articles:
Is Holiday Weight Gain Inevitable? @ Your Choice Nutrition by Dietitian Brittany
Must I Ban the Bacon? Getting to the Meat of the Matter @ Mom's Kitchen Handbook (great summary of the truth behind the misleading headlines)
How Family Dinner Has Gotten Better @ Real Mom Nutrition (what a relief to know this is the future!)
Recipes:
One Pot Chicken Florentine Pasta by Katie @ Mom to Mom Nutrition guest blogging @ Love & Zest (Been seeing these one-pot pasta dishes everywhere and I think this is the one I will finally try!)
Easy Oven Baked Gluten Free Swedish Pancakes @ Cotter Crunch (Hate standing over the pancake griddle like I do? You need to try this pancake method!)
Chickpea Salad with Apples, Celery, and Walnuts @ Uproot From Oregon
Apple Oatmeal Bars @ Hummusapien
36 Healthy Recipes Using Ancient Grains @ Holley Grainger
Chocolate Chip Pumpkin Swirl Cheesecake Bars @ Zen & Spice


Week of November 2, 2015
Monday: Quinoa and Butternut Bowl (from September Better Homes & Gardens Magazine)
Tuesday:  Middle Eastern Chicken & Chickpea Stew (from Nov/Dec Eating Well Magazine) over Quinoa (making extra Monday night for this dinner)
Wednesday: Lightened Up Macaroni and Cheese (using leftover butternut squash from Mon's dinner) with Trader Joe's Kale & Broccoli Slaw (a new favorite in our house)
Thursday: Off duty!
Friday: Baked Maple Chicken with Pear Pilaf with Maple-Balsamic Roasted Winter Vegetables (from 36 Nutritious & Delicious Fall Recipes roundup)
Tell Me: How was your Halloween? 
What's on your menu this week?
Tweet me @JLevinsonRD with #DinnerTonight