Menu Plan Monday: November 14, 2016
November 14, 2016
Getting read for Thanksgiving, this week's Link Love, and Menu Plan Monday!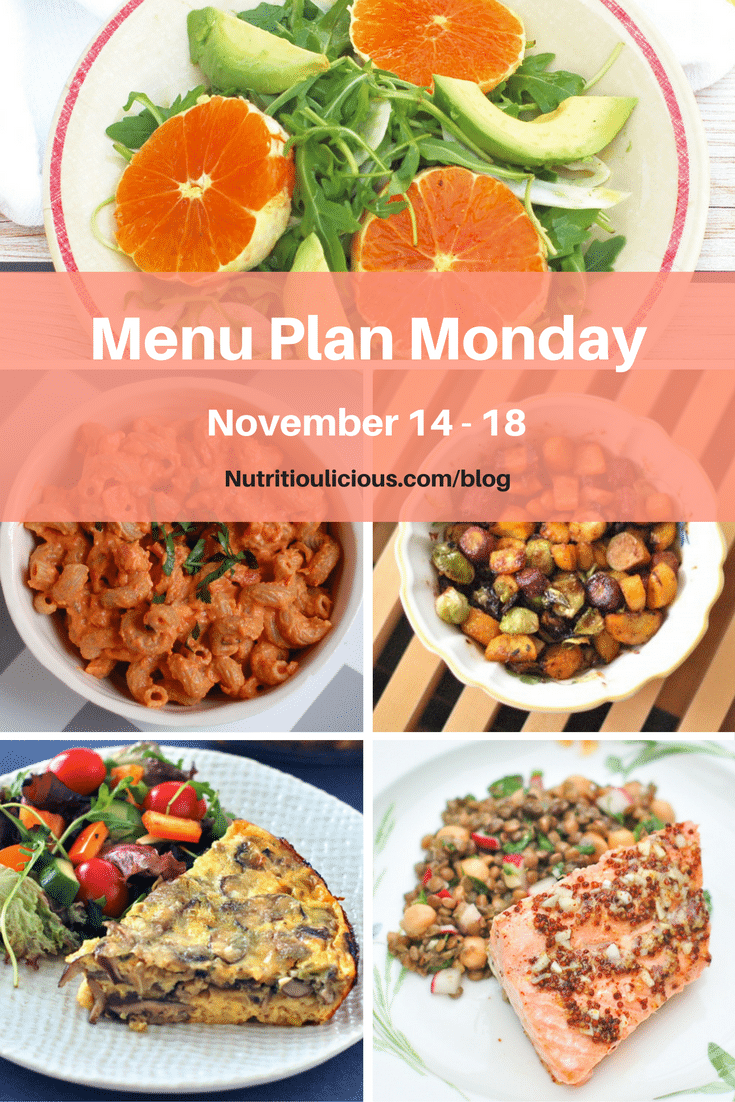 Latest Happenings:
Hope you all had a great weekend! It's hard to believe, but Thanksgiving is less than two weeks away – have you started your menu planning yet? Thanksgiving is by far my favorite holiday, but this year we won't be celebrating at home. I'm sad about it, but have been trying to make up for it by cooking some of the traditional dishes we love this time of year.
Over the past couple of weeks I've made my Roasted Butternut Squash and Sweet Potato Soup, Winter Root Vegetable Salad with Pomegranate Ginger Dressing, Cranberry Ginger Sorghum Salad, this past weekend I made my Spiced Pumpkin Bread, and this week I have another winter squash recipe on the menu. So I'm doing my best to get all the Thanksgiving flavors in before we leave for our trip.
To help you with your Thanksgiving preparations, stay tuned for my lightened up sweet potato casserole recipe coming Wednesday and my Thanksgiving survival tips this Thursday or Friday. For more recipe ideas check out my Thanksgiving Pinterest board. I also wanted to share a few articles I'm quoted in that may help you as you get ready for Turkey Day and the holiday season in general.
Since I won't be here next week, I want to wish you all in advance a very happy, fun, nutritious and delicious Thanksgiving! Gobble, gobble!
Articles:
Tips for Shopping Smart and Healthy @ The Not So Perfect Housewife
⇒ These tips are all spot on and especially helpful this time of year when the stores are busier than ever and we're eating more thanks to the holiday season.
Coconut Sugar: Healthy or Hype? @ Tasty Balance Nutrition
⇒ A lot of moms in my daughters' preschool have been talking about replacing white cane sugar and other sweeteners with coconut sugar due to it's health benefits. While coconut sugar does have some nutrients not found in other sweeteners, the amount you would need to consume to reap those benefits is way more than I would ever recommend anyone have of any type of sugar. At the end of the day, sugar is sugar is sugar. Lindsey's post goes into more details with the truth about coconut sugar.
Registered Dietitian vs. Nutritionist? @ Fresh Fit & Healthy
⇒ As a registered dietitian nutritionist (RDN), I get asked all the time what the difference is between an RDN and a nutritionist. If you've ever wondered the same thing, Sarah gives a detailed answere here.
On Entremanureship @ Hummusapien
⇒ Running a business is hard work. If you're an entrepreneur, I think you'll appreciate Alexis' honest post about how she feels day in and day out. I for one could relate.
Recipes:
Cranberry Pumpkin Upside Down Cake @ My Cape Cod Kitchen
⇒ This cake is absolutely gorgeous and I cannot get over how easy it actually is to make! Perfect for the upcoming holiday season!
Roasted Fall Vegetables with Apples and Cranberries @ A Whisk and Two Wands
⇒ You know I love my roasted veggies! Love the addition of the fruit for a sweet and savory combo!
45 Healthy Freezer Meals to Help You Reclaim Dinner Time @ The Spicy RD
⇒ EA has done it again with a recipe roundup jam-packed with nutritious and delicious recipes that are all freezer friendly. Perfect for serving your family a healthy meal on a night you don't have time to cook fresh.
Crispy Brussels Sprout and Mozzarella Skewers with Savory Wild Blueberry Dipping Sauce @ My Cape Cod Kitchen
⇒ Yet another delicious recipe from Jenny (two in one week!). I love roasted Brussels sprouts and this combination sounds fantastic!
Maple Cinnamon Sweet Potato Coins with Wild Blueberry Goat Cheese @ Bite of Health
⇒ These really are a "bite of health" – and deliciousness! Perfect for pre-Thanksgiving dinner snacking!
Crispy Fish Tacos with Pomegranate, Pear, and Honey Lime Crema @ Love & Zest
⇒ I love fish tacos and Kristina's recipe looks like such a fun twist on the classic battered tacos you find at restaurants. Love the addition of Greek yogurt and of course pomegranates! By the way, if you haven't checked out Kristina's YouTube channel, you need to now. She's killing it with amazing food videos!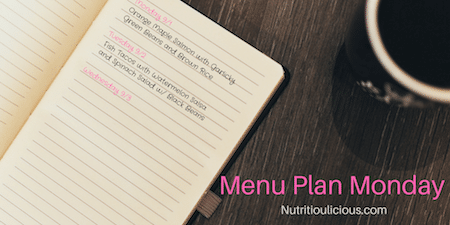 Menu Plan Monday: Week of November 14, 2016
Monday: 
Lunch: Veggie & Bean Quinoa Bites, smoked salmon, fruit, and sliced veggies
Dinner: Baked Mushroom Leek Frittata with Miso-Roasted Root Veggies
Tuesday: 
Lunch: Letfover frittata and roasted veggies
Dinner: 5-Ingredient Orange Maple Salmon with Maple-Roasted Delicata Squash Quinoa Salad
Wednesday: 
Lunch: Leftover salmon and quinoa salad
Dinner: Quick and Easy Creamy Red Pepper & Tomato Pasta with Citrus Fennel Salad
Thursday: 
Lunch: Chickpea Apricot Salad (making this Apricot Pineapple Chicken Salad with chickpeas for a vegetarian option), sliced veggies, and fruit
Dinner: Leftover pasta
Friday: Dinner at our synagogue
Are you getting excited for Thanksgiving?
What's on your menu this week?
Please share with me below or on social media!
Tweet me or tag me on Instagram with #DinnerTonight