Menu Plan Monday: November 13, 2017
November 13, 2017
The latest happenings, Link Love, and this week's menu plan!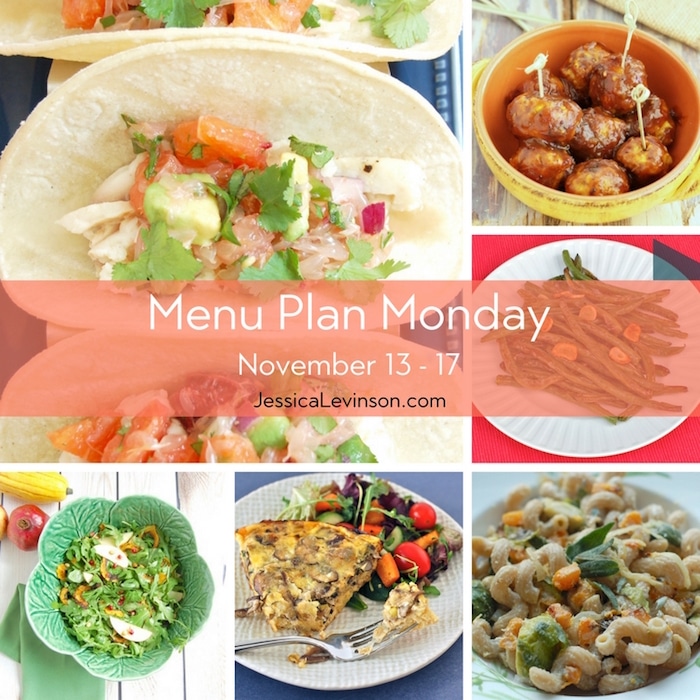 Latest Happenings:
It feels like just a couple of weeks ago we were saying "when is fall going to be here?!" and now the weather is in the 30s and 40s and my favorite holiday is less than two weeks away! I love the laid back atmosphere of Thanksgiving day and of course all the food (although I have my own updated versions of many classics!). If you subscribe to my newsletter, stay tuned for my Thanksgiving roundup coming this Friday!
In other news, check out the awesome giveaway I'm hosting over on Instagram! In partnership with the American Dairy Association North East, we are giving away two copies of my colleague Katie Morford's book Rise & Shine: Better Breakfasts for Busy Mornings. Head on over to IG now to find out how you can enter to win a copy!
Tell me: What is your favorite Thanksgiving recipe?
Link Love Articles:
6 Ways to Raise a Child to be an Intuitive Eater @ The Healthful Peach
⇒ Kids are born with an innate sense of hunger and fullness, but that quickly goes away with societal influences. As you're teaching your kids healthy eating habits, make sure to include these tips.
5 Food Myths You Keep Falling For @ Emily Kyle Nutrition
⇒ I love debunking food myths. Think low-fat is healthier for you? Don't think there are any good options in the freezer aisle? Emily spills the beans on these and more!
Link Love Recipes:
The Ultimate List of Easy and Dietitian-Approved Thanksgiving Side Dishes @ Rebecca Clyde, RD
⇒ Side dishes are always my favorite at Thanksgiving. There are so many good ones to choose from here.
Quinoa Crusted Salmon @ The Almond Eater
⇒ Salmon is my go to fish to make, and with this recipe's short list of ingredients you really can't get any easier!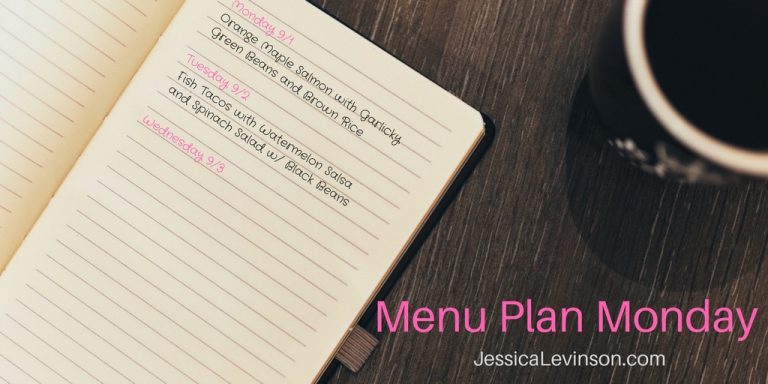 Menu Plan Monday: Week of November 13, 2017
Monday: 
Snack: Kiwi and Giant Peruvian Inca Corn
Lunch: Smoked Salmon Cucumber Wrap, sliced vegetables, and Asian Pear
Dinner: Roasted sweet potato, broccoli, and Brussels sprouts pasta with lemon-sage ricotta (a variation of this recipe) and Roasted Garlicky Green Beans
Tuesday: 
Snack: Spreadable cheese with sliced cucumbers, peppers, tomatoes, and carrots
Lunch: Falafel balls and hummus with leftover roasted vegetables and grapes
Dinner: Fish Tacos with Citrus Salsa and Trader Joe's Southwestern Chopped Salad
Wednesday: 
Snack: Yogurt pouch and pepitas
Lunch: Beet and Goat Cheese Quinoa Salad with veggies Leftover pasta from Monday and orange smiles
Dinner: Baked Mushroom Leek Frittata with Roasted Delicata Squash Apple Salad with Apple Cider Vinaigrette Roasted butternut squash zig zags, corn bread (needed to make for hubby's office Thanksgiving)
Thursday: 
Snack: String cheese and clementine
Lunch: Tuna sandwich, veggies, and pomegranate seeds
Dinner: Leftovers
Friday: 
Snack: Popcorn trail mix (with roasted edamame beans and dried fruit)
Lunch: Tomato mozzarella skewers, olives, and apple slices
Dinner: Turkey Meatballs with Curried Cranberry Sauce over brown rice with Roasted Delicata Squash and Green Beans
What's on your menu plan this week?
Please share with me below or on social media!