Menu Plan Monday (November 12-18)
November 12, 2012
Hope you had a great weekend! Ours was fun with some visits from friends and family, bagel and lox brunch on Saturday, and a birthday celebration for my brother and sister-in-law Sunday night. Getting ready to head out to Fairway for my weekly grocery shop. Hopefully I won't be in the supermarket every day like I was last week after filling in from Hurricane Sandy (and hopefully we're done with power outages for a while!). Since we're less than two weeks away from Thanksgiving, which I am hosting for the first time, I'm keeping this week's meals fairly simple.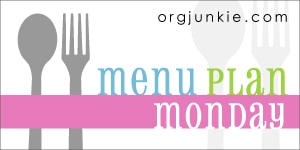 Monday: Leftover Vegetable Soup and Cider-Sage Steak with Roasted Broccoli
Tuesday: Three-Bean Soup/Chili
Wednesday: Leftover Soup/Chili
Thursday: Cheesy Pasta Primavera with Kale and Cauliflower (updated for fall)
Friday: Spiced Roasted Chicken, Noodle Kugel, and Roasted Garlicky Green Beans
Saturday: Date Night!
Sunday: We'll see…
What's on your meal plan this weekend?
Linking up at Org Junkie's Menu Plan Monday.