Menu Plan Monday: May 30, 2016
May 30, 2016
Learn the Joy of Eating and get this week's Menu Plan Monday plus Link Love!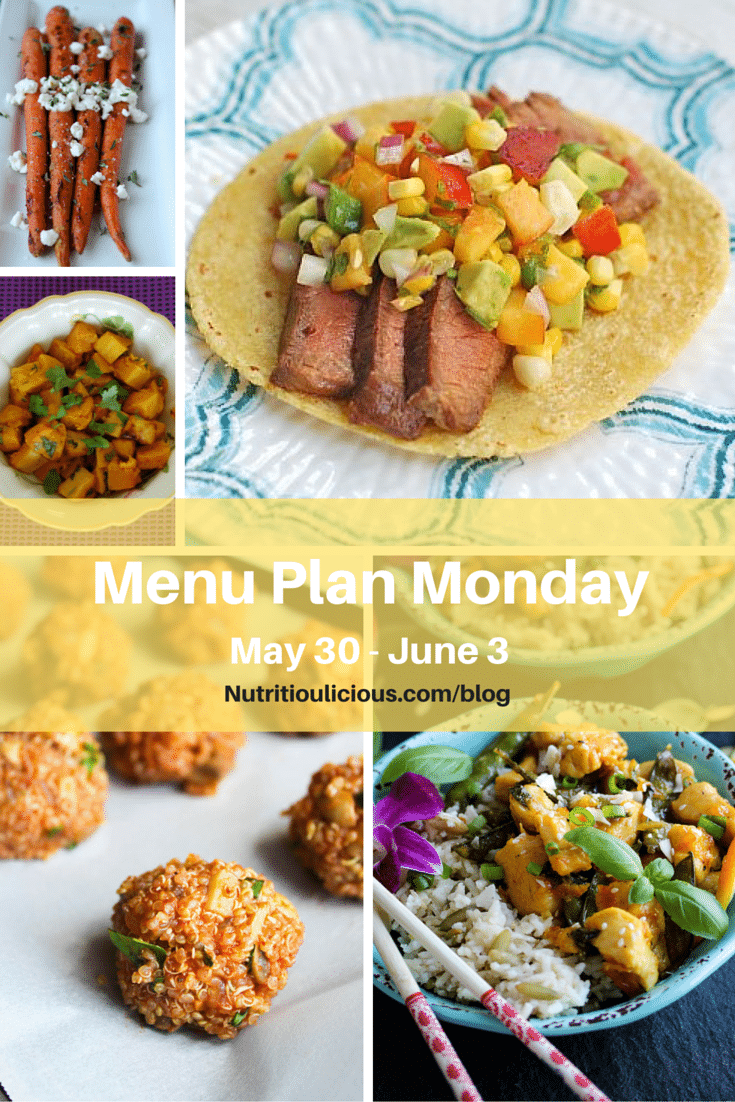 Happy Memorial Day! Hope everyone had a fantastic weekend and enjoyed some fun in the sun and some nutritious and delicious eats! We enjoyed a nice mix of swimming, time with family and friends, and some yummy food. My husband actually made me dinner Saturday night, which was an extra special treat for me since I'm usually the one busy in the kitchen!
I'm excited to share with you a new program three of my colleagues put together. As you can tell from the name of my brand and blog, the main thing I emphasize here at Nutritioulicious is learning to eat and enjoy food that is both nutritious and delicious. Enjoying food is so important to maintaining a healthy diet and lifestyle. I've said it before – restriction and deprivation don't lead to lasting healthy choices.
I'm always happy to learn about other registered dietitian nutritionists (RDNs) and health professionals who have a similar philosophy, so today I am excited to let you know about a new program put together by three RDNs, all of whom I'm lucky to have had the opportunity to meet and connect with in person as well as on social media.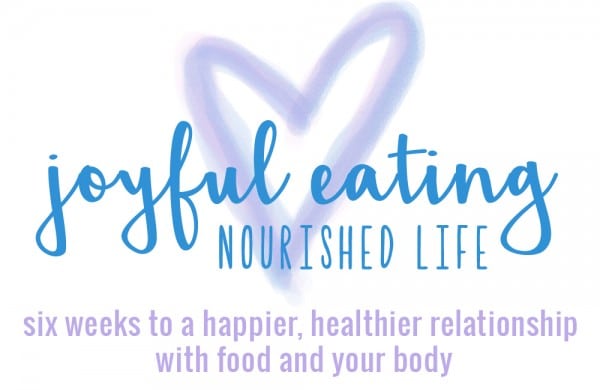 Joyful Eating, Nourished Life is a virtual 6 week group program that will teach you how to get healthy without deprivation, calorie counting, or stress about food or exercise. Rachael, Anne, and Alex spent over 6 months developing this comprehensive program, which is packed with the best science-backed strategies and tools for nutrition, intuitive and mindful eating, fitness, and habit building. Here are just a few of the highlights of the weekly content of the program:
A simple, flexible and fuss free template for planning meals with staying power. No more battling the hangry monster!
Tools for a pantry makeover plus ideas for simple, weeknight pantry meals you can throw together in minutes.
Strategies for navigating social eating situations, including parties, going out to eat and holidays, without overeating or feeling deprived.
An emotional eating worksheet that teaches you to nourish your soul and deal with negative emotions without food.
A step by step mindful eating guide.
Click here to visit the Joyful Eating, Nourished Life Program, find out what else you'll learn, and sign up for the first 6-week session, which begins June 20th! (FYI, the last I heard, this session was already half full!)
Now for this week's Link Love and Menu Plan Monday, keep reading below!
Articles:
How to Be Okay Gaining Weight @ Imma Eat That
⇒ I loved this post. It's more than just about being ok gaining weight. It's about learning to love the body you're in.
12 Reasons Every Child Should Learn to Cook @ Back to the Book Nutrition
⇒ You probably know by now I'm a big proponent of kids cooking. Dena shares 12 reasons why it's so important!
Kids Begging for Dessert? Try These 5 Tricks @ Eating Made Easy
⇒ These are great tips for a common issue parents deal with – this mom included! I strongly agree not to use treats as a reward for finishing the plate of food!
Confidence: The New Sexy for Summer @ Shaw's Simple Swaps
⇒ Want a summer body? Try a dose of confidence, no diet needed.
When A Brownie Is the Healthiest Choice @ Avocado A Day Nutrition
⇒ I've said it before (and I just said it again above!): restriction and deprivation don't work. Join Alex, Rachael, and Anne's Joyful Eating Program to learn more (see more about the program above)!
The Secret Reason Frozen Yogurt Makes You Gain Weight @ Nutrition Starring You
⇒ The fro-yo craze hasn't died down, but the calories add up more than you think. Find out why in this insider look at fro-yo shops!
Recipes: 
Roasted Tomato Avocado Toasts @ The Grateful Grazer
⇒ How delicious do these small bites look? Perfect for hosting a crowd!
Mediterranean Power Bowls with Smoky Red Pepper Sauce @ Dishing Out Health
⇒ When you have all the ingredients on hand to make a recipe, you know it's meant to be!
Vegan Pinto Bean Brownies @ Diary of an Ex-Sloth
⇒ I'm sure you've heard of black bean brownies, but I had never seen pinto bean brownies. They look delish!
Mushroom Quinoa Meatball Sandwich @ The Lean Green Bean
⇒ Love this meatless meal so much that I'm making it this week! I have no doubt my kids will love it!
Savory Dutch Baby with Salmon & Herbed Cheese @ Kumquat
⇒ We finally made a sweet Dutch baby a couple of weekends ago and I can't wait to try Gretchen's savory version!

Week of May 30, 2016
Monday: Memorial Day
Tuesday: Mushroom Quinoa Meatballs with Maple Dijon Roasted Carrots with Goat Cheese and Roasted Red Cabbage
Wednesday: 30-Minute Orange Basil Chicken with Coconut Rice – adding broccoli, spring peas, and fennel and making with cauliflower 'rice'
Thursday: Off Duty!
Friday: Soy-Marinated Steak with Nectarine Corn Salsa and Chili-Lime Roasted Butternut Squash
What's on your menu this week?
Tweet me @JLevinsonRD with #DinnerTonight
Note: I was not asked or compensated to share the Joyful Eating program, however the links to the program and sign up are affiliate links. As with other affiliate links on my blog, if you purchase a product through this link your cost will be the same but I will receive a small commission to help with operating costs of this blog. As always, all thoughts and opinions are my own and I only recommend products and programs I truly believe in. Thanks for your support!