Menu Plan Monday: May 23, 2016
May 23, 2016
What I've been up to, getting ready for Memorial Day Weekend, and this week's Link Love and Menu Plan Monday!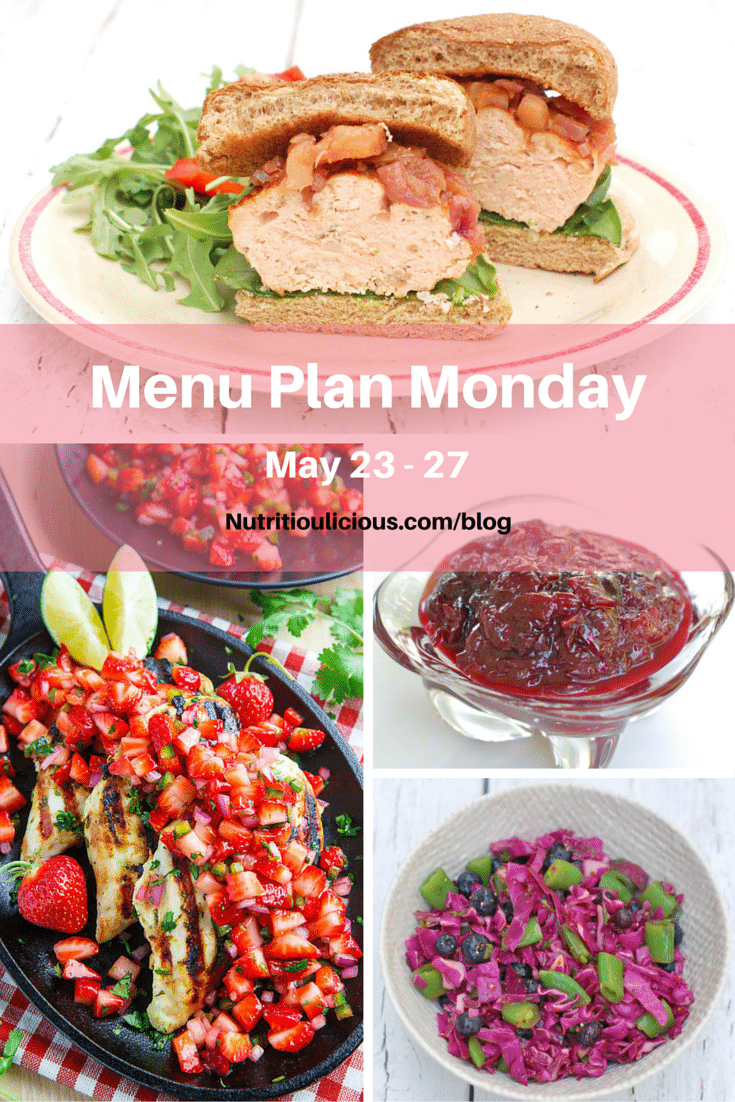 Menu Plan Monday and Link Love are back! Apologies for not posting last week, but keep in mind that if you ever need meal planning ideas you can always head over to my Meal Planning Pinterest board for a collection of meal planning tips and previous Menu Plan Monday posts. Also my friend E.A., aka The Spicy RD, has a fantastic Weekly Dinner Meal Plan board with lots of inspiration!
We've been busy cooking up spring and summer recipes around here. In case you missed any of the recent posts, be sure to check out my Spring Pea & Radish Farro Salad with Lemon Mint Vinaigrette, Strawberry Arugula Salad with Fennel, Toasted Almonds, and Strawberry Champagne Vinaigrette, and my most recent recipe, Watermelon, Feta, & Mint Skewers, which I just shared over the weekend for this month's Recipe ReDux challenge!
So many nutritious and delicious eats this time of year, don't you think?! Just in time for Memorial Day weekend, coming up next Monday! Memorial Day is the official start of the BBQ/backyard party season! To keep you on track with your healthy lifestyle over the holiday weekend (and for the whole summer), be sure to check out last year's post, 5 Healthy Habits for Memorial Day Weekend. And this Wednesday I'll be sharing some more tips for maintaining healthy habits all summer long!
In the meantime, I have a lot of Link Love from the past two weeks, so we better get to it! You'll find everything from food myths and nutrition facts about certain foods like chocolate and dairy to recipes for easy weeknight dinners and spring eats! And don't forget to check below for this week's menu plan! Have a great week and happy Memorial Day!
Articles:
Is Leptin Resistance the New Insulin Resistance? How Hormones Are Making You Fat @ Abbey's Kitchen
⇒ Abbey uses clever analogies to explain how our weight-related hormones work and play a role in obesity.
Nourish Your Namaste: How Nutrition and Yoga Can Support Digestion, Immunity, Energy & Relaxation! @ The Foodie Dietitian
⇒ I'm so excited for my friend Kara's newly released e-book. Kara is a dietitian and a yoga teacher and I just love the title of this book and everything it offers!
5 Food Myths You Keep Falling For – Busted @ Emily Kyle Nutrition
⇒ I love busting food myths! Emily talks gluten free diets, eggs, sugar, caffeine, and more in this post!
Is "Healthy" a Green Light For "All You Can Eat?" @ Mom's Kitchen Handbook
⇒ Love this post! Just because a cookie is made with healthier ingredients doesn't mean it's good for you. Moderation is key for all foods! Would love for you to share your thoughts on my Facebook thread!
10 Kids' Food Myths – Busted! By Amy Gorin, MS, RDN @ Parents Magazine
⇒ More food myths, this time for parents! One of my first tips to parents is don't be a short order cook!
Is Full Fat Dairy Better For You? @ Be Truly Nourished
⇒ Melanie does a great job summarizing the research on this and I agree with her bottom line to balance calories whatever decision you make.
Is Chocolate Actually Healthy For You? By Danielle Omar, RD @ My Fitness Pal
⇒ Who doesn't love chocolate? You'll love it even more once you find out the health benefits!
Here's How Many Fruits and Vegetables Kids Need Every Day @ Real Mom Nutrition
⇒ Even if you know what kids are supposed to eat (and that's a big if for most people!), do you know how much a cup of fruit or a cup of veggies actually looks like? Sally's visuals will help!
Recipes: 
Sorghum & Roasted Rhubarb BBQ Sauce @ Reformation Acres
⇒ I love rhubarb, but definitely don't use it enough. This sauce looks like the perfect way to change that!
Radish Greens Pesto @ This is So Good
⇒ What a great use for radish greens and so much better than wasting them! #EndFoodWaste
Strawberry Basil Crostini with Balsamic Reduction @ Homemade Nutrition
⇒ I love strawberries and balsamic together (as you can see in my lemon ricotta ravioli recipe!). Can't wait to make these!
Easy & Tasty Weeknight Meals From Foodie Dietitians @ Amme's Savory Dish
⇒ Who doesn't need more quick, easy, and nutritious weeknight meals? I always do!
Cauliflower Pancakes @ Real Food Real Deals
⇒ Cauliflower rice is a hit in my house, so why not these pancakes?!
Quick and Easy One Pot Lasagna Soup @ The Spicy RD
⇒ This looks delicious and a heck of a lot easier than actual lasagna! Great Meatless Monday meal!

Week of May 23, 2016
Monday: Veggie Cauliflower Fried Rice with Crispy Tofu
Tuesday: Salmon Burgers with Spicy Fresh Cherry Chutney, Mexican Corn Salad, and Red Cabbage, Snap Pea, & Blueberry Salad
Wednesday: Leftovers
Thursday: Off Duty!
Friday: Cilantro Lime Grilled Chicken with Strawberry Salsa and Grilled Asparagus
What's on your menu this week?
Any fun plans for the holiday weekend?
Tweet me @JLevinsonRD with #DinnerTonight