Menu Plan Monday: May 2, 2016
May 2, 2016
Cinco de Mayo recipe inspiration, Link Love, and this week's Menu Plan Monday!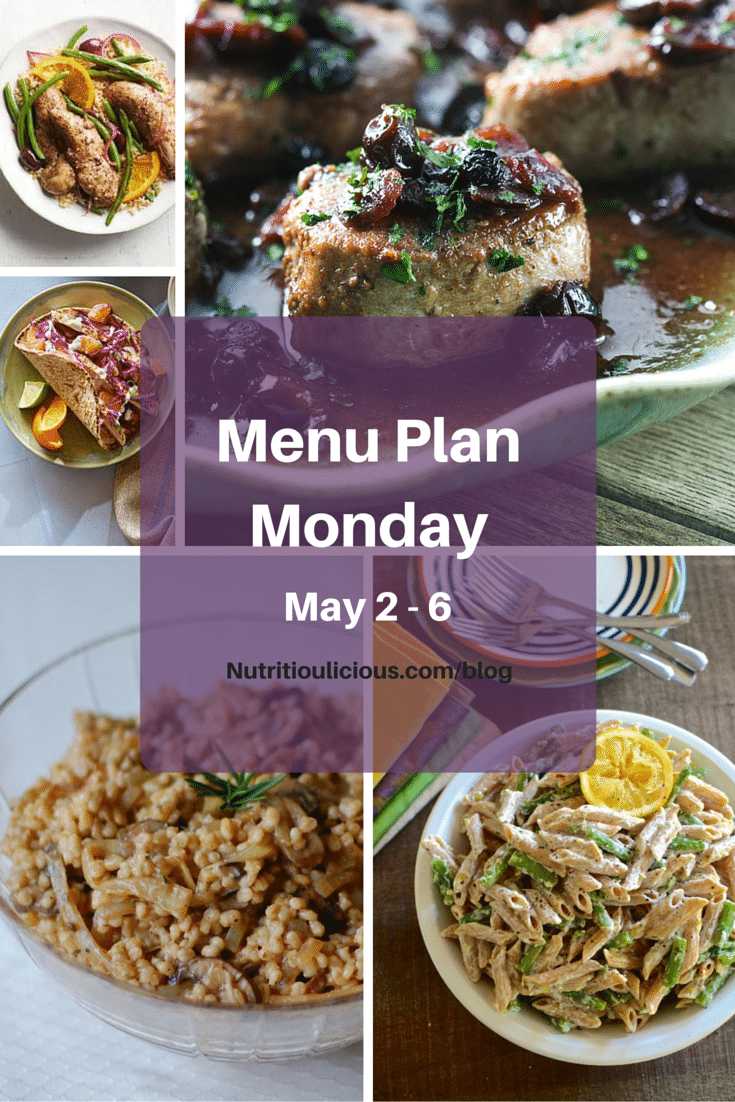 Happy May everyone! Hope you all had a wonderful weekend and are having a great – and stress-free – Monday so far! If you are trying to combat some of those Monday-back-at-work blues, be sure to check out my post from Saturday, The Best and Worst Foods for Stress – you may be surprised about what is exacerbating your stress hormones.
In other news, Passover is finally over and just in time for Cinco de Mayo this Thursday! Everywhere I look I'm seeing fantastic recipes to celebrate the day. I highly recommend you head over to my assistant Kaleigh's blog The Lively Table for some festive Mexican recipes. She's got quite the collection!
Some of my favorite Mexican-inspired recipes you might want to try this Thursday are Sweetpotato Black Bean Quesadillas, Soy-Marinated Steak Tacos with Nectarine Corn Salsa, Corn & Black Bean Quinoa Salad, Grilled Avocados Stuffed with Corn & Black Bean Salsa, and Chipotle Beef Tacos with Watermelon Salsa. We'll be having our taco night Wednesday since I'll be out Thursday night. Can't wait for some fish tacos – they're my daughters' favorite!
Be sure to check out the rest of this week's menu plan below and before you do, don't miss some great articles and (avocado-filled) recipes from last week! And don't forget about all the moms and grandmas this Sunday – it's Mother's Day!
Articles:
5 Ways to Make Exercise Work For You @ Be Truly Nourished
⇒ Fantastic tips, especially involving friends and scheduling it in.
What a Dietitian Eats, In Five @ Heather Caplan, RD
⇒ Love this! We should all ask these questions before we eat!
25 Free Full Body Workout Videos (15 Min or Less) @ Back to the Book Nutrition
⇒ This is such a fantastic resource, and one I need to use now!
2016 Nutrition Nuptials Dietitian Registry Recommendations @ Nutrition Nuptials
⇒ It's wedding season! Fill your registry with useful items (including some of my recommendations!)
Let Your Kids Use Sharp Knives and Hot Stoves @ Aviva Goldfarb in the Washington Post
⇒ Getting kids in the kitchen to cook is something I'm a big advocate of (I even wrote a book about it!), but I admit I'm afraid to let them do certain things and I hate the mess!
How to Choose a Meal Delivery Service @ Alissa Rumsey Nutrition & Wellness
⇒ If you've ever considered trying a meal kit or meal delivery service, you have to check out Alissa's review.
How to Love Food When the World Tells You Not To @ Call Me Betty
⇒ So many mixed nutrition messages in the media. Love this post with five tips to improve your relationship with food.
Recipes: 
Avocado Chicken Burgers @ The Lean Green Bean
⇒ I often top my burgers with avocado. Never though to add it inside!
High Protein Avocado Toast with White Beans & Roasted Tomatoes @ Abbey's Kitchen
⇒ Love the protein boost in this avo-toast. And of course I love roasted tomatoes!
Vegan Gluten Free Black Forest Trifle @ The Foodie Dietitian
⇒ You'll never guess what ingredients are in this mousse! Hint: It's in the two recipes listed above also!
Flourless Chocolate Chip Oatmeal Cookie Bars @ The Nutritious Kitchen
⇒ My unopened bag of almond meal from Passover has been waiting for this recipe to come along!
Mother's Day Brunch Recipes + Gift Guide @ The Spicy RD
⇒ So many unique gift ideas and delicious eats to celebrate all the moms this Sunday!

Week of May 2, 2016
Monday: Asparagus Leek Lemon Pasta and Strawberry Fennel Salad with Strawberry Vinaigrette
Tuesday: Za'atar Roasted Chicken Tenders and Vegetables with Roasted Carrots & Cauliflower
Wednesday: Fish Tacos with Tangerine-Lime Crema (making with fish instead of chicken) and Spinach Salad with Jicama, Black Beans, and Lime Vinaigrette
Thursday: Off Duty!
Friday: Beef Medallions with Pomegranate Berry Sauce (making with beef instead of pork), Mushroom Onion Barley, and Roasted Cauliflower
How are you celebrating Cinco de Mayo and Mother's Day?
What's on your menu this week?
Tweet me @JLevinsonRD with #DinnerTonight