Menu Plan Monday: March 7, 2016
March 7, 2016
Nutrition myths dispelled and some sweet, smoky, and spicy recipes in this week's Link Love. Plus a nutritious and delicious menu plan!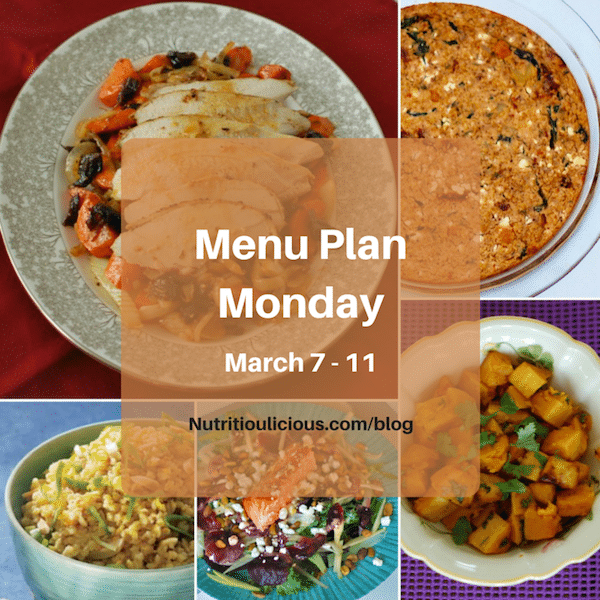 There's nothing like nice weather on the horizon to get me in a good mood and we're expecting mid-60s and sun here in NY this week. Woohoo!
If you're also expecting a change in temperature or if you're traveling or have little kids in your house who bring home loads of germs, be sure to check out my post from this past Saturday, 6 Immunity Boosting Foods & 20+ Recipes to Make With Them. Changes in temperature from hot to cold and cold to hot often bring on the common cold and we're still in flu season so we need to do all we can to stay healthy and what we eat plays a role.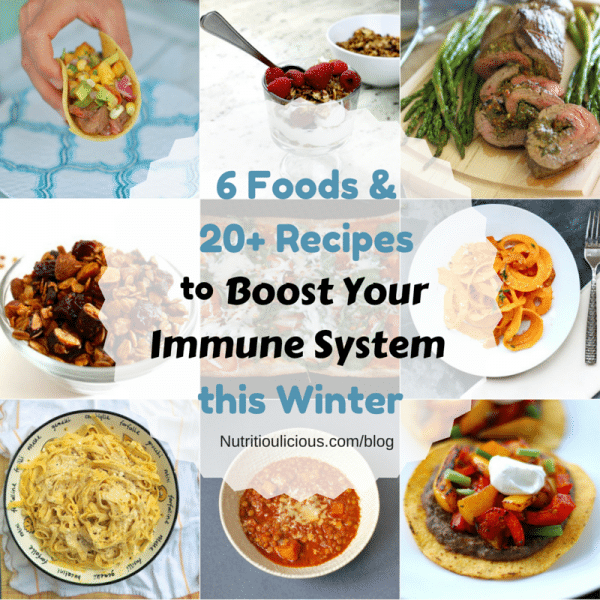 Be sure to check out the posts below in this week's Link Love! Lots of great reads and recipes, including myths and facts about soy foods and fruit juice, different meal planning styles, burgers made with beets, and savory granola. Then scroll down some more for this week's nutritious and delicious menu plan! Have a great week!
Articles:
Is There a Good Dairy-Free Substitute for Coffee Creamer? @ Go Dairy Free
⇒A great resource if you can't have dairy, are vegan, or keep Kosher. So many better options than there used to be!
5 Foods to Tackle Heart Disease @ Toby Amidor Nutrition
⇒Heart Health Month may be over, but we need to keep our hearts healthy all year long.
Nutrition Myths: Are Soy Foods Safe? @ The Grateful Grazer
⇒There are so many myths about soy foods, from whether men should eat them to their role in cancer. Steph clears up the confusion.
Fruit Juice: Love It or Leave It? @ Your Choice Nutrition
⇒Love Brittany's sensible approach to this hot topic.
Fiber Intake May Reduce Breast Cancer Risk and How to Eat More Fiber @ Make Healthy Easy
⇒More good reasons to get that 25 g of fiber per day + easy, realistic ways to do it.
Healthy Meal Planning Tips for Every Mom @ Elysa Cruse for Fairfield County Moms Blog
⇒I'm definitely a "spend my weekends planning" meal planner, but think it's time to try the days of the week or cycle menu meal planning technique!
What is Your Food Bubble and How to Change It @ Real Living Nutrition
⇒An interesting read about what affects our food choices and preferences.
Recipes: 
Portobello Mushroom Egg Bake with Colorful Roasted Veggies @ To Live & Diet in L.A.
⇒When I was in Palm Springs a few weeks ago, I had an eggs Benedict over portobellos that was delish. Can't wait to try this recipe at home!
Smoky Beet Burgers with Goat Cheese Yogurt Spread @ The Foodie Physician
⇒Almost too pretty to eat. But I'll dig in anyway!
Wild Blueberry Thai Zinger Smoothie @ Zen and Spice
⇒Emily has gone wild by adding jalapeno to her wild blueberry smoothie and I can't wait to try it!
Caramelized Onion, Roasted Garlic, & Goat Cheese Pizza @ Wendy Polisi
⇒This pizza has all my favorite toppings! And you don't want to miss the bonus recipes for roasted garlic and caramelized onions.
Palak Tofu @ Food, Pleasure, & Health
⇒We love Indian food, but I know the sauces are not the healthiest for us. Can't wait to make this healthier version.
Pita with Yogurt Chickpeas and Muhammara @ Avocado A Day Nutrition
⇒Just bought Muhammara at Trader Joe's and hope to make this for lunch one day this week!
Savory Tamari Granola @ Lively Table
⇒Can't wait to try this recipe from my assistant Kaleigh as a crunchy salad topper!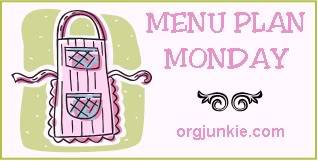 Week of March 7, 2016
Monday: Beanballs with Marinara Sauce over pasta + roasted broccoli and snap peas
Tuesday:  Sun-Dried Tomato, Spinach, and Goat Cheese Oatmeal Frittata (my February recipe from Today's Dietitian Magazine) + Waldorf Salad with Citrus Yogurt Vinaigrette (without the salmon)
Wednesday: Salmon Burgers topped with Apple Chutney + Chili Lime Roasted Butternut Squash
Thursday: Off Duty!
Friday: Roasted Chicken with Fennel, Carrots, and Dried Plums + Bulgur with Ginger and Orange
What were your favorite articles & recipes from around the web last week?
What's on your menu this week?
Tweet me @JLevinsonRD with #DinnerTonight