Menu Plan Monday: March 27, 2017
March 27, 2017
Get the latest happenings at Small Bites by Jessica, this week's Link Love, and Menu Plan Monday all in one place!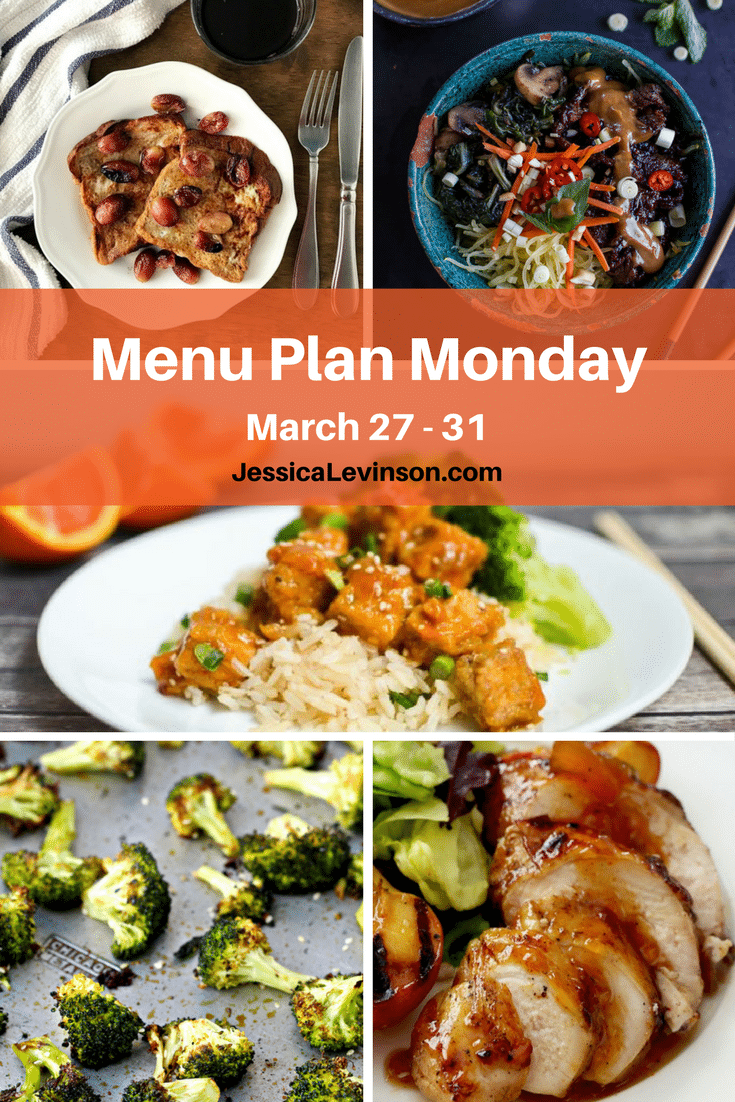 Latest Happenings:
Happy Monday! Hope you had a great weekend and are ready for a wonderful week ahead! Not much to fill you in on here, but in case you missed it, last week I shared my Panko Crusted Chicken recipe and it's one you'll want to Pin and print out, especially if your kids are chicken nuggets and chicken fingers fans!
Be sure to look through the recipes and articles in this week's Link Love – lots of great stuff there. And if there's anything I missed that you think I'd enjoy reading, be sure to let me know in the comments below!
Articles:
Recipe Reading 101: Solving Recipe Mysteries @ Create Kids Club
⇒ Have you ever started making a recipe only to realize halfway through that you don't have an ingredient called for? It's so important to read a recipe in full before you start cooking. That's just one of the tips you'll find in this awesome article!
Foods RDs Refuse to Give Up @ Jessica Cording Nutrition
⇒ People always assume registered dietitians don't eat a laundry list of "unhealthy" foods. Well that couldn't be further from the truth. Just take a look at what some of my colleagues love and would never give up. I have to agree with almost every item on this list!
Seven Nutrition Myths You Should Stop Believing. Right Now. @ Langer Nutrition
⇒ I love how Abby always tells it like it is. I couldn't agree more with this edition of myth busting, especially about shopping the perimeter. Time for that myth to go buh-bye!
The Easy Way to Cook Artichokes @ Teaspoon of Spice
⇒ I always use the boiling method when I make Artichokes Vinaigrette, but given that I roast every other veggie, I have to give this method a try!
Recipes:
Edamame Cranberry Feta Salad @ Love & Zest
⇒ This salad is sweet, salty, packed with protein, and the perfect welcome to spring! Can't wait to make it for the girls' lunchbox!
101 Easy Healthy Snack Recipes @ FitViews
⇒ You definitely won't run out of snack ideas with this list. And you'll even find a few of my own recipes included 😉
Peanut Butter Blueberry Cookies @ Kroll's Korner
⇒ Anything with peanut butter calls my name, but the fact that these cookies also include oats and blueberries makes this a winner in my book (or shall I say on my blog)!
Spinach Artichoke White Bean Burgers @ Veggie Inspired
⇒ If you love spinach artichoke dip, you will definitely want to try these burgers!
Avocado Toast 12 Ways @ fANNEtastic Food
⇒ Avocado toast doesn't get old when you have all these varieties to try! Especially loving the citrus topping!
Healthy Skillet Peanut Butter Oatmeal Cookie @ Joy Food Sunshine
⇒ I mean, what more is there to say about this than YUM?!
Double Potato & Egg Breakfast Bowl @ EmPowered Nutrition
⇒ Spiralizing isn't just for noodles anymore! Switch up your usual hash browns for these spiralized potatoes for a fun and satisfying breakfast bowl.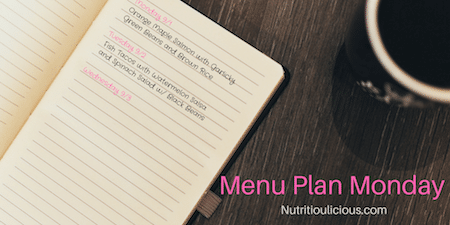 Menu Plan Monday: Week of March 27, 2017
Monday: 
Lunch: Veggie & Bean Quinoa Bites, cheese, veggies, and apple slices
Dinner: Breakfast for dinner! Broiled Grape French Toast served with yogurt or cottage cheese
Tuesday: 
Lunch: Tuna edamame salad, veggies, and fruit
Dinner: Crispy Baked Cara Cara Orange Tofu with cauliflower rice and roasted asparagus
Wednesday: 
Lunch: Soynut butter apple skewers and veggies
Dinner: Vietnamese Lemongrass Beef and Spaghetti Squash Noodle Bowls with Peanut Sauce
Thursday: 
Lunch: Salmon veggie croquettes (from Trader Joe's), veggies, and fruit
Dinner: Leftovers or eggs
Friday: Sticky Chicken with Orange Glaze (modified version of this recipe), Sesame Roasted Broccoli, and Barley with Roasted Fennel and Sweet Potatoes
What's on your menu this week?
Please share with me below or on social media!