Menu Plan Monday: March 20, 2017
March 20, 2017
Happy spring! Find out the latest happenings at Small Bites by Jessica, this week's Link Love, and Menu Plan Monday all in one place!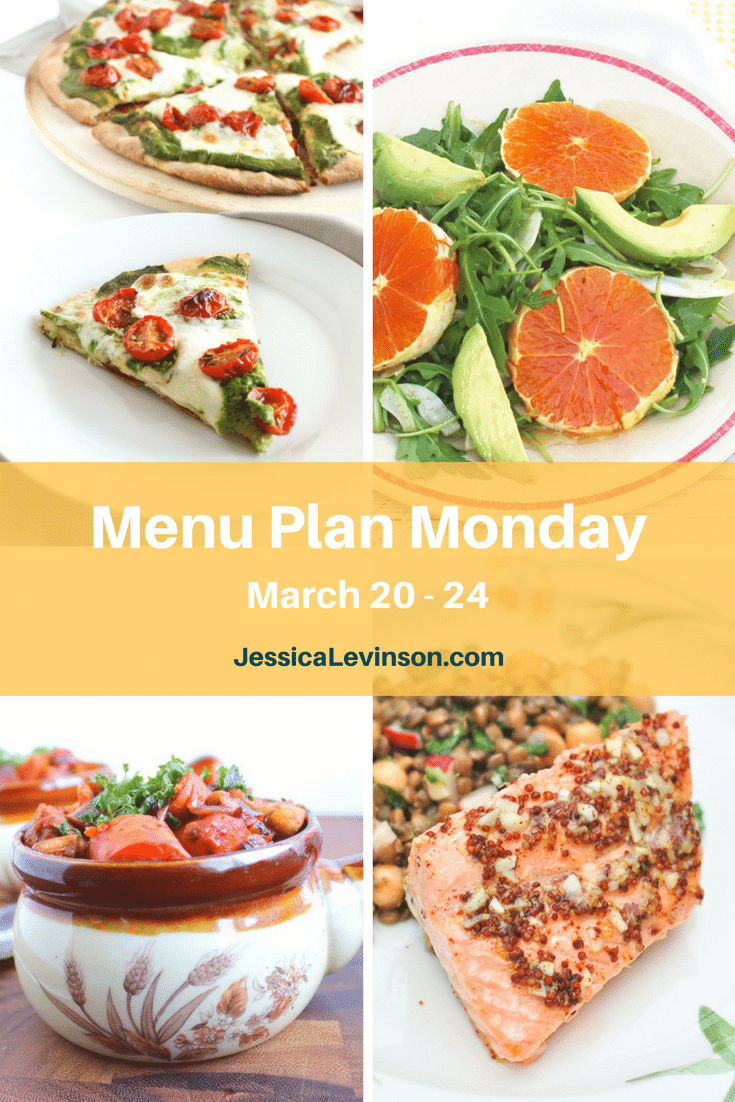 Latest Happenings:
Happy spring everyone! After last week's blizzard, there's still a lot of snow on the ground here in NY, but I'm getting excited for the new season and am as ready as ever. I have been seeing asparagus and strawberries on sale at the supermarket, and can't wait for the rest of the spring produce to make it's way to us.
It seems everyone is ready for spring – just take a look at the recipes in this week's link love! The other theme you'll see is pizza – must have been on everyone's radar with Pi Day last Tuesday! I made it pie week here and shared two updated pizza recipe posts – if you missed them, you can check them out here and here. After all the pizza talk and posting last week, I had to include one in this week's menu plan below!
I'd love to hear what you're most excited for this spring. Let me know in the comments below!
Recipes:
Vegetarian Stuffed Cabbage Rolls @ One Hungry Bunny
⇒ Stuffed cabbage is one of my childhood favorite recipes my mom made (and still makes). Love this vegetarian version!
Frugal Food: Cauliflower @ Nutrition to Fit
⇒ There's a reason cauliflower is one of the most talked about food trends these days. It's nutrient rich and super versatile. I love all the creative uses of the cruciferous veggie in this roundup.
Asparagus Neapolitan Pizza @ A Whisk and Two Wands
⇒ This sounds like a perfect pizza for spring, especially on the grill!
Green Spring Vegetable Soup @ The Foodie Physician
⇒ This soup is seriously artwork, and the perfect way to welcome the new season.
Seeded Quinoa Cheese Crisps @ The Every Kitchen
⇒ I love making cheese crisps – they're so easy even though they look gourmet. This variation takes it up a notch with satisfyingly crunchy seeds and raw quinoa.
Spring Green Pecan Pesto Naan Pizzas @ The Grateful Grazer
⇒ If you haven't heard, naan pizza is where it's at these days! And great minds think alike with topping pizza crust with pesto!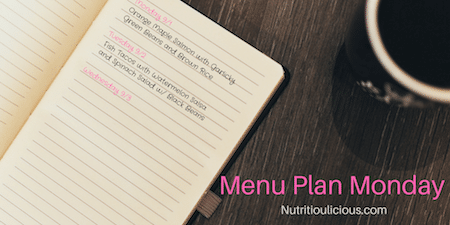 Menu Plan Monday: Week of March 20, 2017
Monday: 
Lunch: Cucumber cheese "sandwiches," roasted chickpeas, veggies, and clementine
Dinner: Rosemary-Roasted Tomato Pesto Pizza with Citrus Fennel Salad and Artichokes Vinaigrette
Tuesday: 
Lunch: Trader Joe's Vegetable Pakoras, sliced veggies, fruit
Dinner: 5-Ingredient Orange Maple Salmon with maple-roasted acorn squash and Thai Spring Rolls with Sweet & Spicy Grape Dipping Sauce
Wednesday: 
Lunch: Soynut butter apple skewers and veggies
Dinner: Vegan Tempeh Mushroom Bourguignon with quinoa and roasted broccoli
Thursday: 
Lunch: Quinoa salad with beets and goat cheese, fruit
Dinner: Leftovers or eggs
Friday: Invited out
What's on your menu this week?
Please share with me below or on social media!