Menu Plan Monday: March 14, 2016
March 14, 2016
Packing a healthy lunch for kids and adults, handling food cravings, and tasty ways to use lemons in this week's Link Love. Plus a nutritious and delicious menu plan!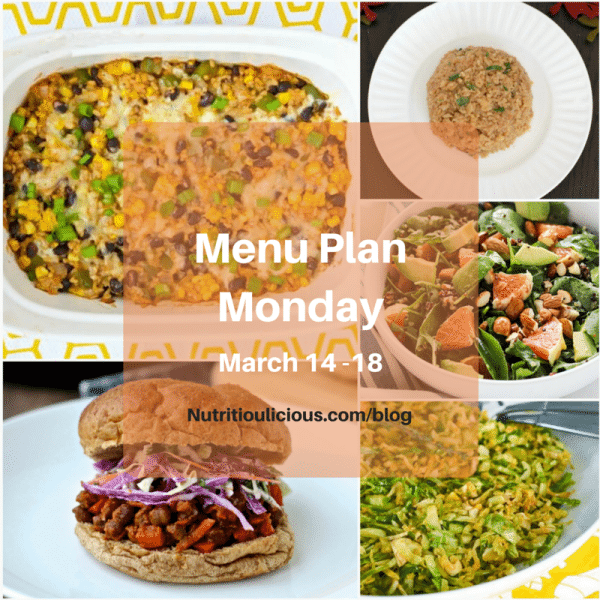 As everyone knows, we sprang forward this weekend, which was not much fun in the loss of sleep department, but it makes me super excited for spring for one major reason: better food photography conditions! Longer days and nicer weather means that when I need to photograph a recipe, I can actually cook dinner at a normal time of day, rather than 10 am! Plus I can go outside to take those pics. This sounds pretty silly, but in the food blog world this is a big deal!
Granted you wouldn't know it from the cold, rainy, dreary weather I woke up to this morning, but hopefully that will change as the week goes by since I have some recipes to develop and shoot this week. Not much else new to report on my end, so let's get to this week's Link Love and Menu Plan Monday!
Articles:
5 Simple Ways to Pack a Healthy Lunch @ Hungry Hobby
⇒Great ideas here, especially love the adult lunchable!
Causes of Food Cravings and Prevention Tips @ Avocado A Day Nutrition
⇒Great post with realistic ways to prevent giving in to food cravings.
Intermittent Fasting for Weight Loss? The Evidence Based Pros & Cons @ Abbey's Kitchen
⇒The NY Times just covered this hot topic last week and Abbey's post summarizes my viewpoint.
125 Healthy Lunchboxes for Kids @ Holley Grainger Nutrition
⇒Keep lunch interesting for your kids. Holley is the queen of lunchboxes!
How to Simplify Meal Planning? @ Food, Pleasure, & Health
⇒You know meal planning is important to me and Dixya's tips are spot on.
Health Benefits You May Not Know About Popcorn @ Real Living Nutrition
⇒Popcorn is hot right now and for good reason – it's good for you!
7 Mistakes to Stop Making If You Want Your Kids to Learn to Cook @ Aviva Goldfarb for Parents.com
⇒Admittedly I make some of these – sorry, I can't stand mess! But I strive to do better and hope you do too if you have kids.
No More Multi-Tasking! Let's Get Focused @ Nicole Culver, Blissful Bites
⇒This is not food or nutrition related, but I thought it was a good read if you're like me and struggle with multitasking.
Recipes: 
Raspberry Lemonade Crumble @ Zen & Spice
⇒This dessert speaks spring to me. Can't wait to make it!
Easy Baked Sweet Potato Fries with Avocado Cream @ Chard in Charge
⇒I love sweet potato fries and this avocado cream looks like a great pairing.
Vegetable Breakfast Skillet @ Nutritionist Reviews
⇒An excellent way to get the recommended servings of vegetables in your diet.
28 Fresh & Healthy Recipes w/ Lemons You Need to Make @ The Spicy RD
⇒Lemons are so springy and fresh! Can't wait to try some of these recipes (and thanks to E.A. for including my Corn & Basil Cakes with Lemon Yogurt Sauce).

Week of March 14, 2016
Monday: Pasta with Red Pepper Tomato Sauce + Smoky, Lemony Brussels Sprouts
Tuesday: Tasty Bite Vegetarian Sloppy Joes + Roasted Vegetables
Wednesday: Off Duty!
Thursday: Vegetarian Rice & Bean Casserole + Cara Cara Orange & Arugula Salad
Friday: Ropa Vieja over Cauliflower Burnt Rice
Are you excited for spring?
What's on your menu this week?
Tweet me @JLevinsonRD with #DinnerTonight