Menu Plan Monday: March 13, 2017
March 13, 2017
Make menu planning easier with Gatheredtable, plus the latest happenings at Small Bites by Jessica, this week's Link Love, and Menu Plan Monday!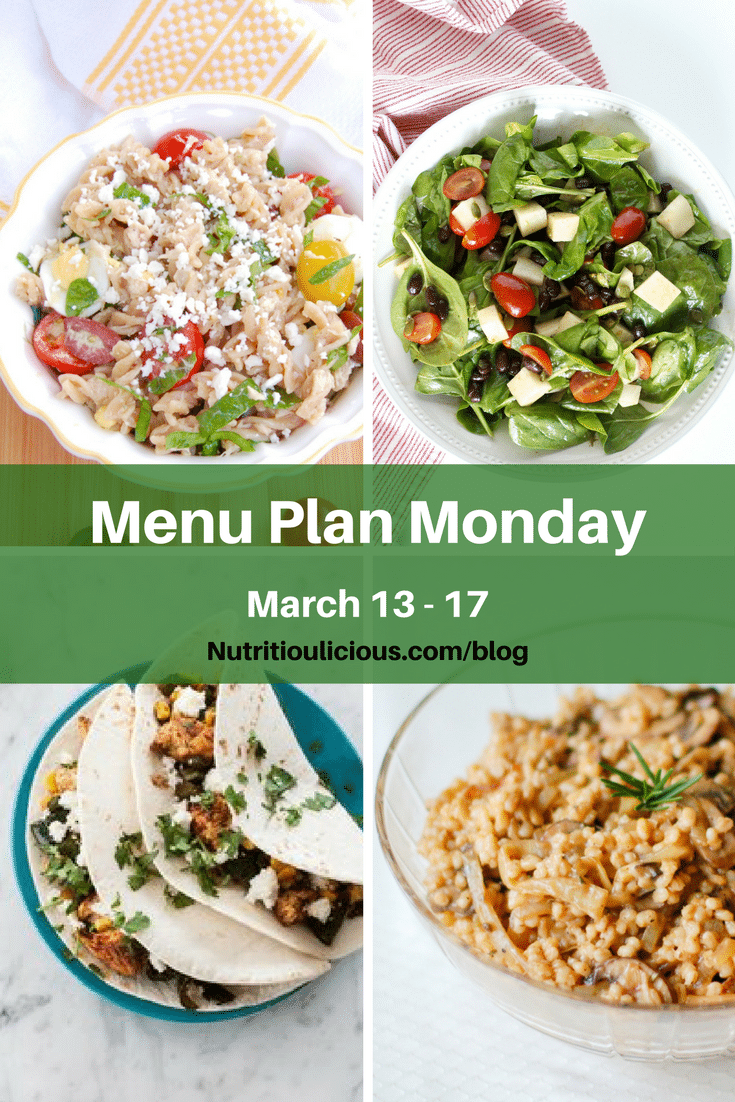 Latest Happenings:
Happy Monday! How was your weekend? We had a fun weekend celebrating the Jewish holiday of Purim – sort of like Halloween in that the kids get dressed up and get loads of candy. Here are some pics of my pretty princesses!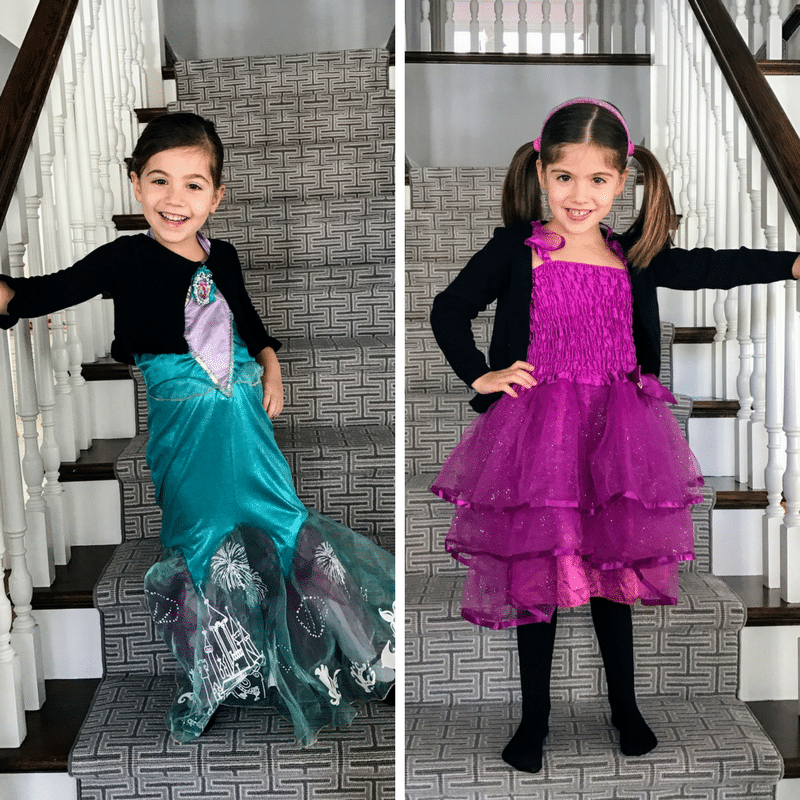 I'm a little nervous about this week, as we're expecting a blizzard that may bring two feet of snow with it! In the middle of March! I thought we were done with winter already 🙁 I went to the supermarket yesterday for my regular weekly grocery shop and it was of course a madhouse. People think the world is ending when snow is expected. I'm more worried about being cooped up in the house for two days with the kids, lol!
This week I used Gatheredtable to plan my meals for the week. If you're not familiar, Gatheredtable is an online meal planner with a database of recipes and the ability to add your own recipes or ones you love from other sites. You can easily swap out meals that the planner generates for you, add notes for side dishes and meals you may want to make using ingredients you have on hand, and their system generates a printable grocery list so you can more quickly and easily get through the supermarket.
Meal planning takes time, and Gatheredtable helps speed up the process. Here's a screenshot of what this week's menu plan looks like using Gatheredtable: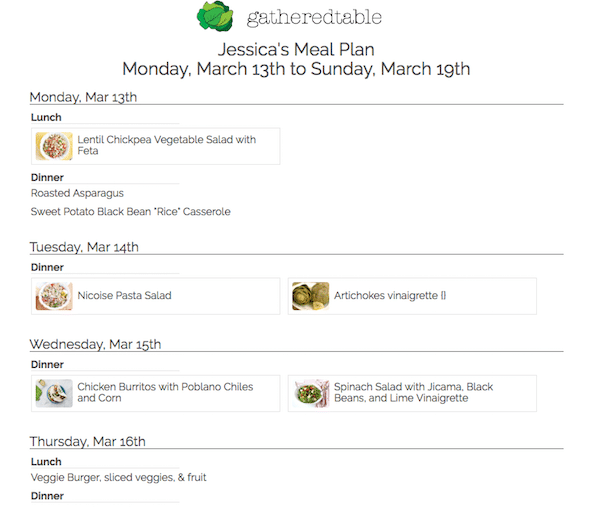 Some of the recipes you see in the screenshot above are from my site, which I was able to load to Gatheredtable with just one click of a button using their recipe clipper. Once my menu plan was set for the week, I was able to print out the meal plan as well as any recipes that are included that I don't already have on hand. I loved this feature because it saves me time when it comes to cooking the meals since I already have everything in place. The Gatheredtable app is also great if you don't want to print everything out.
There are a lot of other features to explore, but these are the highlights. Use my affiliate link to try out Gatheredtable and make your meal planning life simpler!
Articles:
The One Thing I Do to Minimize Mess in the Kitchen – @ The Kitchn
⇒ My husband is a big proponent of this tip! It's one simple thing that could make your meal prep day clean up a lot easier!
Heart Healthy Foods: Herbs and Spices @ Make Healthy Easy
⇒ I love using herbs and spices to boost flavor in my recipes. This is a great rundown of some of the nutritional benefits and uses of seasonings to try.
Recipes:
Roasted Cauliflower Salad with Lentils and Grapes @ Veggie Inspired
⇒ I love everything about this side dish – the ingredients, the flavors, the textures of the food. Can't wait to add this to an upcoming weekly menu plan.
Chicken Artichoke Farro Frittata @ Queen of My Kitchen
⇒ Such a fun idea to use farro as the crust to this gorgeous frittata! A great breakfast to prep for the week ahead or an easy dinner with leftovers for lunch!
Spinach Kale Egg Mushroom Birds Nests @ The Delicious Crescent
⇒ My girls love egg in a hole, which is made with bread. Love this veggie-rich alternative. Plus it's so pretty!
Gluten-Free Spinach Oatmeal Pancakes @ Joy Food Sunshine
⇒ Such a great way to boost veggie intake in the morning!
Matcha Rainbow Overnight Oats @ Abbey's Kitchen
⇒ How fun and festive would these be for St. Patrick's Day morning!
Ginger Lime Chicken with Cauliflower Rice @ Real Food, Real Deals
⇒ This is such an easy, flavorful, and nutritious meal for dinner and lunch leftovers. Love the idea of baking cauliflower rice.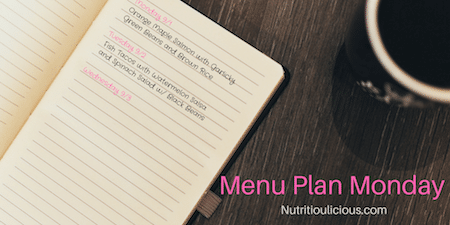 Menu Plan Monday: Week of March 13, 2017
Monday: 
Lunch: Lentil Chickpea Vegetable Salad with Feta (added strawberries instead of pomegranate seeds), crackers, and orange smiles
Dinner: Sweet Potato Black Bean Casserole with Roasted Asparagus
Tuesday: 
Lunch: Expecting a snow day. Lunch TBD at home.
Dinner: Nicoise Pasta Salad with Artichokes Vinaigrette
Wednesday: 
Lunch: No school – parent/teacher conferences
Dinner: Chicken Burritos with Peppers and Corn and Spinach Salad with Jicama, Black Beans, & Lime Vinaigrette
Thursday: 
Lunch: Veggie burger, sliced vegetables, and fruit
Dinner: Leftovers
Friday: Meatballs (from freezer) with Mushroom Onion Barley and Roasted Broccoli
What's on your menu this week?
Please share with me below or on social media!
Tweet me or tag me on Instagram with #DinnerTonight
Disclosure: This page contains affiliate links. If you purchase products through these link, your cost will be the same but I will receive a small commission to help with operating costs of this blog. As always, all thoughts and opinions are my own and I only recommend products I truly believe in. Thanks for your support!