Menu Plan Monday: June 13, 2016
June 13, 2016
What's been happening lately at Small Bites by Jessica, my top 5 meal planning tips, link love and this week's menu plan!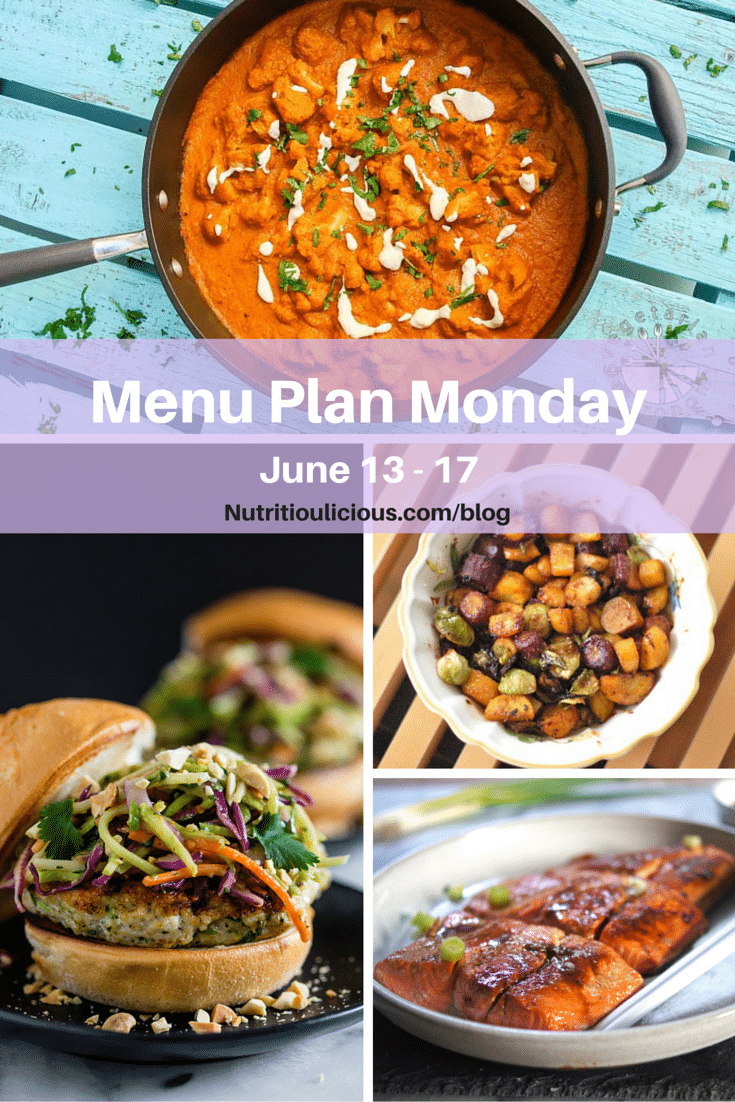 Happy Monday everyone! Hope you all had a great weekend! Did anyone enjoy one of these Watermelon Mojitos Kaleigh shared last week? I know my Sonali over at The Foodie Physician made some – lucky girl! Hope you try them soon too. And if cocktails aren't your thing, make it into a mocktail by topping the watermelon puree with club soda instead of rum.
In other news, do you cook with herbs and spices? That's my favorite way to flavor my food. It sure beats adding loads of salt and oil. To help you pack your meals with flavor, on Friday I shared 30+ Recipes that Boost Flavor with Herbs and Spices. Be sure to check out that post and Pin it for later so you can go back time and again to try those recipes.
Now, let's get to our link love and menu plan for the week. Since I was away on business last week there are a lot of articles and recipes here from the past two weeks. So many great reads and eats – hope you take a look and click through. Also, you know meal planning is my jam and I finally shared my top 5 meal planning tips over at my friend Sally's site Real Mom Nutrition. You must head over there to get the tips and check out her awesome blog!
Have a great week everyone and just a head's up MPM will resume the week of June 27th!
Articles:
5 Tips for Better Meal Planning @ Real Mom Nutrition
⇒ I shared my top meal planning tips over at Sally's blog. Trust me – you want to check out this post and her blog!
Can I Drink Alcohol and Still Lose Weight? @ Nutrition Starring You
⇒ The calories from wine, beer and cocktails add up, but that doesn't mean you can't enjoy a drink or two. Lauren gives some great tips for what to watch out for.
Foods to Help You Sleep @ Make Healthy Easy
⇒ Who doesn't want to get more and better sleep?! I know I do! Check out Jenna's latest TV appearance where she shares what foods to eat to improve sleep!
Helpful Tips to Enjoy Social Situations On a Special Diet @ Jill Conyers
⇒ Whenever I'm hosting a party I ask my guests if they have any dietary restrictions/allergies. This way I can be sure to have something for everyone at the table. Do you take dietary needs into consideration when hosting?
Raising a Girl to Have a Healthy Body Image @ A Healthy Slice of Life
⇒ As a mom of two girls, I can relate to Brittany's post 100%. A great read for all parents, especially girl moms.
Recipes: 
Kung Pao Chicken with Peanuts @ Jeanette's Healthy Living
⇒ Chinese food is one of the few cuisines I don't love, but my husband does. This makeover looks like one I have to make him and I'll enjoy too!
Cinnamon Chickpea Truffles @ Veggie Inspired Journey
⇒ These look delicious and the addition of chickpeas means they're healthy too. Right?!
All About Nutritional Yeast and 15 Recipes for You! @ Bucket List Sammy
⇒ Have you tried nutritional yeast, aka nooch? I've recently been using it, but excited for more ways to add it to recipes!
Creamy Burrata with Pesto and Tomatoes @ My Cape Cod Kitchen
⇒ It doesn't get prettier, more delicious, and simpler than this. Can't wait for summer tomatoes!
40 Healthy Cauliflower Recipes @ Real Food Real Deals
⇒ I don't know about you, but we love cauliflower in my house. Can't wait to try more of these recipes (one of them is even in this week's menu plan below!)!
10 Easy Recipes Your Kids Can Make This Summer @ The Average RD
⇒ Get rid of summer boredom by getting the kids in the kitchen! Jodi shares 10 easy recipes for kids to make on their own, including my Watermelon, Feta, & Mint Skewers!
Raspberry Gazpacho @ Delish Knowledge
⇒ I love gazpacho during the summer, do you? I make a Watermelon-Tomato Gazpacho, but can't wait to try this raspberry version!

Week of June 13, 2016
Monday: Cauliflower Tikka Masala with Tofu over brown rice with a side of Roasted Asparagus and Radishes
Tuesday: Leftovers
Wednesday: Miso Ginger Glazed Salmon with Minty Pea Puree and Miso-Roasted Carrots and Broccoli
Thursday: Off Duty! Taking my hubby out for his birthday!
Friday: Thai Chicken Burgers with Grilled Portobello Mushrooms and Snap Peas
What's on your menu this week?
Tweet me @JLevinsonRD with #DinnerTonight