Menu Plan Monday: June 12, 2017
June 12, 2017
Get the latest happenings at Small Bites by Jessica, this week's Link Love, and Menu Plan Monday all in one place!
Latest Happenings:
Menu Plan Monday is back! Sorry for being MIA over the past couple of weeks – first it was Memorial Day weekend and then this past week was my girls' last week of school, so lots of evening events and not as much cooking going on as usual. I did still plan my menus, but just didn't get around to posting them (and some other posts I had planned to share – oh well, they'll be here soon!). Hope you didn't miss the meal planning inspiration too much, and now I'm back (at least for this week – I'll be off again next week for a family trip)!
In addition to last week being the end of the school year for my girls, it was also their pre-school graduation. I was way more emotional about it then I thought I would be – I still can't believe my babies are going off to Kindergarten in the fall. 😢
The girls have the next two weeks off before camp starts, so you'll see I don't have a specific lunch menu in place since it will be a lot of whatever's in the house, but if your kids are still finishing up school, be sure to go to my Quick, Easy, & Healthy School Lunch Ideas post for menu ideas.
Hope you have a great week ahead and don't forget to check out this week's Link Love and dinner menu plan below!
Articles:
How to Store Fruits and Vegetables @ Real Mom Nutrition
⇒ Produce isn't cheap, so you want to make sure you store it properly so it lasts. This handy free printable guide will help!
How to Find Science Based Nutrition Information @ Street Smart Nutrition
⇒ With so much information (and misinformation) available at our fingertips, it's important to make sure you're looking at accurate resources.
Recipes:
Ginger Chicken Tacos @ Well Plated
⇒ Anyone else love Asian-Mexican fusion?! Can't wait to make these for Taco Tuesday soon!
20 Minute BBQ Chicken Tacos @ Joyful Healthy Eats
⇒ Another chicken taco recipe to try. I love this summer-inspired twist for Taco Tuesday – quick and easy dinners are the way to go, especially in the summer!
Raw Corn Radish Salad @ Veggie Inspired
⇒ There's nothing like fresh summer corn! This sounds like the perfect way to make the most of the season's veggies!
Crispy Walnut Cod with Walnut Tzaziki @ Marisa Moore Nutrition
⇒I love nut-crusted (or stuffed) fish and poultry. Can't wait to try this delicious dish from Marisa.
Grilled Sweet Potato Salad @ Running in a Skirt
⇒ I love grilled sweet potatoes and this is a delicious and healthier alternative to traditional bbq potato salad!
Super Easy Graham Cracker Pancakes @ Sara Haas, RD
⇒ Can't go wrong with s'mores in pancake form! This is such a fun idea for a weekend breakfast.
Watermelon Mint Smoothie @ Running in a Skirt
⇒ How refreshing does this sound for a hot summer morning?! (And if you want a variation for cocktail hour, try my Watermelon Mojito!)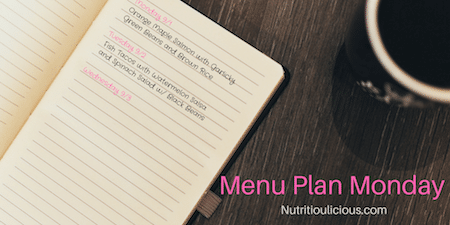 Menu Plan Monday: Week of June 12, 2017
Monday: Zucchini Chickpea Balls with Chopped Greek Salad
Tuesday: Chicken Tacos with corn and zucchini (using leftover grilled chicken from the weekend)
Wednesday: Ravioli with Balsamic Roasted Strawberries and Watermelon Feta Salad
Thursday: Leftovers or eggs
Friday: Easy Asian Beef Skewers with Spiced Plum Cauliflower Rice and Grilled Snap Peas and Soy Ginger Sauce
What's on your menu this week?
Please share with me below or on social media!
Tweet me or tag me on Instagram with #DinnerTonight