Menu Plan Monday: July 18, 2016
July 18, 2016
Celebrate National Picnic Month and National Blueberry Month this July! Plus, this week's Menu Plan Monday and Link Love.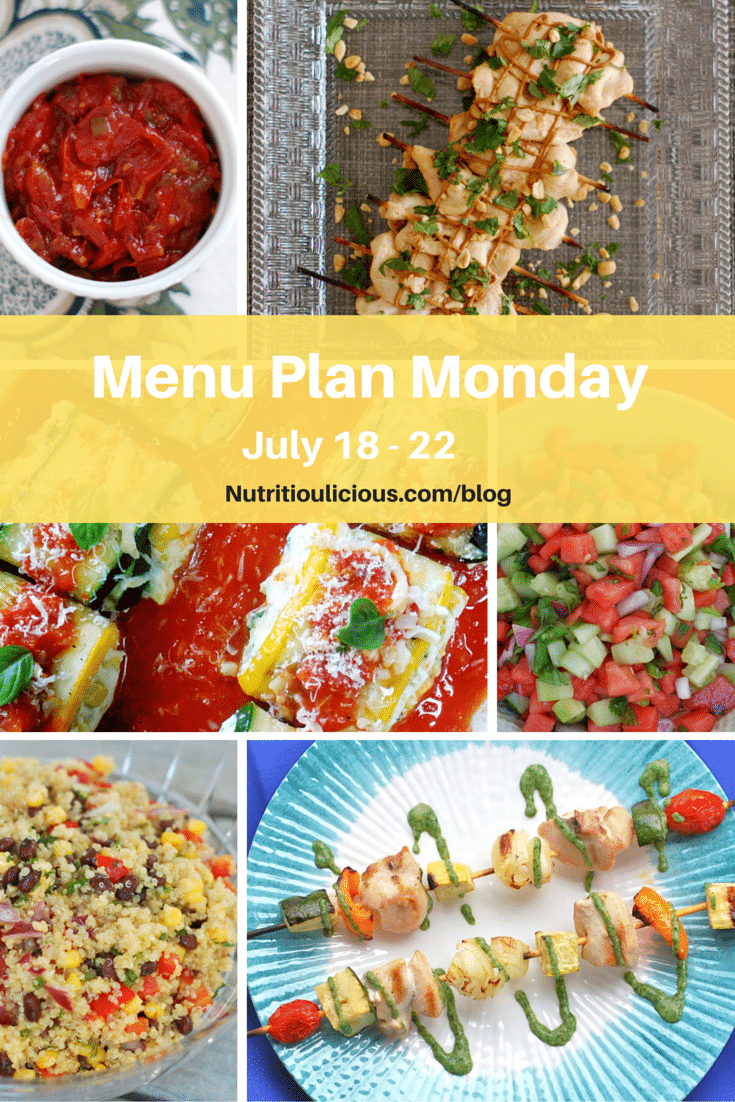 Happy Monday everyone! This past weekend seemed to go by super fast for me – probably because I spent half of it in the kitchen prepping for a barbecue we hosted yesterday! If you follow me on Instagram or Facebook you probably saw some of the pictures I shared of what I made.
I always feel like I spend so much time prepping and then the event/party goes by so fast and the food is eaten in no time. Does anyone else feel that way? Thankfully I have lots of leftovers so that I can enjoy everything again without the chaos of being the hostess! Plus it fills at least one night of this week's menu plan (see below) and will probably keep my lunch plate full for a couple of days too!
In other news, did you know July is National Picnic Month and National Blueberry Month? Before you head for a picnic to celebrate, make sure you check out our 5 Simple Tips for a Food-Safe Picnic and our roundup of 50 Healthy & Delicious Picnic Recipes. Another recipe you can add to the list that is picnic-perfect and celebrates those little blue dynamos is this Red Cabbage, Snap Pea, and Blueberry Salad.
Now scroll on down to see what else has been going on in the healthy food blogging world and what meals are on tap this week in the Nutritioulicious house!
Articles:
9 Ways to Stay Healthy While Traveling @ Alissa Rumsey Nutrition & Wellness
⇒ I love traveling, but it can definitely get in the way of sticking to routine, especially when it comes to healthy eating and exercise. Alissa's tips will help you stay on track.
Healthy, Quick Kid Friendly Meals @ Family Food on the Table
⇒ Like me, Kathryn is a Type A meal planner. Unlike me, she knows how to let it go every once and while and rely on quick and easy meals for her family. Lucky for us, she put those meals in a blog post and free printable!
Tips to Save Money on Groceries @ Bucket List Tummy
⇒ Great tips here and ones I use all the time too. I even have the same menu planner as Sarah!
Recipes: 
Zucchini Muffins @ Halsa Nutrition
⇒ Like Maria, my kids aren't the biggest zucchini eaters, but when it's mixed into something (like this Greek Zucchini Pie) it's a different story. These healthier muffins look like a great treat!
Miso Grilled Chicken Sandwich with Sriracha Mayo @ Avocado A Day Nutrition
⇒ I love cooking with miso for it's rich umami flavor. This sandwich sounds and looks super flavor packed and delicious.
Veggie Packed Pesto Pasta @ Street Smart Nutrition
⇒ This recipe looks delicious, but more than the recipe, I love Cara's tips for being part of the #PastaLoversClub in a healthier way!
Grain-Free Double Walnut Nectarine Galette @ Kumquat
⇒ I'm not much of a baker and I don't know that I could ever make this myself, but how gorgeous is this dessert? Gretchen knows how to take gluten-free to the next level!

Week of July 18, 2016
Monday: Leftovers from barbecue: Hamburgers with Tomato Jam, Thai Peanut Chicken Satay, Watermelon Salsa, Minty Pea Dip, and Quinoa Salad with Blueberries, Snap Peas, and Edamame
Tuesday: Watermelon & Lemon Ricotta Stacked Salad and Tomato Basil Chickpea Pasta
Wednesday: Zucchini Roll Ups with Ricotta and Summer Corn and side salad
Thursday: Takeout or leftovers
Friday: Summer Chicken Kebabs with Herb Sauce and Corn and Black Bean Quinoa Salad
How are you celebrating National Picnic and National Blueberry Month?
What's on your menu this week?
Tweet me @JLevinsonRD with #DinnerTonight