Menu Plan Monday: January 9, 2017
January 9, 2017
The latest happenings at Small Bites by jessica, this week's Link Love, and Menu Plan Monday!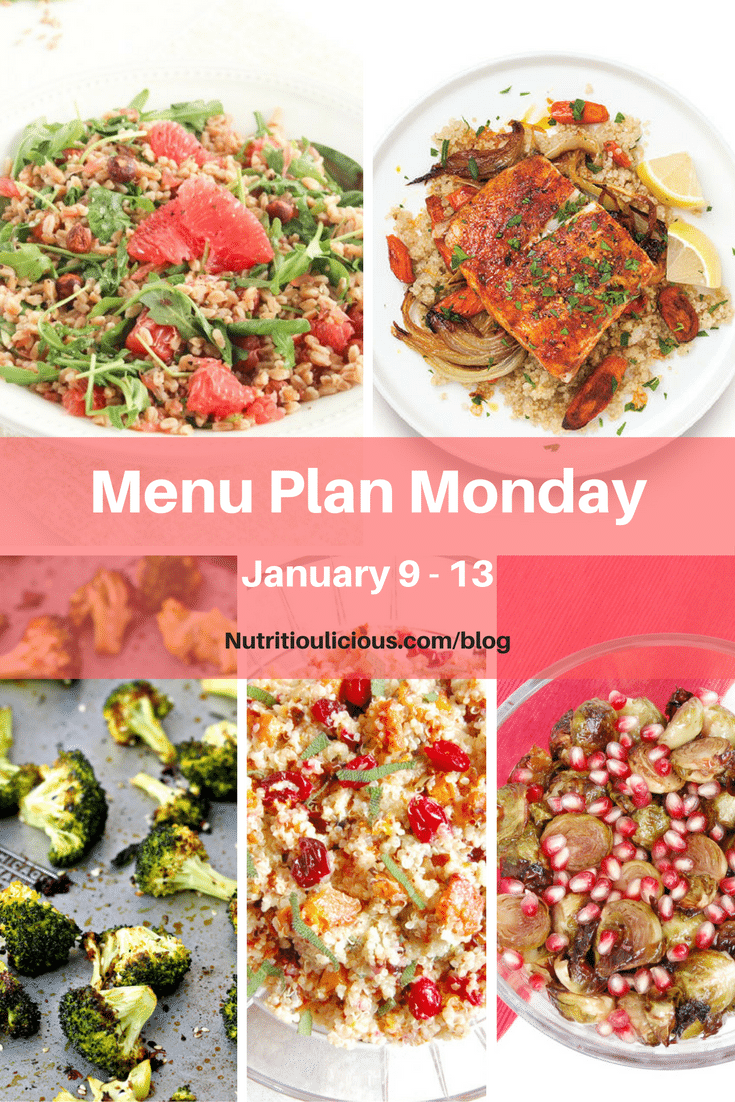 Latest Happenings:
Hope you had a great weekend! Last week was a doozy for me – I was so excited to get the year started by sticking to a better work schedule, getting to sleep at an earlier time every night, and being more relaxed all around, but of course life got in the way. My children's babysitter was out with the flu all week, so that meant double duty trying to get my work done and take care of the kids. I have to say it was not easy and the kids watched more TV than I would like to admit. I give major props to all you moms who work and take care of the kids without any help at all.
Last week was also my little girls' 5th birthdays! I cannot believe they are five years old. When they were born and I was in the throes of sleepless nights, breastfeeding, and everything I needed to do to muddle through the day to day of life with newborn twins I never thought I would say that they are growing up too fast, but alas here I am saying just that. They had a super fun birthday, including their favorite lunch (nut butter apple sandwiches) and dinner (Creamy Roasted Red Pepper & Tomato Pasta), cupcakes on their actual birthday, a Paw Patrol-themed gymnastics party and ice cream cake yesterday, and lots of gifts.
And now it's time to get back to normal, lol!
In case you missed my latest post, What Kind of Snacker Are You?, check it out, take the quiz, and then join the conversation on Facebook and Instagram. It's been fun to see everyone's snacking style!
This week's Link Love includes some great articles, many of which may help you with your New Year's goals. If there were any fantastic recipes I missed last week, let me know! Have a great week!
Articles:
10 Tips for Eating Healthy on a Budget @ Mom to Mom Nutrition
⇒ Healthy eating doesn't have to be more expensive. To help you out, Katie rounded up some great tips, including one from me!
Intuitive Cooking: Learning Skills & Using Your Intuition in the Kitchen @ Zen & Spice
⇒ I'm so happy Emily's Cooking School Series is back! She'll be helping you become an intuitive cook, so when you are faced with a fridge full of ingredients you'll be able to whip up a healthy meal in no time!
The 1 New Year's Goal You Should Make for 2017! @ Tasty Balance
⇒ If you haven't heard yet, gut health and the probiotics that keep your gut healthy are #OnTrend. Lindsey provides lots of great info about both in this post.
Top 10 Foods for Sunday Food Prep @ The Lean Green Bean
⇒ Lindsey is a queen of meal prep! This post is chock full of great ideas and recipes for what you can prepare in advance to have a healthy menu plan for the week!
7 Reasons Your Clean Eating is Too Expensive @ Run to the Finish
⇒ A lot of people say eating healthy is expensive, but it doesn't have to be. Amanda shares some great reasons why you may think it costs too much and how you can spend less and still eat a healthy diet.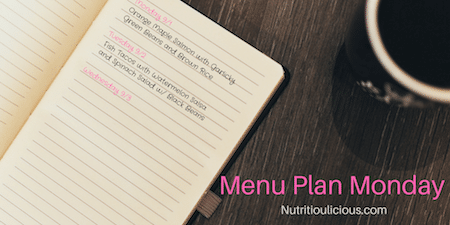 Menu Plan Monday: Week of January 9, 2017
Monday: 
Lunch: Veggie Egg Muffins, sliced cucumbers, peppers, edamame, and orange smiles
Dinner: Asian-Style Farro Buddha Bowl with Crispy Baked Tofu (recipe coming soon!)
Tuesday: 
Lunch: Leftover buddha bowl and fruit
Dinner: Roasted Tilapia and Carrots (modified version of this recipe I cut out of Real Simple Magazine in 2014!) and Kaleigh's Grapefruit Arugula Farro Salad
Wednesday: 
Lunch: Lentil Feta Salad and fruit
Dinner: Miso-Glazed Chicken with Sesame Roasted Broccoli & leftover farro salad
Thursday: 
Lunch: Smoked salmon cucumber roll ups, sliced veggies, and fruit
Dinner: Leftover chicken or easy eggs
Friday: Beef negimaki with Roasted Butternut Squash and Cranberry Quinoa Salad with Cider Dijon Vinaigrette and Roasted Brussels Sprouts with Pomegranate Glaze
How is the New Year going for you so far?
What's on your menu this week?
Please share with me below or on social media!
Tweet me or tag me on Instagram with #DinnerTonight