Menu Plan Monday: January 30, 2017
January 30, 2017
The latest happenings at Small Bites by Jessica, this week's Link Love, and Menu Plan Monday!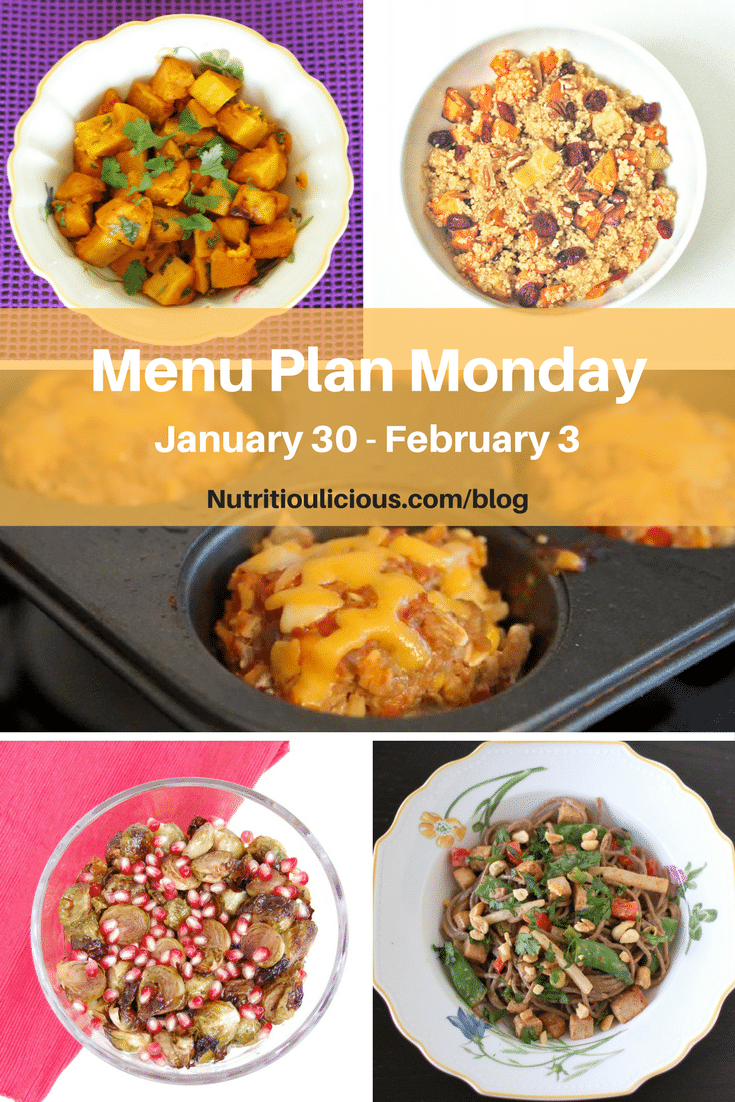 Latest Happenings:
Happy Monday! Hope you had a great weekend! We had a pretty low-key weekend, which was good since this week is going to be crazy busy for me!
In case you missed it, last week I shared Kaleigh's guest post about gut health and the prebiotic and probiotic foods you need to eat to maintain a healthy gut. I followed it up on Sunday with my probiotic-rich recipe for Miso-Glazed Chicken Breasts. It's a quick (30 minute) and easy recipe the whole family will enjoy, so be sure to check it out!
And if you haven't already, be sure to take the Nutritioulicious Reader Survey! I'd love to know what you want to see and read more of here and how I can make Nutritioulicious your go-to place for family-friendly healthy recipes and nutrition information.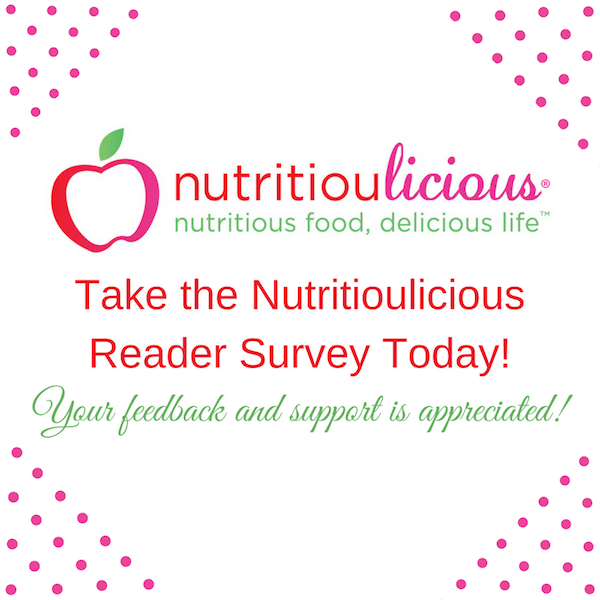 Feel free to email me directly if you have specific requests or personal meal planning and recipe development needs.
Have a great week!
Articles:
Buy Fruits & Veggies (Whether They're Organic or Not) @ Real Mom Nutrition
⇒ YES! I have said this before here and happy to see others sharing my opinion.
How Much Should You Pack in Your Child's Lunchbox? @ Real Mom Nutrition
⇒ Sally has had so many great articles lately, I can't help but share. Love her answer to this question!
What Makes a Healthy School Lunch? @ Mom's Kitchen Handbook
⇒ Now that you know how much to pack (see post above), Katie helps you figure out what to pack. Print out her infographic and check out her examples!
The Trick to Keep Parchment Paper From Rolling Up @ Teaspoon of Spice
⇒ I love using parchment paper but cannot stand that it won't lay flat. Feel the same? This hack is genius!
7 Ways to Get Healthy Without Dieting @ The Grateful Grazer
⇒ I believe in a non-diet approach to eating well and maintaining a healthy weight. Steph's tips are excellent. I especially like #5 😉
Recipes:
8 Ways to Enjoy Citrus @ The Nutrition Adventure
⇒ Citrus fruits are among my favorite winter produce and Karman has some great recipes using different forms. Some of my favorites are Cara Cara oranges (which I use in my Citrus Fennel Salad) and grapefruit!
25 Easy and Healthy Valentine's Day Treats @ C It Nutritionally
⇒ My mouth is watering looking at these nutritious and delicious Valentine's Day recipes!
DIY Healthy Guacamole Bar @ The Foodie Dietitian
⇒ I don't know about you, but guacamole is a staple on the menu for most parties, especially if there's sports involved. Love this idea from Kara!
25+ Whole Grain Recipes @ Empowered Nutrition
⇒ I love whole grains, especially quinoa, farro, and barley. This roundup is great for those who are new to whole grains or bored of their tried and true recipes!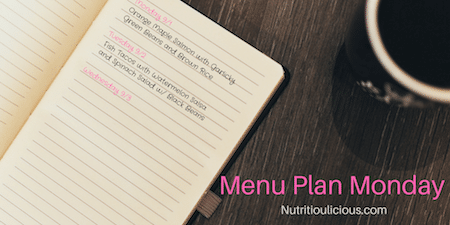 Menu Plan Monday: Week of January 30, 2017
Monday: 
Lunch: Soynut butter sandwiches with apples and sliced veggies
Dinner: Mushroom, Spinach, and Sun-Dried Tomato Frittata and Spiced Quinoa with Roasted Apples & Root Veggies
Tuesday: 
Lunch: Mozzarella veggie skewers, roasted beans, orange smiles
Dinner: Peanut Soba Noodles with Crispy Tofu and Vegetables (broccoli, peppers, scallions, and edamame)
Wednesday: 
Lunch: Tuna edamame salad, crackers, veggies, fruit
Dinner: Southwestern Meatloaf Muffins (w/o cheese) with Chili-Lime Roasted Butternut Squash and Roasted Brussels Sprouts with Pomegranate Glaze
Thursday: 
Lunch: Veggie Quinoa Bites with veggies, fruit, cheese stick
Dinner: Leftovers
Friday: Off Duty
What's on your menu this week?
Please share with me below or on social media!
Tweet me or tag me on Instagram with #DinnerTonight