Menu Plan Monday: January 25, 2016
January 25, 2016
Find out what we did during the Blizzard of 2016 + Link Love and Menu Plan Monday! 
After a loooong weekend hunkered down at home eating and drinking away the time as over two feet of snow was falling, it's nice to be back to work!
In case you missed the news, New York was hit by a record-breaking blizzard this past weekend. To bide time while stuck inside, the kids ventured outside to play in the falling snow, my husband spent 3+ hours shoveling, we drank hot chocolate with "smarshmallows," did some arts and crafts projects, watched a lot of TV, and ate some more.
Despite my plans to sit on the couch and catch up on my growing magazine pile, my husband insisted on cooking, so I made a fresh batch of Veggie & Bean Quinoa Bites for the freezer, my husband made a pot of vegetarian French onion soup, and we baked some bread.
Hubby has been itching for fresh, homemade bread for weeks, so we teamed up to make The Kitchn's Easy Focaccia from steps one through three and then switched over to  this Olive and Sun-Dried Tomato Focaccia recipe from Anne at Craving Something Healthy.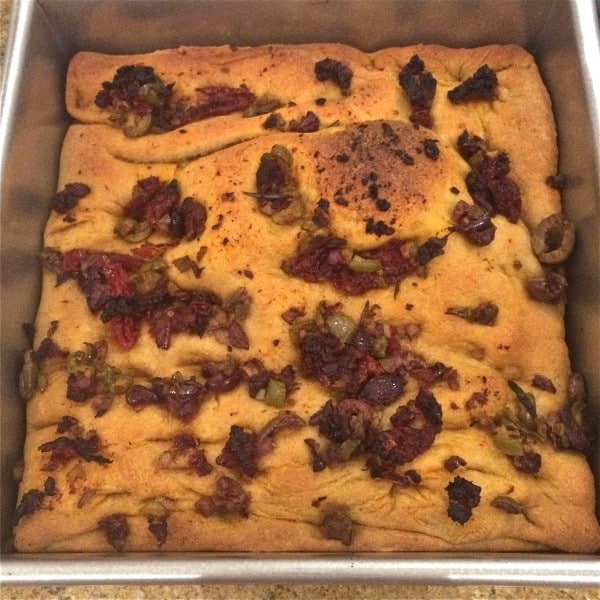 It was our first time making focaccia and I have to say it was amazing. Despite the time to let the dough rise, it was a relatively quick and easy recipe. And since we weren't going anywhere, well, who cares about the time!
Now onto this week's link love and menu plan. Many of my favorite recipes from last week came from the January Recipe ReDux theme – a new ingredient for the new year. In case you missed my contribution, I made a Cranberry Ginger Sorghum that is full of flavor and makes for a Nutritioulicious side dish.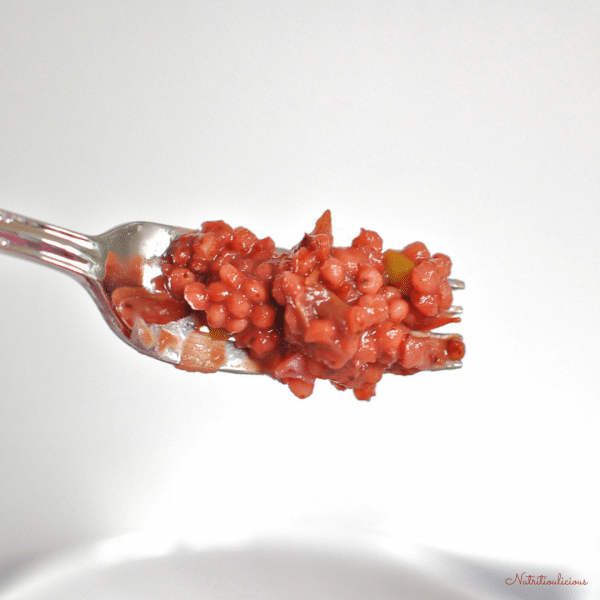 Hope you enjoy the rest of the articles and recipes and are inspired by this week's Menu Plan Monday below!
Articles:
10 Pantry Items to Buy in Bulk at the Grocery Store @ Uproot Kitchen (Plus, great tip to compare products by price per ounce to save money!)
My Top 4 Food Prep Strategies @ Uproot Kitchen (Another great article and tips from Marisa as part of her Back to Basics challenge. These strategies are a helpful accompaniment to meal planning)
The Paleo Diet – Good or Bad New Years Resolution? @ Abbey's Kitchen (Great breakdown of the research and pros and cons of this trendy diet)
Recipes:
12 Healthy Greek Yogurt Breakfast Recipes @ Athletic Avocado (So many things to do with Greek yogurt!)
Lentil and Sweet Potato Stew @ Eat Yourself Skinny
Pesto Avocado Pizza @ The Nutty Nutritionist (Green is my least favorite color, but not in this recipe!)
Crunchy Lentil Tacos with Avocado Feta Guacamole @ The Spicy RD (Perfect for Meatless Monday or Taco Tuesday!)
Roasted Artichokes with Black Truffle Aioli @ My Cape Cod Kitchen (How elegant are these artichokes?! So happy I have truffles in my freezer!)
5-Minute Miso Soup for One @ Zen & Spice (I love cooking with miso and this is as easy as it gets!)
Caramelized Carrot and Lemongrass Soup @ The Delicious Balance (This soup looks so velvety smooth and looks delish!)
Spicy Chicken & Veggie Noodle Bowl @ Wendy Polisi

Week of January 25, 2016
Monday: Chickpea Pasta with Red Pepper Tomato Sauce, Fennel, and Brussels Sprouts (a variation on this old recipe)
Tuesday:  Mushroom Leek Frittata with Whole Roasted Cauliflower with Cheddar, Pesto, and Tomatoes
Wednesday: Asian-Style Turkey Meatloaf with Roasted Broccoli (doubling the recipe to bring one to a friend who just had a baby!)
Thursday: Off Duty!
Friday: Visiting my brother's family in Maryland for the weekend!
How was your weekend?
Did you cook anything new and delicious?
Tweet me @JLevinsonRD with #DinnerTonight