Menu Plan Monday: January 23, 2017
January 23, 2017
The latest happenings at Small Bites by Jessica, this week's Link Love, and Menu Plan Monday!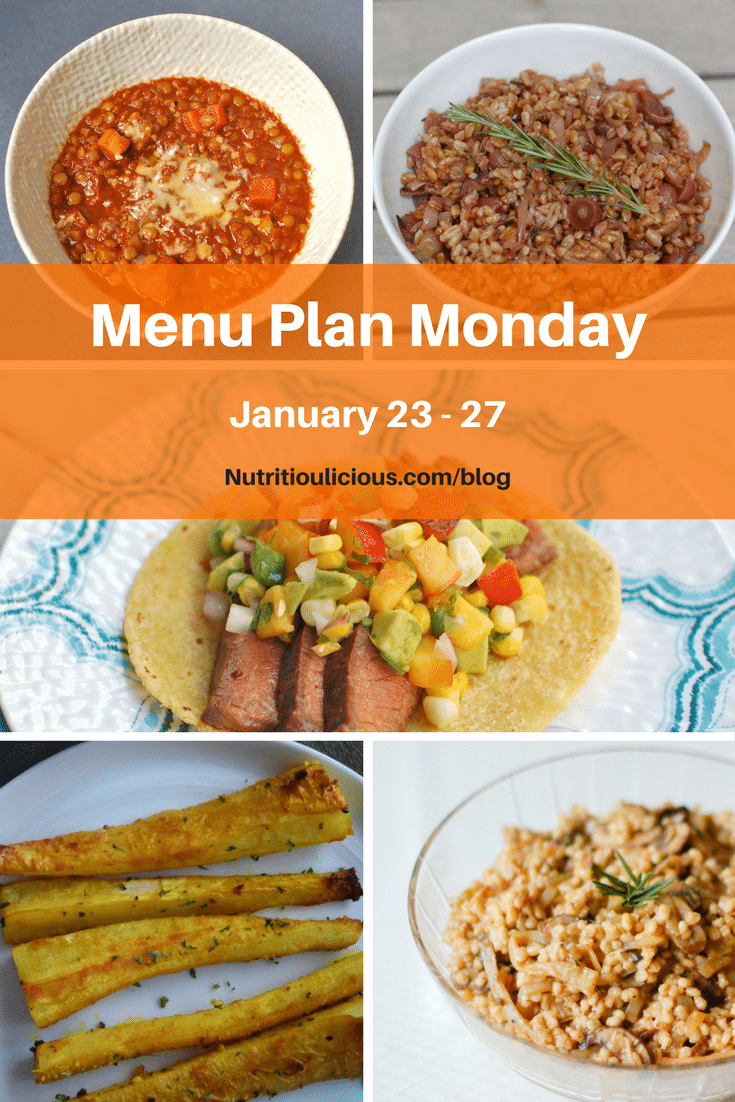 Latest Happenings:
Hope you had a great weekend! We were away skiing this past weekend and I came home to a leak in my basement and lots of laundry to do (keeping it real here guys!), so I'm just stopping in quickly today to share this week's Link Love and Menu Plan Monday.
Before you scroll down, be sure to check out my most recent recipe I shared on Saturday for this month's Recipe ReDux: Asian-Style Farro Buddha Bowls with Crispy Baked Tofu. It's a perfect Meatless Monday dinner choice and makes for great leftovers too!
Have a great week!
Articles:
7 Tips For Building A Better Salad @ Food, Pleasure, & Health
⇒ This is a great guide to making nutritious and delicious salads!
Eat More, Not Less Legume Challenge @ Eat Real Live Well
⇒ We can all benefit from eating more legumes, including pulses. Need some ideas? Check out my roundup of 50+ Nutritious and Delicious Pulse Recipes.
Why You Need to Drop the Diet Mentality @ C It Nutritionally
⇒ I've said it before – diets don't work! Chelsea does a great job explaining why you need to make changes you can be consistent with and gives some examples to get you started.
Nutrition Buzzwords That Are Full of Sh*t @ Abbey's Kitchen
⇒ Detox, clean eating, good and bad food – I can't stand all these trends that don't lead to healthy habits. Abbey tells it like it is!
5 Myths About Clean Eating @ Real Mom Nutrition
⇒ One of those nutrition buzzwords you just read about is "clean eating" and I really dislike how it insinuates that everything not "clean" is "dirty." The only dirty food in my opinion is that which falls on the ground! Love Sally's myth-busting in this post!
7 Foods to Try Making From Scratch @ Zen & Spice
⇒ Convenience trumps homemade when there are healthy options available, but my girls have actually been asking me if we can make yogurt, which is on this list. I want to try making bagels too! Do you make any of these from scratch?
Recipes:
Broiled Grapefruit @ Snacking in Sneakers
⇒ The grapefruit this year has been so sweet and delicious, but if you find the fruit too sour this healthy dessert recipe will certain sweeten it up!
Baked Taco Cups @ Create Kids Club
⇒ I love tacos and so do my kids, but they can be messy! Love the idea of making them in "cups" instead!
Tequila Spiked Mexican Hot Chocolate @ Lively Table
⇒ With a nor'easter heading our way today and the cold weather to boot, I can't wait to make this!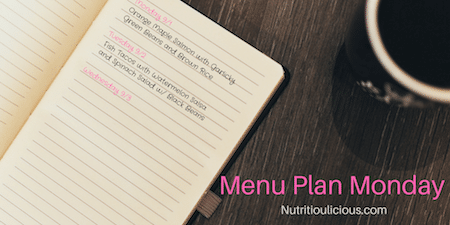 Menu Plan Monday: Week of January 23, 2017
Monday: 
Lunch: Veggie burger, sliced veggies, grapes
Dinner: Hearty Vegetable Lentil Chili with grilled cheese croutons
Tuesday: 
Lunch: Leftover lentil chili and clementine
Dinner: Pasta with veggie & beef bolognese
Wednesday: 
Lunch: Soynut butter sandwiches with apples and sliced veggies
Dinner: Baked salmon, Grilled Grape Farro Salad, and roasted broccoli
Thursday: 
Lunch: Mozzarella veggie skewers and fruit
Dinner: Leftovers
Friday: Soy-Marinated Steak with Roasted Garlic Turmeric Parsnip and Carrot Fries and Mushroom Onion Barley
What's on your menu this week?
Please share with me below or on social media!