Menu Plan Monday: January 2, 2017
January 2, 2017
Happy 2017, this week's Link Love, and Menu Plan Monday!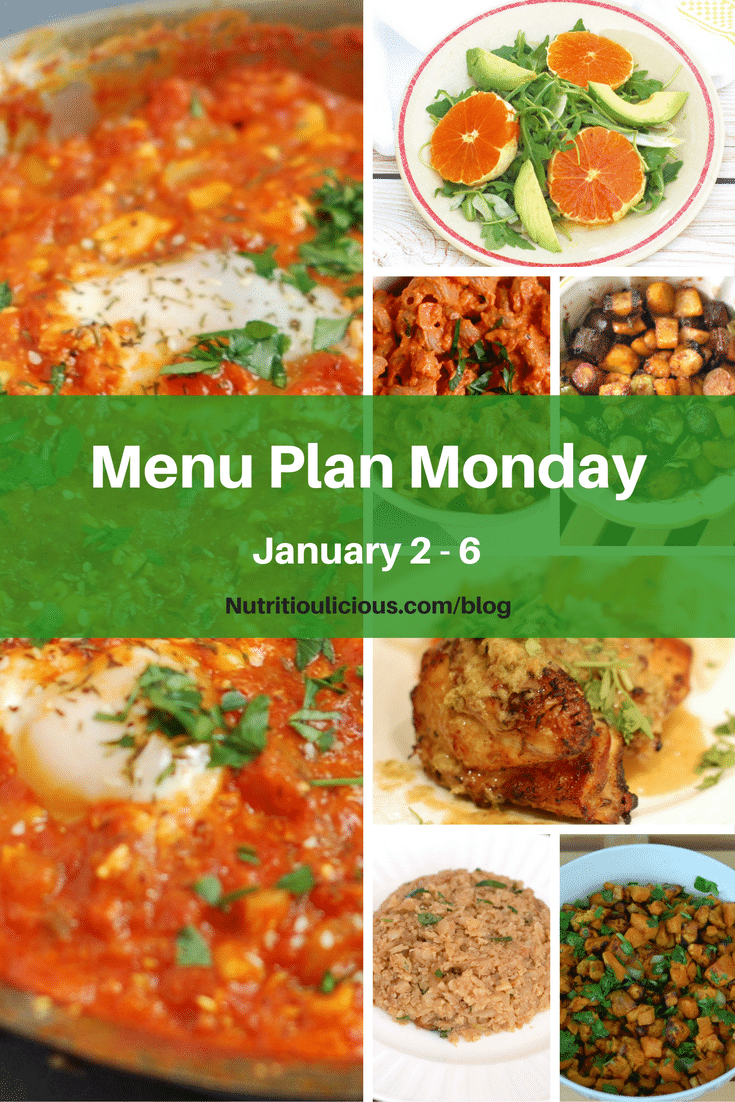 Latest Happenings:
Happy New Year! I hope you all had a fun and happy New Year's weekend and that 2017 is off to a great start! We've been enjoying the long weekend celebrating with friends and welcoming the new year with some relaxation before getting back to the day to day grind of work, school, and regular life.
Did you make resolutions for the new year? I'm personally not a resolution maker, but I do think it's a good idea to periodically assess your lifestyle habits and see if there's room to improve. I recommend doing this multiple times throughout the year, with the New Year as one of those key times.
In case you missed it, last week I shared 10 Practical Lifestyle Changes You Can Make for a Healthier New Year, which I hope will help you get on the right track with this assessment. The key here is that these lifestyle habits, which may be changes for some of you, are practical – they are not components of a gimmicky fad diet and they're probably not earth-shattering ideas either.
I am sure you've heard them all before, but they are important and they all make a difference to living a healthier lifestyle. If you need assistance or support with any of these changes please let me know – I'd be happy to help in any way I can!
Before we get to this week's Link Love and Menu Plan Monday, I also wanted to share my last post of 2016 – my Top Nutritioulicious Recipes & Posts of 2016 – a little year in review/best of list. Maybe you'll find your favorite recipe on the list or catch a post you missed. Check it out and let me know what was your favorite Nutritioulicious recipe or post of last year!
Articles:
Would You Trust Your Kid With A Whole Plate of Cookies? @ Real Mom Nutrition
⇒ I had never tried this with my kids before – was way too afraid they'd eat the whole plate and get sick, or worse, not get sick and think it was ok to eat it all every time! But Sally's experience inspired me to give it a go and I did when we hosted a Hanukkah dinner at our house last week. The result: both my girls filled their plates with cookies, cake, a piece of donut, and fruit. They ate all the fruit and about 1/2 to 2/3 of the treats and then asked if they could save the rest for the next day. They certainly ate more than I would have given them, but there was no negotiating, no meltdowns, and no one got sick. I'm not sure I will give them free reign every time they're faced with treats, but I would certainly try it again.
Is Soy Bad for You? The Research on Menopause, Breast Cancer & Heart Health @ Abbey's Kitchen
⇒ I get asked about soy, particularly the safety of giving my girls tofu and other soy products, on a regular basis. Abbey's post is a great summary of the research on this topic.
Recipes:
Beef and Bulgur Meatballs in Pomegranate Sauce @ Dishing Out Health
⇒ I love anything with pomegranate and these meatballs look delicious for dinner or as an hors d'oeuvres at a party.
Greek Yogurt Cinnamon Streusel Coffee Cake @ Lively Table
⇒ Growing up I loved Entenmann's coffee cake, but the last time I had a piece it was way too buttery and sweet for me. Think I just have to make Kaleigh's lightened-up version instead!
Apricot Pecan and Honey Goat Cheese Balls @ Craving Something Healthy
⇒ I love goat cheese and these balls would have been a perfect appetizer for a New Year's Eve party! I may just have to save them for Super Bowl Sunday or next year's holidays!
Hot Chocolate Ice Cream Float @ Avocado a Day Nutrition
⇒ Red wine hot chocolate may have gone viral (and was created by a colleague of mine, Kylie), but this hot chocolate ice cream float is totally my speed!
Baked Chicken Fajita Roll-Ups @ Eat Yourself Skinny
⇒ I love easy chicken recipes that are full of flavor and this sure looks like it fits the bill. It's one of Kelly's most popular recipes of 2016, so I have to give it a try!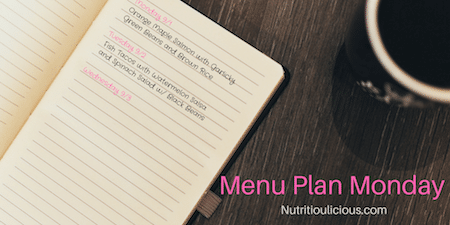 Menu Plan Monday: Week of January 2, 2017
Monday: 
Lunch: No School
Dinner: Hubby's making French Onion Soup
Tuesday: 
Lunch: Tuna Edamame Salad, crackers, veggies, orange smiles
Dinner: Shakshuka & Citrus Fennel Salad with Champagne-Lemon Vinaigrette
Wednesday: 
Lunch: Cucumber cheese "sandwiches," roasted broad beans, sliced veggies, and fruit
Dinner: Panko Chicken & Miso-Roasted Brussels Sprouts and Root Veggies
Thursday: 
*It's my twin daughters' 5th birthdays! The meals of the day are their requests!
Lunch: Soy nut butter apple sandwiches, veggies, treat for bday
Dinner: Quick and Easy Creamy Roasted Red Pepper & Tomato Pasta and side salad
Friday: Coconut-Lime Chicken with Cauliflower Burnt Rice and Sweet Potato Salad
What's your view on New Year's resolutions?
What's on your menu this week?
Please share with me below or on social media!
Tweet me or tag me on Instagram with #DinnerTonight