Menu Plan Monday (January 14-January 20)
January 14, 2013
Hope everyone had a great weekend!
The highlight of my weekend was when my one-year old twin girls ate Indian food last night for the first time! I haven't been shy about giving them herbs and spices since they started eating table food, and they have had many common Indian ingredients – lentils, cilantro, cheese, spinach – but I've never cooked real Indian food at home. When we sat down they served us papadum with three traditional dipping sauces – onion relish, coriander chutney, and tamarind sauce. I dipped my fork into the coriander chutney and let the girls taste it. I always love seeing their reactions when I introduce them to new foods. One of my girls, Charlotte, is very inquisitive and looks very closely at whatever she is served before eating it. She skeptically looked at the fork, leaned in, touched her tongue to the fork, leaned back to taste the sauce, and then leaned forward with her mouth wide open for more. She liked it! Sabrina likes pretty much anything and doesn't waste any time getting to the fork or spoon! Next up was tamarind, which they both loved. We proceeded to have a delicious meal of dal, Saag paneer (spinach with Indian cheese), garlic naan, and tastes of various other dishes. My husband and I were so proud of how well they ate!
Did anyone else experience a culinary adventure in the past week? 
 Here's what's on the menu this week: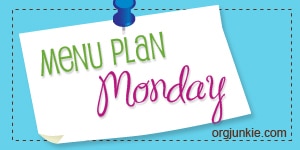 Monday: Quinoa Bowl With Sweet and Sour Purple Cabbage, Red Peppers and Baked Marinated Chicken (adapted from this NY Times recipe)
Tuesday: Sun-dried Tomato and Mozzarella Frittata (carried over from last week's menu)
Wednesday: Leftovers from Monday
Thursday: Broiled Tilapia with Mustard-Chive Sauce, Warm Lentil Salad with Balsamic Roast Squash, and Roasted Broccoli
Friday: Beef Coconut Curry with Bok Choy served over Farro
Saturday: Out with relatives in town
Sunday: Out with relatives in town
What's On Your Menu This Week?
Linking up at Org Junkie's Menu Plan Monday.