Menu Plan Monday: January 11, 2016
January 11, 2016
The release of the 2015-2020 Dietary Guidelines for Americans, plus this week's link love and Menu Plan Monday.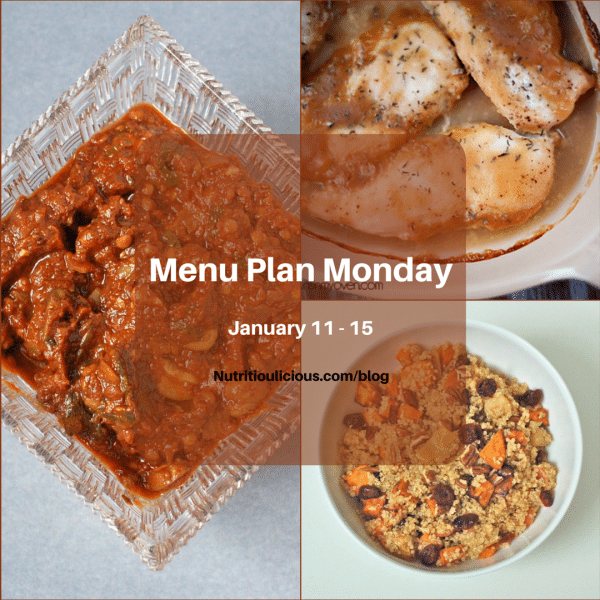 Hope you all had a great weekend! As I mentioned last week, we went to Vermont over the weekend so we could get our four year old twin girls on skis for the first time. They had a blast and can't wait to go again! I was also happy to be back on skis after a five year hiatus – I'm not one for the cold, but I've been skiing since I was three and I love it! Hope to get a few more runs in over the course of the winter.
The day we left for Vermont, the biggest news in the nutrition world broke – the 2015-2020 Dietary Guidelines were released. Yes, it's now 2016 – the eighth edition of the guidelines were due out last year. Better late than never! There were some great articles with summaries of the new guidelines, including Top 10 Things You Need to Know About the 2015-2020 Dietary Guidelines for Americans. I also thought these four articles from fellow registered dietitian nutritionists (RDNs) did a great job pointing out the main principles of the guidelines and what's new:
New Food Rules to Help You Eat Better in 2016 by Elisa Zied, MS, RDN, CDN
What the New 2015 Dietary Guidelines for Americans Really Say by Bonnie Taub-Dix, RDN
Dietary Guidelines Update: Superfoods Are Out, Super Diets Are In by Joan Salge Blake
New Dietary Guidelines: What Changed & What Stayed the Same by Kris Sollid, RD
The biggest changes I see and appreciate from the 2015 Dietary Guidelines are:
(1) the removal of the limit on dietary cholesterol, which is great news for eggs (read my previous post The Truth About Eggs to find out why I love eggs and why you should too!). The focus when it comes to cholesterol is to reduce saturated fat intake, which plays a greater role on blood cholesterol than does dietary cholesterol.
(2) a specific limit on added sugar to less than 10% of total calories. I've always been about sugar in moderation, but people don't understand what this means. I think having a specific marker will help people make wiser choices.
(3) a focus on following a healthy eating pattern that's right for you. I love this because there is no one-size-fits-all diet and it's so important for people to base their diet on personal preferences, their traditions, culture, and budget.
(4) the focus on small changes, which is something I whole-heartedly advocate for (and recently discussed in last week's post 5 Ways to Start the New Year On a Healthy Foot).
In other news, check out some of the articles and recipes I loved the most from last week and then scroll down for this week's menu! Have a great week everyone!
Articles:
Tips to Drink More Water @ Hungry Hobby
Why I Eat Real Food (90% of the Time) @ Family. Food. Fiesta.
How to Make the Salads of Your Dreams Without Going Broke @ Food52
Recipes:
27 Recipes That Will Get You to Crave Leafy Greens (Beyond Salads or Smoothies) @ Teaspoon of Spice
Winter Citrus Salad with Watercress, Fennel + Pistachios @ The Grateful Grazer (one of my fave salad combos!)
Easy One-Bowl Recipes Are Your Winter Supper Solution @ Huffington Post (look out for some of these to be included in Menu Plan Monday soon!)

Week of January 11, 2016
Monday: Vegetarian Chili
Tuesday:  Maple Dijon Chicken with Cranberry Ginger Rice and Roasted Broccoli and Cauliflower
Wednesday: Leftovers
Thursday: Off Duty!
Friday: Meatballs (made with my Homemade Tomato Sauce with Mushrooms) and Spiced Quinoa with Roasted Apples and Root Vegetables
What do you think of the new 2015-2020 Dietary Guidelines?
Tweet me @JLevinsonRD with #DinnerTonight