Menu Plan Monday: February 8, 2016
February 8, 2016
A recap of last week, a new meal planning book you have to check out, and this week's Menu Plan Monday with nutritious & delicious recipes for the whole family.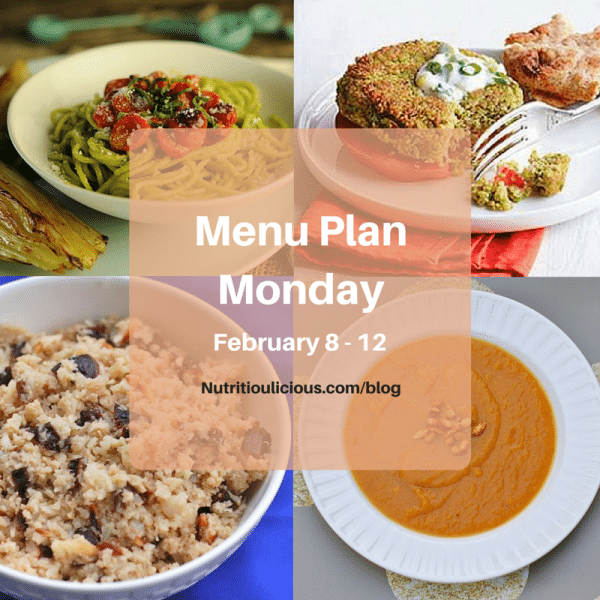 So, did you survive Super Bowl Sunday without having to unbutton your jeans?!
Last week, everywhere I turned bloggers and dietitians – myself included – were doling out tips and recipes for healthier Super Bowl parties. I joined fellow RDN Samantha Heller on her Sirius XM radio show Doctor Radio to share some of my favorite Nutritioulicious recipes, many of which were from my updated Super Bowl recipe roundup. While I didn't host my own party, friends of ours made a whole bunch of recipes from my Football Season & Super Bowl Pinterest page – it was so much fun to have someone else cook up my #Nutritioulicious food!
In case you missed it, last week I also posted about one of my favorite fruits this time of year, and it's not apples, oranges, and pears. The winter is prime time for pomegranates! Find out Why You Should Eat Pomegranates and get inspired to eat them with the 20 healthy recipes to try in my pomegranate recipe roundup!
Onto other news, this week my friend and healthy food blogger Aviva Goldfarb's new book is being released! Aviva is the founder of The Six O'Clock Scramble, a meal planning system that helps busy families (that would be all families, LOL!)) get healthy and delicious meals on the table every night. Sounds a lot like my goal with my Menu Plan Monday posts, which is one of the reasons we get along so well!
Aviva sent me a copy of her new book, The Six O'Clock Scramble Meal Planner: A Year of Quick, Delicious Meals to Help You Prevent and Manage Diabetes for an advanced viewing and I'm cooking from it this week (check out Monday's menu). I can't wait to share my feedback on her book, but I can tell you from my preliminary flip through it's a great resource!
Now scroll on down to check out what links and recipes I loved last week and get inspired for a week of Nutritioulicious meals!
Articles:
The Number One Reason You Shouldn't Eat Kale @ KH Nutrition (That is if you don't like it! Loved this post because why eat foods you don't actually like?)
2016 Food Trends @ Healthy Aperture (So much great stuff going on in the food and nutrition world. Just look at those beet chips!)
Mom, Thank You for Never Talking About Your Weight (Or Mine) @ Real Mom Nutrition (If you're not familiar with Sally's blog, this is a great post to start with for her honest, down to earth writing.)
16 Tips for Losing Weight and Keeping it Off From Registered Dietitians @ SELF Magazine (So many great tips from my colleagues to help people maintain a healthy weight.)
This Simple Mindfulness Exercise Could Help Transform Your Eating Habits @ Rebecca Scritchfield (The hunger scale is a great tool!)
30 Top Nutritionists Name Their "Must Have" Food @ World RD (My must have food is fruit. Ok, so that's a category, but I start every morning with a piece of fruit and have multiple servings throughout the day. What's your "must have" food?)
Recipes:
32 Hot Breakfast Recipes @ The Nutrition Adventure (Breakfast is non-negotiable in our house. Here are more Nutritioulicious breakfast recipes to try!)
Savory Mushroom and Herb Steel Cut Oat Risotto @ Foxes Love Lemons (I love risotto and one made with oats? Talk about boosting nutrition!)
Very Berry Naturally Pink Frosting @ Real Mom Nutrition (Bet you won't guess what accounts for that pretty in pink color!)
Asian BBQ Chicken Meatballs @ Sweet Cayenne (Can't wait to make these with some veggie fried rice!)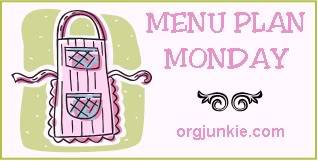 Week of February 8, 2016
Monday: Spaghetti with Creamy Avocado Pesto & Roasted Tomatoes and Roasted Brussels Sprouts (recipes from Aviva's new book mentioned above) – adding chickpeas for protein boost.
Tuesday:  Asian Lettuce Wraps (from Real Mom Nutrition's cookbook Cooking Light Dinnertime Survival Guide) with veggie fried quinoa (making extra quinoa for Wednesday night's dinner)
Wednesday: Indian Edamame Quinoa Burgers (making double batch for leftovers or to freeze) with Spiced Plum Cauliflower Rice
Thursday: Off Duty!
Friday: Roasted Butternut Squash and Sweet Potato Soup (from the freezer) Roast Chicken with Orange, Lemon, & Ginger and roasted fennel
Did you notice something new? Within the menu plan I included notes about use of leftovers or make-ahead steps to help with meal planning. Do you find this helpful? Let me know and I'll keep it up!
How was your Super Bowl celebration?
What's on your menu this week?
Tweet me @JLevinsonRD with #DinnerTonight
Disclosure: This page contains an Amazon Affiliate link. If you purchase a product through this link, your cost will be the same but I will receive a small commission to help offset the costs of running my blog. Thanks for your support!