Menu Plan Monday: February 29, 2016
February 29, 2016
Catch up on food and nutrition news and get inspired to get cooking with this week's Menu Plan Monday.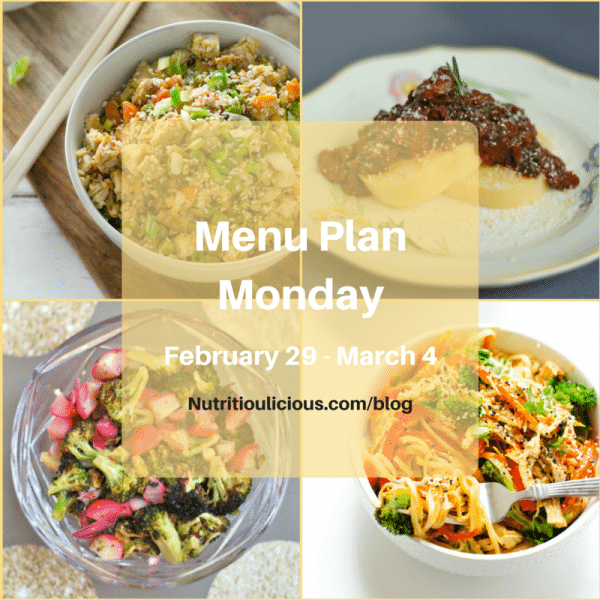 Hope everyone had a great weekend! We had some nice spring-like weather yesterday, which always puts me in a good mood. We spent a large part of the day outside with the kids running around a playground with their friends, which was a nice change of pace from the indoor activities we've grown tired of all winter long!
In case you haven't been following my Facebook updates (make sure you "like" my page so you get the updates in your feed!) or haven't checked out my Media page in a while, I wanted to share some recent mentions of Nutritioulicious in the media. Lots of great info in these articles, which is why I don't want you to miss them!
The Best Ways of Keeping Healthy on a Budget @ Spa Week Daily => Honored that Spa Week included this feature article on me, including my tips for eating healthy on a budget!
How Much Protein Do I Need? @ SELF.com => I'm a big believer that most people get enough protein from the food they eat and don't need extra from protein powders. (Check out my Link Love below for another article about protein from a fellow RD)
20 Muscle-Building Recipes for Guys Who Love Food @ Men's Fitness => Thanks to my friend & fellow RD Toby for including my Apple Peanut Butter Pancakes in her roundup!
Why We Can't Get Too Excited About the Health Benefits of Deep-Frying Vegetables @ Food & Wine => Let's not forget the basics of healthy eating and to look at research with a critical eye.
So Is It Really That Bad to Eat Too Much Salt? @ SELF.com => As with everything in our diets, moderation is key. Note, I mention that some leafy green vegetables are high in sodium due to the soil they're grown in, but obviously they have a lot of awesome health benefits and should be part of our diets. My point was really more that we get plenty of sodium in our diets that we don't need to worry about not getting enough (which is what the author of the article was asking me about).
Now, for the articles and recipes from my peers that I loved last week and this week's Menu Plan Monday!
Articles:
16 Game-Changing Tips for Feeding Kids @ Real Mom Nutrition (An amazing resource and honored to be one of the 16 feeding experts included!)
My Top 10 Healthy Convenience Foods @ Mom's Kitchen Handbook (I have almost all of these in my house at all times, plus some others like natural peanut butter. Do you have any on hand?)
10 Easy Ways to Reduce Food Waste @ Eating Made Easy (40% of the food we buy goes to waste. Time to change that statistic and these tips can help.)
Should You Sneak Veggies Into Your Kid's Food? @ Mom's Kitchen Handbook (Another great post from Katie. Totally agree with her stance here. What do you think?)
Do You Need a Protein Shake? @ Nutrition A La Natalie (Love Natalie's take on this and her Eat This, Not That chart. You can also get my thoughts on protein in the SELF article I linked above.)
Recipes: 
Note: There were so many delicious recipes from last week's Recipe ReDux monthly campaign, Break Out of Breakfast Boredom. A few are posted below, but be sure to scroll down to the bottom of my recipe for Ricotta Berry Oatmeal Cups to see even more!)
Strawberry Stuffed French Toast @ The Foodie Physician (Ricotta, strawberries, and French toast – what more can you ask for?!)
Broccoli, Kale, & Sun Dried Tomato Quinoa Breakfast Casserole @ Wendy Polisi (Don't know how well this would do at breakfast in my house, but we'll be having it for dinner for sure!)
Vegan Marinated Mushroom Tacos @ Dietitian Debbie Dishes (Who needs meat in their tacos when you have umami-rich mushrooms?!)
Blood Orange Whole Wheat Ricotta Pancakes @ The Foodie Dietitian (So glad i just bought a bag of blood oranges!)
Chicken Kofta Soup @ Food, Pleasure, & Health (Can't wait to try this recipe)
80+ Gluten Free, Healthy Avocado Recipes @ Food Faith Fitness (If you love avocados, you don't want to miss this roundup!)
20 Crush Worthy Sorghum Recipes @ The Spicy RD (Thanks to EA for including my Cranberry Ginger Sorghum recipe. Can't wait to try some of these others, especially EA's Chocolate Chip Pumpkin Bread!)
Afternoon Snack Upgrades, 5 Ways @ The Kitchn (How cute are these snacks? Can't wait to try them for the kids – and me!)
Butternut Squash Flatbread with Sweet Pea Greens @ The Foodie Physician (So excited to see pea greens! Spring must be near, right?!)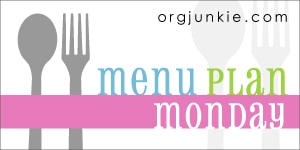 Week of February 29, 2016
Monday: Easy Vegan Cauliflower Fried Rice with a side salad
Tuesday:  Vegetarian Lentil Bolognese Over Polenta Cakes and Broccoli Radish Salad with Lemon Mint Vinaigrette
Wednesday: Spicy Chicken & Veggie Noodle Bowl
Thursday: Off Duty!
Friday: Moroccan Beef Tagine with Winter Root Vegetables (a variation of this recipe I had cut out years ago (!) from Food & Nutrition Magazine)
What were your favorite articles & recipes from around the web last week?
What's on your menu this week?
Tweet me @JLevinsonRD with #DinnerTonight