Menu Plan Monday: February 27, 2017
February 27, 2017
The latest happenings at Small Bites by Jessica, this week's Link Love, and Menu Plan Monday!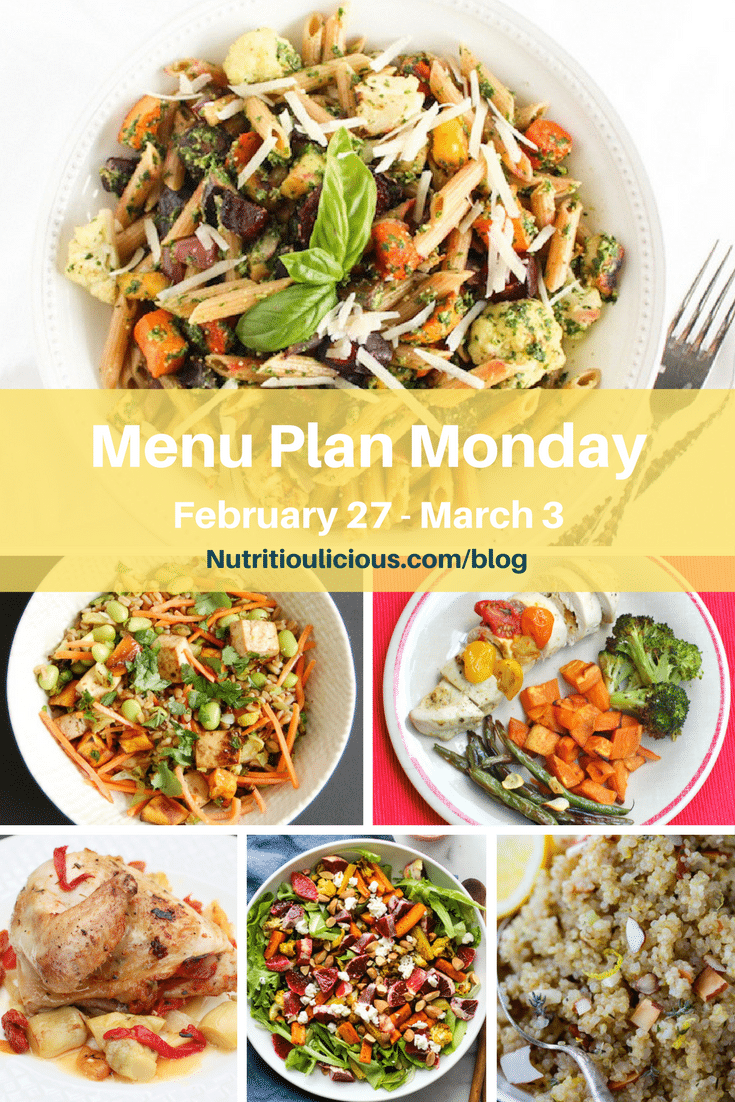 Latest Happenings:
Happy Monday everyone! Hope you didn't miss Menu Plan Monday too much last week – I was away with my family for President's week! We enjoyed some sun and warmth in Grand Cayman, which has a beautiful beach and some amazing food.
One of the best things about the menus on the island is that there is so much fish! We certainly had our fill of ceviche and tartares, not to mention lots of delicious fillets of fish, especially mahi mahi, which is common there.
My daughters are a little fished out for the time being, but if you're looking for a fish recipe, you have to try the Fish Tacos with Citrus Salsa I posted last week! Although citrus fruit is at it's prime in the winter, these tacos will make you feel like you're on an island yourself!
Of course along with all that nutrient-rich fish, we had our fair share of desserts and ice cream, so this week's menu is veggie-heavy so we can get back into routine. It's a really delish menu if I say so myself, so be sure to check it out below!
Before you do though, check out the articles and recipes I enjoyed from around the web over the past two weeks!
Have a wonderful week everyone!
Articles:
Choosing Priorities In Life @ Zen & Spice
⇒ This is an incredibly thought-provoking and inspiring post. I am pretty sure most of you reading this can relate to the feeling of a never-ending to-do list and a feeling of busy-ness all the time. Taking the time to figure out what is most important in life is so important and puts everything else on the list in perspective.
Coffee Filters Belong in Your Kitchen, Even if You Don't Drink Coffee @ Food52
⇒ There are so many versatile uses for coffee filters that they are worth stashing away in your cabinet even if you're not a coffee drinker.
How to Be Healthy and Have a Social Life @ The Balanced Berry
⇒ When so many social activities revolve around eating and drinking, it can be hard to maintain a healthy diet and lifestyle. Les shares some great tips to help – I especially like her tip to "focus on connections over confections." You can check out some of my tips for handling weekends in my post 5 Tips to Stay On Track Over the Weekend.
Recipes:
Mini Spinach & Sweet Potato Frittata Muffin @ Create Kids Club
⇒ I think you know how much I love making egg muffins – they're so easy, versatile, and a hit with the kids. Love Jodi's variation here using sweet potatoes.
Roasted Baby Potato Stacks @ Queen of My Kitchen
⇒ I love how such a simple side dish can look so elegant!
22 Satisfying Cooking Projects For a Snowy Day @ The Kitchn
⇒ It seems like we may be done with the snow for this year (although it has been known to snow in March in NY!), but I'll be holding onto this list for next winter!
Blood Orange Moroccan Salad @ Debbie Dishes
⇒ This salad is packed with flavor and a great use for those blood oranges I have leftover from my Fish Tacos with Citrus Salsa! It's actually on my menu this week (see below)! 
Apple Pie Breakfast Tacos @Nutrition Starring You
⇒ I love how fun yet balanced these breakfast tacos are!
How to Turn Canned Soup Into a Meal @ Abbey's Kitchen
⇒ A perfect way to bulk up the canned soups you have lying around the pantry.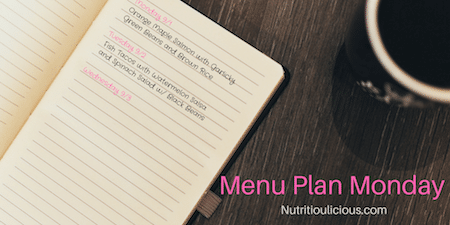 Menu Plan Monday: Week of February 27, 2017
Monday: 
Lunch: Leftovers from Sunday night dinner out (veggie burger for one, quinoa salad for the other)
Dinner: Asian-Style Farro Buddha Bowl with Crispy Baked Tofu
Tuesday: 
Lunch: Leftovers of Buddha bowl and orange smiles
Dinner: Pistachio-Stuffed Chicken Breasts with Blood Orange Moroccan Salad (without the cheese since we keep kosher)
Wednesday: 
Lunch: Tuna Edamame Salad with crackers, veggies and fruit
Dinner: Roasted Root Vegetable Pasta with Kale Pesto (full disclosure: I'm using store bought pesto to save time!)
Thursday: 
Lunch: Easy Veggie Egg Muffins with sliced veggies and fruit
Dinner: Leftover pasta
Friday: Roasted Chicken with Artichokes, Peppers, and Sun-Dried Tomatoes and Meyer Lemon Quinoa
What's on your menu this week?
Please share with me below or on social media!