Menu Plan Monday (February 25-March 3)
February 25, 2013
It's the last week of February, can you believe it? I am so ready for spring – slightly warmer temperatures, blooming flowers, and of course some new produce to add to the repertoire. I have to admit, I'm getting a little tired of the limited winter fruit and vegetables and finding it hard to come up with new and exciting meal ideas for every day of the week. It took me longer than usual to put together this week's menu. Some of it was inspired by what I already have in the fridge, as well as meals that would be fairly easy to make.
If you have any Nutritioulicious recipes to share, please do so!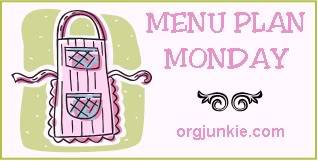 Monday: Roasted Vegetable Lasagna and Salad
Tuesday: Moms Night Out!
Wednesday: Goat Cheese, Tomato, and Mint Frittata and Steamed Artichokes with Vinaigrette
Thursday: Off Duty!
Friday: Chicken with Cauliflower, Cabbage, and Apples served with Barley with Beets and Carrots
Saturday: Dinner with friends
Sunday: Leftovers
What's On Your Menu This Week?
Linking up at Org Junkie's Menu Plan Monday.