Menu Plan Monday: February 22, 2016
February 22, 2016
Catch up on food and nutrition news and get inspired to get cooking with this week's Menu Plan Monday.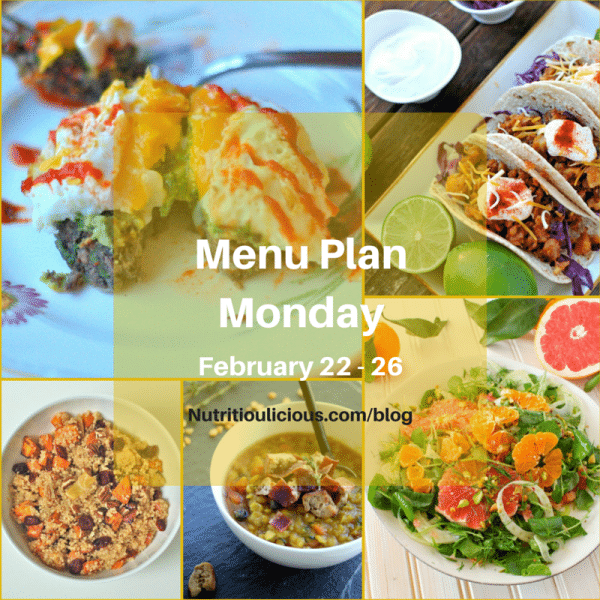 Welcome back to Menu Plan Monday! If you were looking for a new menu last week, my apologies for not posting one, but I was away in sunny California for the week and tried my best to unplug a bit from the interweb and the pull of social media!
It was nice to get out of the cold (the day we left, it was 1 degree in NY!) and spend some time in the sun. The girls had a blast swimming, playing mini golf for the first time, and going for a hike in Joshua Tree National Park.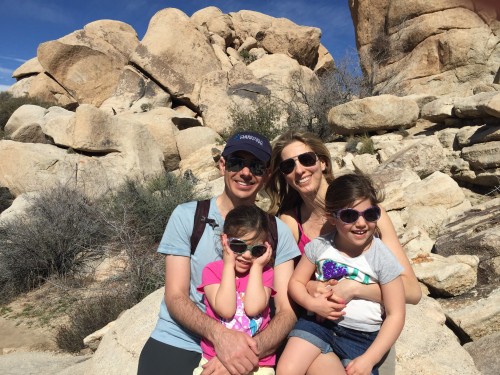 We came back to a mild weekend here in NY and enjoyed another hike in a local park followed by a day of skiing. I am so proud of my little girls who did great their second time on skis. Check out the videos on Instagram if you want to see them in action!
Thankfully, Kaleigh kept me updated on what was going on in the food and nutrition world. You'll find articles and recipes from the past two weeks in the Link Love roundup below. Then be sure to keep scrolling for this week's Menu Plan Monday! Have a great week!
Articles:
Wellness Wednesday: What Is Healthy? @ Avocado A Day Nutrition (It's more than just the food we eat)
How to Raise Adventurous Eaters @ Real Mom Nutrition (Spot on advice from fellow mom and RD Katie @ Mom's Kitchen Handbook. So glad she wrote it so I don't have to!)
Ask Well: The Sugar In Fruit @ NY Times Health (This is a common question, especially given all the hype around sugar these days. Great concise answer here.)
Why You Will Never Find the Word "Detox" In My Recipes @ The Nutty Nutritionist (Oh the things people do for SEO, like using the word "detox" in their recipe titles.)
Recipes:
Super Bowl, the Day After: Recipes You Need for Recovery @ The Cookin' RD (Ok, so Super Bowl is long over by now, but we can always use recipes for recovering after a weekend of splurging!)
Mini Crustless Dark Chocolate Cherry Cheesecakes @ My Cape Cod Kitchen (Don't miss the list of heart-smart foods in the post too. Remember, February is #HeartMonth!)
Chocolate Raspberry Cheesecake Smoothie @ Zen & Spice (Love the addition of cottage cheese for a protein boost! Looking for more chocolate smoothies? Don't miss this Chocolate Strawberry Smoothie Kaleigh made for Valentine's Day!)
20 Make-Ahead Lunches in a Bowl @ The Kitchn (Love some of these for dinner too!)
Peanut Butter Bread Pudding with Smashed Raspberries @ The Lean Green Bean (This recipe looks amazing, and I especially loved learning about LACTAID's #DairyEnvy campaign)
Yogurt Dipped Ombre Strawberries @ Eat Yourself Skinny (How gorgeous are these?)
26 Healthy Recipes with Minimal Prep Work That Will Make Your Life Easier @ Real Living Nutrition (Who can't use recipes like these?)

Week of February 22, 2016
Monday: Sriracha Black Bean Burgers with Fried Egg and Spring Pea & Radish Grain Salad (Spring is almost here and I'm recipe testing to get ready for it!)
Tuesday:  Honey Sesame Fish Tacos topped with Jicama Beet Slaw
Wednesday: Soup & Salad Night: Easy Moroccan Split Pea Soup (without the bacon) and Winter Citrus Salad
Thursday: Off Duty!
Friday: Soy-Marinated Steak (just the steak from this recipe) over Spiced Quinoa with Roasted Apples & Root Vegetables
What's on your menu this week?
Tweet me @JLevinsonRD with #DinnerTonight