Menu Plan Monday: February 13, 2017
February 13, 2017
The latest happenings at Small Bites by Jessica, get ready for Valentine's Day, this week's Link Love, and Menu Plan Monday!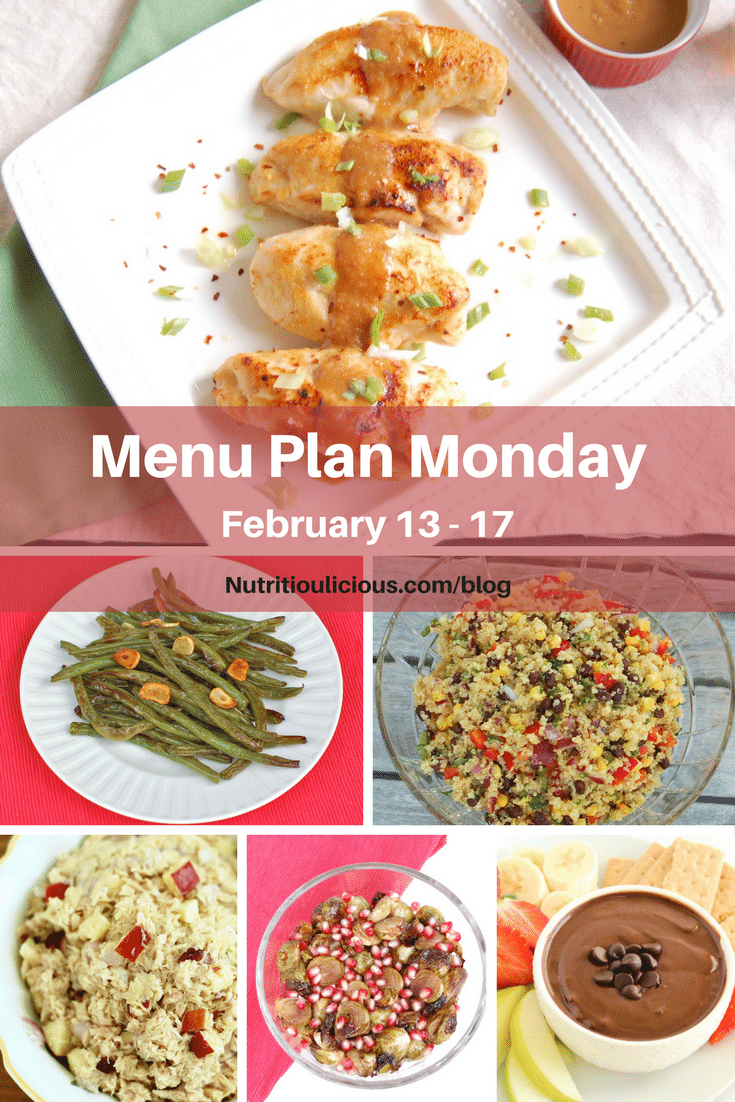 Latest Happenings:
Happy Monday everyone! What a week we had here in NY last week. We got about a foot of snow on Wednesday night, meaning we were snowed in on Thursday and we've been covered in snow since! My girls had a ball playing in the snow and warmed up with some yummy hot chocolate and we made a batch of Whole Grain Double Chocolate Muffins too! Nothing like lots of chocolate to get us ready and in the mood for Valentine's Day this Tuesday!
I'm heading to Toronto later today for a quick business trip, so I spent most of the day Sunday in the kitchen prepping food for the girls. I blended up a pitcher of strawberry smoothies for the next couple of mornings (check out the recipe tomorrow!), prepared a baked ziti that's all ready to go in the oven to be baked, and made their lunches for Monday and Tuesday, including some Brownie Batter for dipping strawberries and grapes in their Valentine's Day lunchbox!
If you subscribe to my Nutritioulicious Newsletter, you probably saw my roundup of recipes for Valentine's Day. In case you didn't, first of all, be sure to sign up for my newsletter, and second, here are some recipes to show your loved ones you care on Tuesday:
Have a great week!
Articles:
How to Make Do in The Kitchen @ Better Is the New Perfect
⇒ I have never been one to follow a recipe to a "t" – even my own recipes! So I love this post and the video from Jacques Pepin.
5 Reasons Dieting Sucks @ Nourish Nutrition
⇒ I'm all for healthy eating and healthy lifestyle habits, but  I think you know I'm anti-diets. Rebecca nails it with the reasons why dieting is just not a good thing, especially from the psychological standpoint.
Valentine's Day Class Party Idea: Red Tasting Party @ Real Mom Nutrition
⇒ Looking for a fun activity to do with the kids to celebrate Valentine's Day that doesn't revolve around sweets and treats? This is it!
Merriam Webster Adds 30 New Food-Related Words to Dictionary @ The Kitchn
⇒ I love this! Shows how popular and trendy food is in our culture these days. Even arancini made it on the list! And can you believe farro wasn't in the dictionary before?!
Recipes:
How to Make Caramelized Onions the Easy Way @ Teaspoon of Spice
⇒ I loooove caramelized onions, but you need patience to make them right (something I don't have a lot of when I need dinner on the table fast!). This is reason enough to get a slow cooker!
Vegetarian Eggplant Meatballs @ Byte Sized Nutrition
⇒ I'm going to be perfectly honest – I don't love eggplant. But these eggplant meatballs look fantastic! And I love the addition of nuts and beans to boost the protein. A perfect Meatless Monday dinner!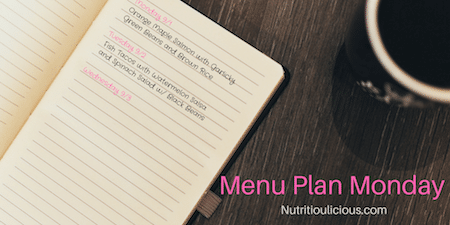 Menu Plan Monday: Week of February 13, 2017
Monday: 
Lunch: Smoked salmon cucumber roll ups, sliced veggies, and clementines
Dinner: Baked Ziti with Garlicky Green Beans
Tuesday: 
Lunch: Heart-shaped soynut butter sandwiches, grape and strawberry skewers with Healthy Brownie Batter Dip
Dinner: Egg frittata with veggies
Wednesday: 
Lunch: Apple Cranberry Tuna Salad with sliced veggies, crackers, and fruit
Dinner: Leftover baked ziti and garlicky green beans (from Monday)
Thursday: 
Lunch: Veggie burger with roasted chickpeas, sliced veggies, and fruit
Dinner: Fish tacos with citrus salsa and Corn & Black Bean Quinoa Salad
Friday: Miso-Glazed Chicken Breasts with Roasted Brussels Sprouts and leftover Corn & Black Bean Quinoa Salad
What's on your menu this week?
Please share with me below or on social media!