Menu Plan Monday: February 1, 2016
February 1, 2016
An awesome week of food and nutrition articles and nutritious and delicious recipes, plus this week's Menu Plan Monday!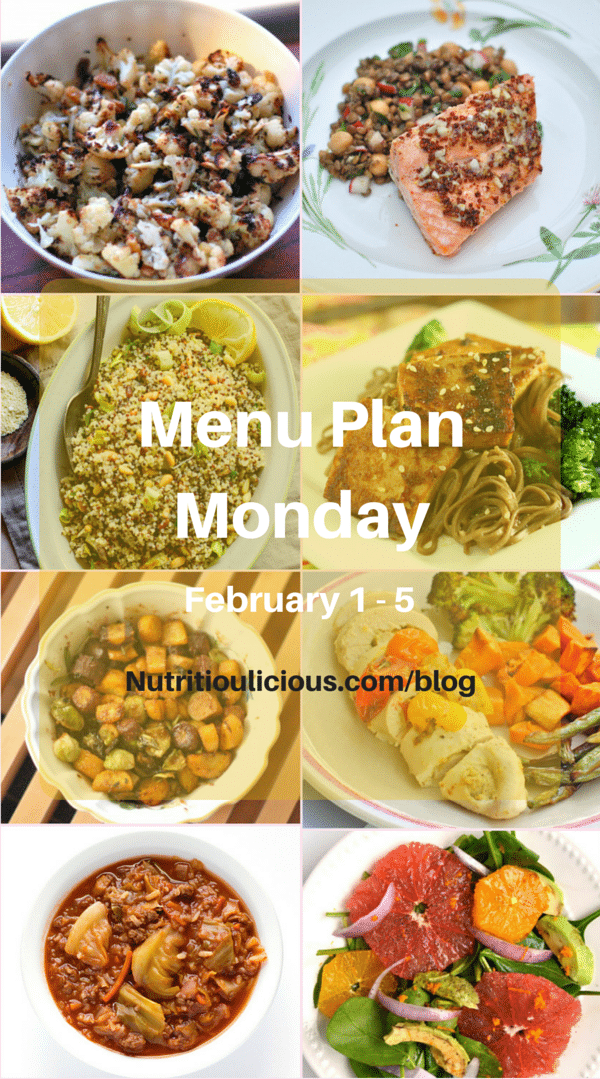 Hope your week is off to a great start! I have a super duper nutritious and delicious menu plan this week and lots of awesome links and recipes for you to see, so I'm just gonna get right to it! Hope you enjoy these posts as much as I did and that my menu below inspires you to get cooking this week!
Articles:
Simple Tips for Healthy Hydration + a DIY Sparkling Water Bar @ The Spicy RD (Staying hydrated is important, especially since we often confuse thirst for hunger, which can lead to weight gain over time)
The Best Detox That Doesn't Involve Deprivation @ MJ and Hungryman (I don't believe in detox diets, so I especially loved Min's post)
Meal Planning Recipes, Tips & Tricks @ Amee's Savory Dish (So many great resources to help with your meal planning goals)
Should I Be Watching My Cholesterol? @ Be Truly Nourished (Great overview of what cholesterol is and the changes to the Dietary Guidelines surrounding it)
International Mindful Eating Day @ Emily Fonnesbeck, RD (Helpful tips to eat more mindfully)
How to Say No (Nicely) to Your Child's Food Requests @ Just the Right Byte (As a mom of two four-year olds I can tell you this isn't easy, but it's necessary)
Recipes:
Red Lentil Curry Soup @ Delish Knowledge
Strawberry Rhubarb Breakfast Crisp @ Avocado a Day Nutrition (Dessert for breakfast?! Yes please!)
Kimchi Fried Forbidden Rice with Black Garlic @ Jeanette's Healthy Living (I need to make this!)
Apple Pie Quinoa Bake @ Kumquat (More dessert for breakfast!)
Grain Bowls with Maple Chipotle Brussels and Coconut Roasted Sweet Potatoes @ How Sweet It Is (This is one flavor-packed bowl!)
Healthy Meals on a Budget @ Real Food Real Deals (20 healthy meals that are less than $5 each!)
Small Batch Raspberry Lemon Bars @ The Lean Green Bean (These look delish and fairly easy to make)
Blog Recipes I Make the Most @ 24 Carrot Life (I'm including this link primarily because of the sentiment I share with Katie that being a food blogger means making a lot of new recipes and rarely making the same recipe twice, but there are some go-to recipes all food bloggers have in our arsenal!)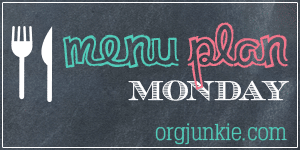 Week of February 1, 2016
Monday: Maple Miso Tofu with Miso-Roasted Brussels Sprouts and Root Veggies and Honey Toasted Pine Nut and Leek Quinoa Salad
Tuesday:  5-Ingredient Orange Maple Salmon with Rosemary-Roasted Cauliflower with Raisins and leftover Pine Nut and Leek Quinoa Salad (see Monday)
Wednesday: Pistachio-Stuffed Chicken Breasts with Citrus Fennel Salad
Thursday: Off Duty!
Friday: Unstuffed Cabbage Roll Soup (adding raisins like my mom does for her stuffed cabbage. As I told Amanda in the comments on her post, my mom's stuffed cabbage is one of my fave dishes, but I don't think I could ever do it justice, so this is the easy way out and looks just as delish!)
Did you have any favorite links to share?
What's on your menu this week?
Tweet me @JLevinsonRD with #DinnerTonight