Menu Plan Monday: December 7, 2015
December 7, 2015
Weekend recap, link love, and menu plan Monday!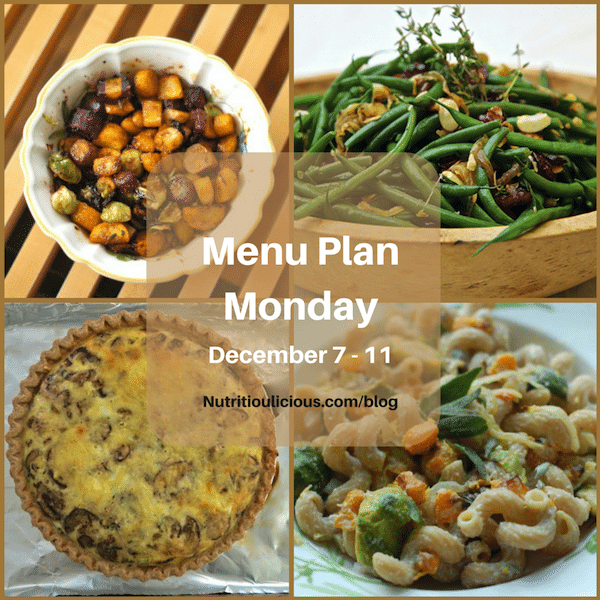 Happy Monday and, to all who celebrate, Happy Hanukkah! This past weekend was a lot of fun and filled with festivities! Saturday we took the girls to see The Peanuts Movie, which was their first in-theater movie! They loved it (and have been obsessed with the Meghan Trainor Better When I'm Dancin' song and video from the movie)!
Saturday night we celebrated the 40th birthday of a good friend, and Sunday night we hosted a Hanukkah party for our family and close friends.
Pictured above is our buffet dinner, which included Kabocha Flatbreads with Rosemary-Roasted Grapes and Shallots topped with goat cheese, large potato pancakes topped with smoked salmon and chive crème fraîche, mushroom tartlets (the leftover mixture is being used in tonight's dinner – see menu plan below), ricotta spinach beggars purses with brown butter sage sauce, and an arugula spinach salad with fennel, green apples, and toasted pecans. Unfortunately I didn't get any close-up pics and if wasn't for my father taking pics I wouldn't have any – it was just too hectic!!
This week's link up has a lot of really great articles – so be sure to check them out. And of course the amazing recipes from fellow bloggers keep on coming!
Articles:
15 Practical Gifts Every Food Blogger Can Use @ She Knows (Andy, if you're reading this, I especially want #6, 7, 9, and 15 would be nice too!)
Implications of Genetically Modified Organisms (GMOs) and Ethical Concerns @ Abbey's Kitchen (her bottom line says it all about my opinion)
How to Save Time & Still Be Healthy @ The Grateful Grazer
Not Being Enough Is a Killjoy @ Just the Right Byte (oh, how I can relate! Jill is a mentor and inspiration to me and I hope one day I can find the balance she has finally achieved)
9 Ways to De-Stress During the Holidays @ Healthy Ideas Place
Recipes:
Strawberry Cheesecake Overnight Oats @ Food Faith Fitness (as I mentioned here, I'm not into overnight oats, but these look great!)
Slow Cooker Chicken and Green Chile Soup @ Eat Yourself Skinny
How to Make Wonton Cups @ Healthy Seasonal Recipes (such an easy and delish base for holiday appetizers)
Tuscan Chicken and Sorghum Soup @ Holley Grainger
National Cookie Day Recipe Roundup @ The Nutrition Adventure
Mini Turkey Meatballs with Curried Cranberry Sauce @ Craving Something Healthy (what a great cocktail party appetizer)


Week of December 7, 2015
Monday: Mushroom Onion Quiche (making it as a frittata) with Arugula Spinach Salad with Fennel, Apples, and Toasted Pecans
Tuesday:  Hanukkah party at nursery school
Wednesday: Roasted Butternut Squash & Brussels Sprouts Pasta with Lemon Sage Ricotta and side salad
Thursday: Off duty!
Friday: Cider-Sage Steak, String Beans with Caramelized Onions and Toasted Almonds, and Miso-Roasted Brussels Sprouts and Root Veggies
How was your weekend?
What are you cooking this week?
Tweet me @JLevinsonRD with #DinnerTonight